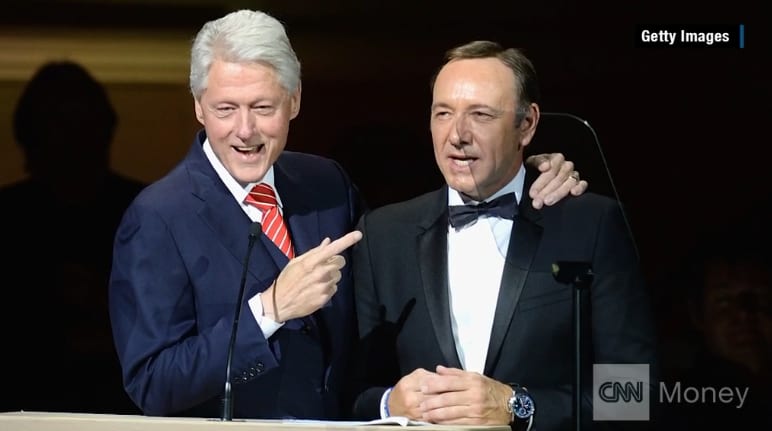 Kevin Spacey produziert für den US-Newssender CNN eine Doku-Serie über die wichtigsten Präsidentschaftswahlkämpfe in den USA. Ob da auch der Wahlkampf seiner eigenen Figur Frank Underwood aus "House of cards" vorkommen wird? Wohl eher nicht, aber es bleibt zu hoffen, dass Spacey die sechsteilige Serie "Race for the White House" ähnlich augenzwinkernd und satirisch rüberbringt wie die Rolle des US-Präsidenten in der Netflix-Serie.
Die CNN-Serie soll 2016 zur nächsten US-Präsidentschaftswahl gezeigt werden, heißt es auf der CNN-Website. Jede Episode wird den Ablauf und die Besonderheiten jeweils eines Präsidentschaftswahlkampfes zum Thema haben. Spacey wird als Produzent (über seine Produktionsfirma Trigger Street) und Erzähler der Serie fungieren. Die Folgen sollen Interviews, Archivmaterial und nachgestellte Szenen enthalten.
Die CNN-Serie ist Teil einer neuen Senderstrategie, bei der man durch neue Serien und Dokus mehr Zuschauer zum Newssender lotsen möchte. "Original series" nennt CNN das, gestartet wurde damit 2013. Jeff Zucker, Präsident von CNN Worldwide, freut sich auf die neue Serie mit dem zweifachen Oscarpreis-Träger, der derzeit in der 3. Staffel von "House of cards" brilliert.
"'Race for the White House' will be the perfect complement to our coverage of the 2016 campaigns and election."
via: CNN Money

-->