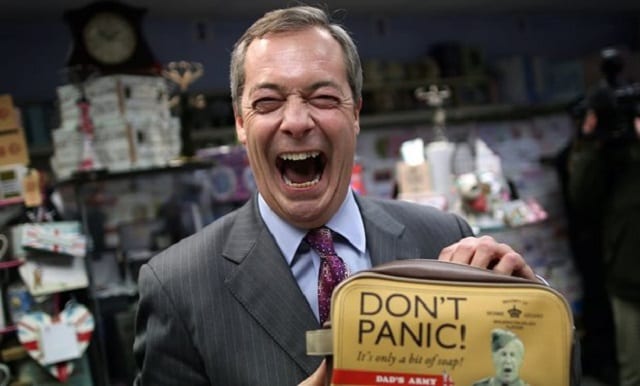 Als sich die Briten am 23.Juni mehrheitlich für einen Ausstieg aus der EU ausgesprochen haben und sich viele Menschen in meinem Bekanntenkreis gefragt haben "Was nun?", "Wie geht's weiter?" und "Was kommt denn jetzt?" habe ich scherzhaft gesagt: eine neue Comedyserie!
Denn wenn die Briten für etwas bekannt sind, dann bestimmt dafür, über das eigene "Elend" zu lachen und darüber Scherze zu machen. Und das meist in einer wirklich witzigen Form. Dass es allerdings so schnell gehen würde, hatte ich nicht gedacht. Wenn überhaupt.
BBC 2 hat nun verlautbaren lassen, dass sie an einer one-off Episode einer Comedyserie namens "I Want My Life Back" arbeiten. Der Titel der Serie entstammt aus dem Munde der Hauptfigur der potenziellen Serie: Nigel Farage.
Nigel Farage ist neben Boris Johnson das wohl bekannteste Gesicht des BREXIT, da Farage seit Jahren mit seiner UKIP am Austritt des UK aus der EU – nennen wir es mal – gearbeitet hat. Nun am Ende aller Träume angelangt überraschte Farage seine Fans nur kurze Zeit nach dem Referendum mit seinem Ausstieg aus der Politik, begründet eben mit jenem nun schon fast geflügelten Satz "I want my life back". Nicht nur unter den Anhängern auch unter den Comedians und Karikaturisten der Insel war die Trauer nun groß denn Nigel Farage sorgte immer wieder und regelmäßig für peinliche Szenen und mittelgroße Lacher.
Also ungefähr so, wie damals, als sich Helmut Kohl aus der Politik zurückgezogen hat bzw. für die Jüngeren unter Euch wenn heutzutage ein Horst Seehofer oder ein Markus Söder die politischen Segel streichen würden. Es kann niemanden geben, der beiden Herren wirklich nachtrauern würde. Außer eben die Comedians und Karikaturisten.
Während man sich in Deutschland andere "Opfer" sucht, will man auf der Insel an seinen gewohnten Lachern festhalten. Und so plant die BBC nun eine neue Serie, erst einmal nur eine Folge, aber wer weiß, wie die einschlägt, in deren Mittelpunkt das Leben von Nigel Farage nach seinem persönlichen BREXIT stehen soll.
"Nigel Farage is the gift that keeps on giving. There is the moustache and now the appearance at the Trump rally, it's going to be fun." (Kevin Bishop)
Für die Rolle des Nigel Farage ist Kevin Bishop vorgesehen, britischer Schauspieler und Comedian. Die bereits schon geschriebene Episode wird im 30 Minutenformat gedreht, wann die Folge ausgestrahlt wird, hat man noch nicht mitgeteilt. Das man ein gewisses Witz-Niveau erwarten darf, dafür garantieren die beiden Drehbuchautoren Alan Connor (Charlie Brooker's Weekly Wipe, Young Doctor's Notebook) und Shaun Pye (A Young Doctor's Notebook).
Was Nigel Farage davon hält, ist noch nicht überliefert. Es würde aber niemanden wundern, wenn er vor lauter Ärger über das Comedyprojekt seinen Rücktritt vom Rücktritt erklärt – aber auch dann dürfte den Comedymachern bestimmt etwas einfallen.
via: radiotimes