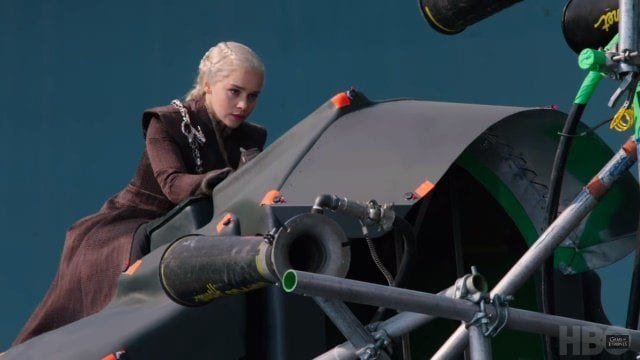 Bei Serien wie Game of Thrones komme ich immer wieder irgendwann an den Punkt, mich zu fragen, welche Kulisse denn nun eigentlich wirklich echt und was dem Green Screen zu verdanken ist, welche Effekte durch händisches on-set-Auslösen und welche dagegen durch die Arbeit eines VFX-Spezialisten am Computer entstanden. Umso cooler ist es, wenn das dann in Behind the Scenes-Videos aufgelöst wird und nachzuvollziehen ist.
Sam Conway erzählt im folgenden Video nicht nur etwas über die Geschichte der Special Effects in Game of Thrones, sondern auch seine eigene Special Effects-Geschichte. Und dabei gibt es nicht viele, aber zumindest ein paar kurze Ausschnitte aus der neuen Staffel der Erfolgsserie zu sehen (die wieder viele Theorien lostreten … können).
"We handle gas, we handle water, we handle wind, we handle smoke, we handle pyrotechnics, we handle engineering, blood, snot, you know … everything. Everything you can possibly imagine is our trade."
A Story in Cloth
Und auf die Special Effects gibt es noch etwas sehr Haptisches obendrauf: Einblicke in das Kostümdesign der Show. Wirklich beeindruckend, woran sich die Designer (im folgenden Video Michele Clapton) orientieren, um die perfekte, authentische Ausstattung für die Charaktere zu entwickeln.
"Designing a series like this, first it has to come from the script that guides you. Then you start building up that picture how this person lives and what influences them."