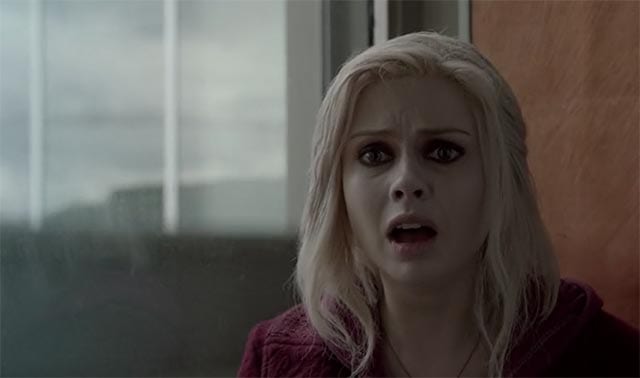 Ich bin geläutert. Mein fehlendes Expertenwissen ist hiermit offenbart. Hatte ich letzte Woche von einem Auf und Ab gesprochen und gesagt, dass man einfach jede zweite Folge schauen sollte – sorry. Denn dieses Mal hat die Serie es zwar endlich geschafft, Stabilität zu bringen – jedoch leider gerade in der Ab-Phase.
Okay, fangen wir mit den positiven oder neutralen Dingen an. Major kommt frei und hat erste Gedanken in Richtung einer neuen Karriere in der Gehirn-Forschung. A pro pos – heute auf dem Menü: gegrillte Radiomoderatorin mit emotionalem Einfühlungsvermögen und Quaselsucht. Die Ehrlichkeit in den Analysen Livs sind für Zuschauer wie die anderen Charaktere dann aber doch eher nervig.
"The Lannisters send their regards." (Liv)
Wenigstens gibt es einige Popkultur-Verweise, auch auf andere Serien und dann doch noch den einen oder anderen sehr unterhaltsamen One-liner zwischen all dem Geschwafel.
"When I am going to puke into your baskin, do I have to go through the basketball hoop?" (Liv)
Okay, und eine Zombie-Ratte. Liv hat am Ende der Folge ebenfalls eine Verbindung schließen können, die ordentlich Tabasco in die Handlung bringen dürfte. Schlussendeaus – puh!
Insgesamt wieder eine mäßigere Folge, was vor allem am Fall liegt, der mir gar nicht gefallen hat. Vielleicht bin ich einfach kein Fan von "Talk Radio", aber bis auf die Fortschritte in der übergeordneten Handlung hatte die Folge leider wenig zu bieten. So bleibt die Hoffnung, dass es übergeordnet voran geht, da jetzt mehr Player voneinander wissen. Und die Hoffnung, dass das nächste Gericht mit Hirn interessanter wird…