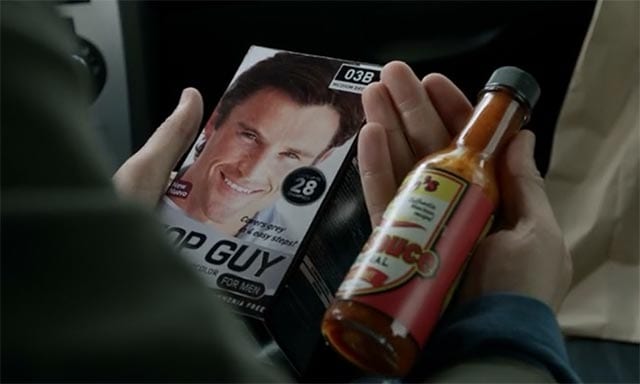 Man, man, man. Das ist tatsächlich ein Auf und Ab mit Liv und ihrer Apple-Zombie-Serie. Am besten sollte man vermutlich einfach jede zweite Folge schauen. Wobei, hinterher verpasst man eine Prise dieser… wie heißt die noch gleich? Ach ja: übergeordnete Handlung.
Die gibt es (um in der iApple-Welt zu bleiben) in minimalistischem Design verpasst. Vorrangig geht es aber um Camping, Hunde und einen Fall, der genau 45 Minuten dauert. Wie praktischt! Auf der Wochenkarte: Eingelegtes mit vermisster Promi-Mami an Fürsorge. Das führt wenigstens zu einer schönen Famliien-Szene im Krankenhaus, die mir durchaus gefallen hat.
"You need to get from B to A!" (Mom)
Ansonsten bleibt es hei-ti-tei-ig und kommt kaum über "Ach ja, das kenne ich von meiner Mutter" hinaus. Okay, mehr Verständnis für Fürsorge und ein Appell daran, mal wieder die eigene Mutter anzurufen. Verstanden! Wie passend, dass dafür Zeit ist, da das Übergeordnete gerade eh pausiert:
"I'm gay. But not to worry, it's only for latest next friday…" (Lowell)
Schön, dass die Hirn-Charakterzüge-Sache auch bei den anderen gespielt wird. Auch schön: Die Animal Control-Dame hätte auch aus Fargo stammen können. Schlecht geklaut und schon komisch, dass es nur eine Person zur Befragung gab und hey – sie ist es. Das denkt auch der Polizeipräsidiumspräsidentenzombie über Liv, hat er da doch so einen Verdacht. Vielleicht aber auch einfach eine Idee zu einer TV-Serie über aus Gefangenschaft gerettete Mädchen aus einer Glaubenssekte, von denen eines nach New York geht, um sich ihrer Freiheit zu frönen.
Ja, es ist ja irgendwie unterhaltsam und die netten bis guten Elemente sind auch versteckt enthalten – aber eben total hintergründig. Die Story ist semi-pralle, traut sich nicht über die Grenzen einer Folge hinaus und erinnert bislang Woche für Woche eher an Ratten-Experimenten. Versuchen wir dies mal, versuchen wir das mal. Ach, das hat den Leuten gefallen? Dann machen wir es nächste Woche einfach – anders. Hmpf. Wo jetzt 7 von 13 Folgen vorbei sind, kann man durchaus mal ein kleines Zwischenfazit ziehen. Und das ist eben tendenziell durchwachsen, aber eben weil die Serie bereits gezeigt hat, zu welch origineller Unterhaltung sie fähig ist. Nur die Konstanz fehlt eben. Eine Serie wie Henrich Mikhitaryan.