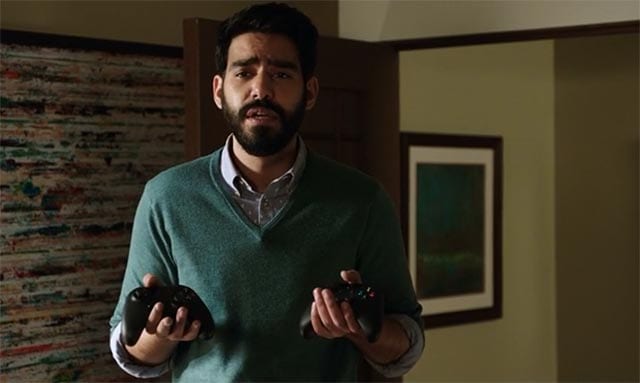 Ach, was hätte ich gerne mit Ravi X-Box gespielt. Den ganzen Tag lang. Das wäre deutlich unterhaltsamer gewesen, als der Großteil dieser Folge. Und doch schafft sie das, was viele Serien mit ganz netten Einzelfällen nicht schaffen: einen guten übergeordneten Strang spannend erzählen. Nur doof, dass sich das auf einzelne Szenen sprenkelt… Und was soll überhaupt der Beginn: Blaine hat sie da doch erkennen müssen, oder nicht?! Okay, hat er vielleicht, das würde nämlich das Ende erklären. Aber gut, beginnen wir wie immer:
"Hey, yo! I shot you, you got to go to the dead zone…" (Paintballer)
Heute auf der Tageskarte: Paintballer mit Sniper-Erfahrung und "Stealth Mode". Unspektakulärer Typ oder zumindest im Fall langweilig aufbereitet. Sagt Clive eigentlich nie "Hallo"? Fängt immer direkt mit seiner Situationsanalyse am Tatort an, wenn die anderen dazu kommen (oder er erscheint). Die Befragungsphasen sind leider recht lame. Lächerlicher war die unnötige Paintball-Szene. Action können die scheinbar (wie bei der Extremsportlerin und dem Fahrradfahren) nicht inszenieren. Schade, genau das wäre eigentlich wichtig.
"Blaine has to die. I'm gonna kill him." (Liv)
Interessant ist die Entwicklung bei Blaines Geschäft: Kunden verlangen High Class Brauns. Positive Visionen. Das Auge isst mit. Damit der interessante Strang fortgeführt werden kann, denkt man zunächst daran, dass der Entschluss Livs sich auf die nächsten Folgen auswirkt. Vielleicht wird geplant, eine Folge vorbereitet und dann beim Staffelfinale geht es ab. Aber es kommt dann doch tatsächlich überraschend.
"Whisky Tango Foxtrott" (Comic Divider)
Wieso beherzigt Liv nicht den eigentlich in ihr schlummernden "Ein Leben für das Leben mehrerer"-Spruch? Hätte der nicht "in ihr" sein müssen? Vermutlich hat das Hirn schon wieder ausgewirkt. Jedenfalls wird so ein großes Problem geschaffen, das hätte beendet sein können. Sind ja noch vier Folgen zu füllen…

Fall, Story, Aufmachung – lame, lame, lame. Okay, das Ende hat es rausgerissen. Aber ich sehe schon etwas schwarz, denn nur einige Einzeiler und eine gelungene Story in den Furchen der Wochengeschichte reichen mir nicht. 30 von 45 Minuten ist man damit beschäftigt, sich zu langweilen, weil der aktuelle Fall schlichtweg nicht interessiert. Entweder, hier wird massig an Kreativität zugelegt, gerne auch einmal auf zwei Wochen aufgeteilt, oder man konzentriert sich komplett auf die eigentliche Story, ohne diesen "Ihr könnt immer einschalten, auch wenn ihr was verpasst habt"-Mist. Denn ganz ehrlich: man kann NICHT immer einschalten. Dafür seid ihr nun neun Folgen zu spät.

-->