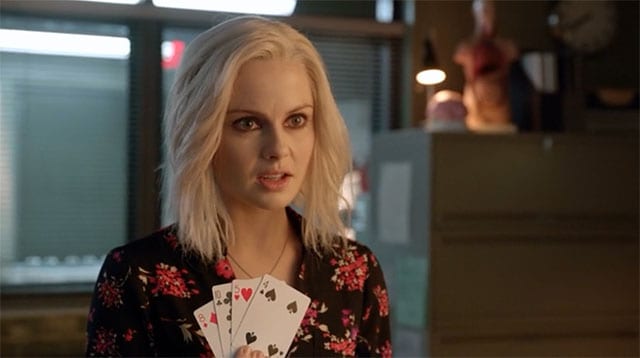 Zu Beginn dieses Reviews möchte ich euch bitten, an eine Karte zu denken. Hast du eine? Okay, los geht's! Und zwar mit der wichtigen Frage: Welche Britney ist Liv diese Woche? Die Antwort: Verkarteter Magie-Rockstar, Bitch! Das Magie-Thema gefällt aber nicht allen…
"Sometimes I really hate this job…" (Clive)
"Sometimes I really love this job!" (Ravi)
Polly Cripplegate… ähm, Ravi dagegen blüht richtig auf. Tut mir leid, mehr habe ich nicht aufpassen können, weil die tanzende Peyton mich abgelenkt hat. Ähm… wo waren wir noch gleich? Ach ja: Euphoravi!
"This. Is. The best brain ever!" (Ravi)
Oh, Houdina ist Fiona Gubelmann aus "Wilfred". Die mag ich. Die vielen kuriosen Magiernamen haben mir ebenso gefallen, genau wie der magische Vorgang des Umschlagöffnens oder der "vielleicht ist er gar nicht tot"-Running Gag. Fast so toll wie überall britische Deko vorzufinden, wenn man nach Hause kommt.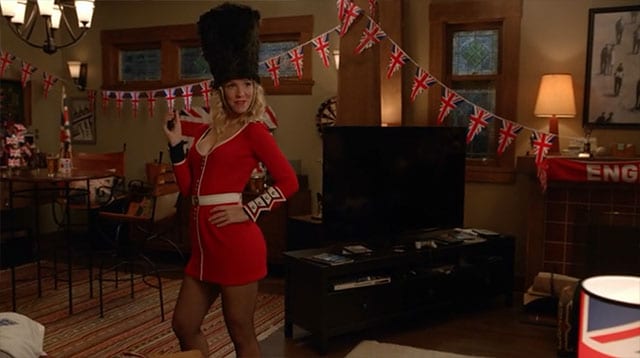 Deutlich relevanter ist es da, dass aus total eigensinnigen Gründen jetzt sogar Blaine irgendwie helfen möchte. Eigene Kunden sterben weg – das muss natürlich enden. Dass Peyton sich in Blaine verlieben dürfte (die Anzeichen wurden ja nur SEHR subtil gelegt) ist etwas… nunja… unpassend, inszeniert, dämlich, konstruiert und unglaubwürdig. Wobei er heute ja mal wieder sehr sympathisch ist.
"Help me, Zombie-Wan Kenobi. You're our only hope." (Blaine)
Leider war es recht offensichtlich, dass diese(r) Meers eine Frau ist. Die Lösung da noch nicht unbedingt, aber irgendwie hat sich die Folge angefühlt, als würde 39 Minuten mühsam etwas aufgebaut, um es dann doch etwas unspektakulär aufgehen zu lassen. Da haben mich Auflösungen der Cartoon-Serie "Conan der Detektiv" deutlich mehr flashen können. Ihr könnt uns und unserer Sammlung an Gedanken-Kotze übrigens auf Twitter folgen. Und was wir mit dem Hasen machen, ist noch ungeklärt…
"Super boring. Sorry that I asked." (Blaine)
Nein, "boring" war das sicherlich nicht. Das Thema Magie hatte viel Potenzial, von dem einiges genutzt wurde und gerade die polarisierende Wirkung hat Spaß gemacht. Viele Hater, ein paar Liebhaber und vor allem viel Magie, was sich in einigen sehr netten Taschenspielertricks gezeigt hat. Ansonsten hat die Folge leider nicht durchgängig das Niveau halten können, es fehlte am Ende die Spannung und es bleibt fraglich, ob dieses "Ein Fall die Woche"-System wirklich langfristig aufgeht. Wenigstens waren die Dialoge wieder auf Hochglanz poliert und es insgesamt recht kurzweilig.
Ach, zur Auflösung der Karte: es ist die Pik Acht! Ha, wusste ich doch. Ich erkläre jetzt natürlich nicht, wie dieser Trick funktioniert, solltest du gerade einer der 52 LeserInnen dieses Beitrags sein, der genau an die Pik Acht gedacht hat… MAGIC!
Bilder: The CW