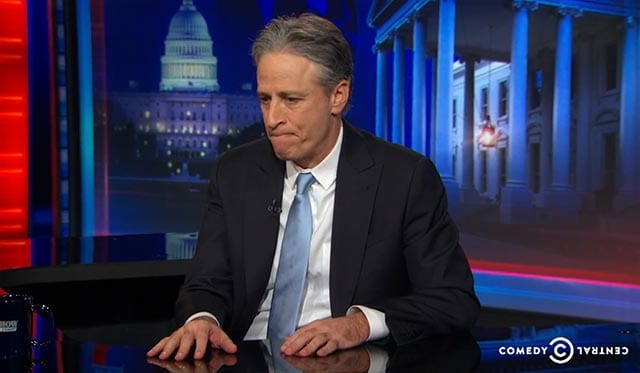 Mein Gott, was ist denn hier los?! Nach Stephen Colbert und Craig Ferguson räumt nun auch Jon Stewart den Platz mit seiner Daily Show. Für mich ein kleiner Schock, war die Daily Show doch die erste Sendung dieser Art, die ich gesehen habe. Zu Studienzeiten tatsächlich täglich. Dabei habe ich mehr über US-Politik erfahren als ich über die deutsche wusste – und habe teils Tränen gelacht.
"I'll have dinner, on a schoolnight, with my family. Who I have heard, from multiple sources, are lovely people." (Jon Stewart)
Seht die emotionale Ansprache von Steward in seiner letzten Sendung:
Es gibt also bisher keine konkreten Pläne. Weder, wann die allerletzte Show läuft, noch, was Stewart (neben dem Familien-Dinner) vor hat. Ich sage jedenfalls danke. Danke für das Aufdecken bescheuerter Dinge in Politik, Staat und Welt. Danke für das humorvolle Verpacken und danke für etliche tolle Interviews. Hoffen wir, dass Stewart uns in irgendeiner Form TV-seitig erhalten bleiben wird.