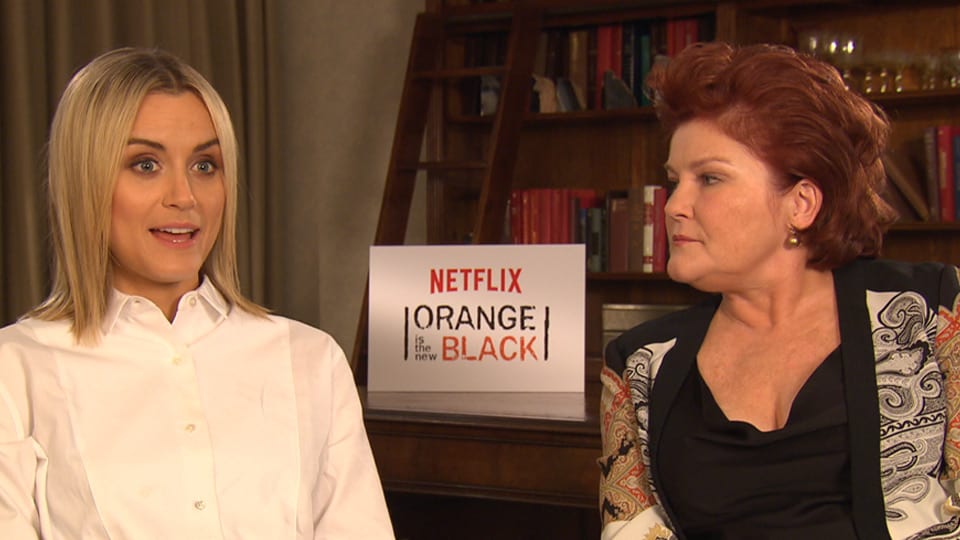 Am vergangenen Mittwoch hatte ich das große Glück, Schauspieler der Netflix eigenen Serien zu interviewen. Darunter Kate Mulgrew und Taylor Schilling, die Gesichter der Serie Orange Is The New Black. Für mich persönlich war das Aufeinandertreffen mit Kate etwas ganz besonderes. Als Star Trek Fan habe ich natürlich alle Voyager Folgen gesehen, in welchen Kate – übrigens als erster und einziger weiblicher Captain – die Hauptrolle übernahm und mich stark beeindruckt hat.
Aus Gründen der Authentizität habe ich meine Stimme in den Videos nicht rausgeschnitten, auch wenn ich keine Sprecherstimme besitze, denn schließlich sind wir immer noch ein etwas wilder und unabhängiger Blog.
Im folgenden Video bekommt ihr einen Einblick in Orange Is The New Black, beispielsweise den Grund, warum die Serie so gut funktioniert und es gibt ein gutes Beispiel dafür, wie gut sich die Schauspieler – allen voran Taylor und Kate – verstehen.
Inhalt: Kate Mulgrew und Taylor Schilling über
Über die Serie Orange Is The New Black
Das Zusammenspiel von Taylor und Kate
Was Taylor ihrem Charakter Piper in Bezug auf Alex raten würde
Gründe des Erfolgs
Einen kleinen Ausblick auf Season 3
Nachdem ihr das Interview gesehen habt, hier noch eine kleine Einordnung. Man hat einfach gemerkt, dass sich beide mögen und sehr gerne zusammen arbeiten – was sie schon in der Serie Mercy getan haben. Besonders Kate war extrem freundlich und charmant, sie hat aus ihrer Star Trek Zeit gute Erinnerungen an Deutschland und dass sie die Deutschen für sehr "smart" erachtet, wie sie mir bevor die Kameras liefen sagte. Deshalb auch die Anmerkung zu der Frage nach dem Grund des Erfolgs "..see what I mean? They are so smart".
Taylor Schilling & Kate Mulgrew im serieslyAWESOME Interview
Bonus
Als kleinen Bonus möchte ich euch am Ende noch die Frage nach "Binge Watching" von Taylor und Kate präsentieren, in welcher sie sich total in Rage geredet haben. In diesem Video erfahrt ihr welche Serien Kate und Taylor mögen und welche sie komplett am Stück geschaut haben.
"We don't do anything, actually just binge watch"
Taylor Schilling & Kate Mulgrew über "Binge Watching"

Zum Abschluss hier noch ein paar Impressionen vom Interview und der Location, dem Soho House in Berlin.

-->