Elfter Dezember, 8 Uhr 15, Zeit für den sAWEntskalender. Heute versteckt sich Kate Mulgrew hinter dem Türchen. Kate, sicher besser bekannt als Captain der Voyager oder Red im Netflix-Gefängnis "Orange Is The New Black". Diese großartige Schauspielerin durfte ich im Jahr 2014 treffen, dabei erzählte sie übrigens auch, dass sie James Spader ganz toll findet – Türchen Nummer 2 wird sich freuen! Aber fangen wir vorne an und schauen chronologisch auf ihre Karriere.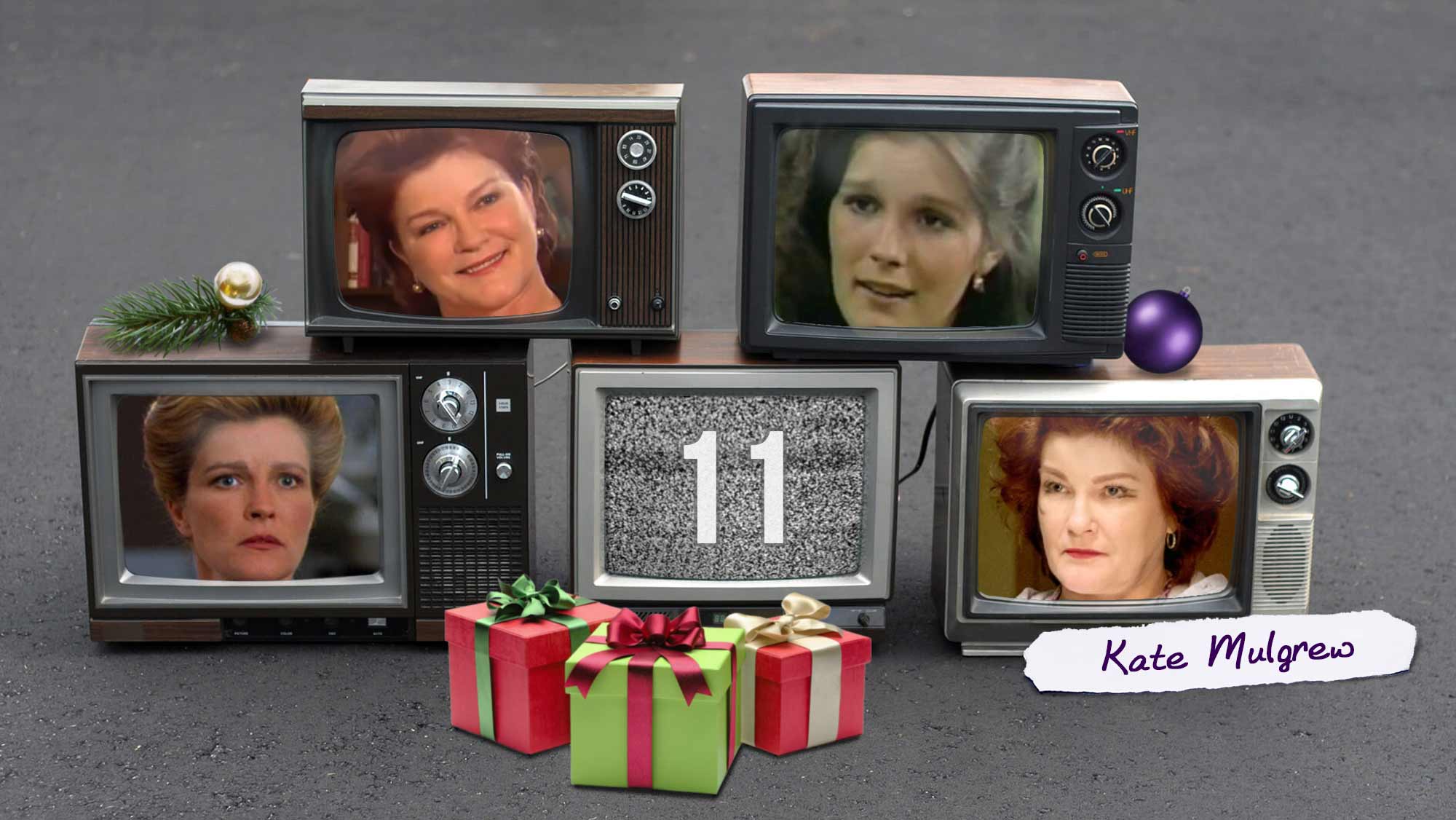 Im Rahmen unseres
sAWEntskalenders
gibt es jeden Tag eine Hommage auf einen erwähnenswerten Seriendarsteller – und immer wieder versteckte Buchstaben. Wer als erstes das gesuchte Serien-Zitat aus ihnen bildet, kann
sich einen Preis aussuchen
. Alle vier Tage gibt es einen Tipp von uns. Viel Spaß beim Durchschauen und Rätseln!
Soap Star in den 70ern
Die talentierte Kate Mulgrew hatte ihre erste Serien-Hauptrolle mit jungen 20 Jahren. In der 75er Soap Serie Ryan's Hope spielte sie die Tochter der Ryan, Mary Ryan Fenelli. In der Serie heiratet sie, bekommt ein Kind und stirbt sogar – ich hoffe, diesen Spoiler verzeiht ihr mir. Ganze 411 Episoden ist sie dabei, von 1975 bis 1978, sowie in ein paar Gastauftritten in den 80ern.
Mrs Columbo
Funfact: Tja, das hättet ihr sicher nicht gedacht. Es gab tatsächlich ein Spin-Off zur Erfolgsserie Columbo. In der Hauptrolle spielte keine geringere als Kate Mulgrew. Dazu muss man allerdings anmerken, dass dieser Spin-Off nach 13 Folgen eingestellt wurde. In einem Interview stellt sie selbst fest, dass alleine die Idee der Serie total seltsam und bescheuert war. Schließlich war sie damals immer noch sehr jung. Wie soll ein Zuschauer glauben, dass sie mit 24 Jahren die Ehefrau eines schon damals gefühlten 70jährigen Dedektiv sein soll? Wie sollte das funktionieren? Heute sagt sie ironisch zu der Serie "Thank you NBC".

Gastauftritte in Cheers und Mord ist ihr Hobby
Nach Mrs Columbo tauchte Kate in diversen Produktionen auf. Beispielsweise in Cheers, dort war sie in 3 Folgen zu sehen. Oder auch in Mord ist ihr Hobby war sie zu sehen, in mehreren Rollen und Folgen. Auch in Fernsehfilmen und, das wusste sicherlich auch keiner, lieh sie ihre Stimme animierten Superhelden, beispielsweise "Red Claw" aus der 1992er Batman Serie.

Captain in Star Trek Voyager
Nach Soap, Crime und Drama betrat Kate im Jahr 1995 ein neues Genre: Science Fiction. Interessanterweise war sie nicht die erste Wahl für den Captains Sessel auf der Voyager. Zunächst startete man die Dreharbeiten zum Piloten mit Geneviève Bujold. Doch der Funke sprang nicht über und Kate wurde angeheuert. Es war die absolut richtige Entscheidung für die Marke Star Trek und für Kate Mulgrew. Sie gab der Serie ihren Stempel und verkörperte ein ganz besonderes Frauenbild in einer Führungsposition. Sie konnte Autorität, aber auch Herzlichkeit und Wärme verkörpern, ohne dass eines der beiden Elemente unglaubwürdig erschienen.

Red
Nach dem Ende von Star Trek Voyager war es eine Weile ruhig um Kate. Was nicht bedeutet, dass sie untätig war, aber ein Film oder eine Serie mit der gleichen Aufmerksamkeit wie Star Trek war nicht dabei. Bis zum Jahr 2013: Durch Netflix und die Serie Orange is The New Black steht Kate wieder in der ersten Reihe. Und sie hat sich mit diesem Charakter mal wieder neu erfunden. Mies gelaunt, leicht aggressiv, aber auch mit einer leichten komödiantischen Note – das ist Red. Sie macht sich diesen Charakter zu eigen und schafft es so auch, dass man nicht mehr an Star Trek denkt, wenn man sie sieht.
Und in diesem Sinne verabschieden wir uns bis morgen. Bleibt im Weihnachtsstress gut gelaubt, so wie Red!