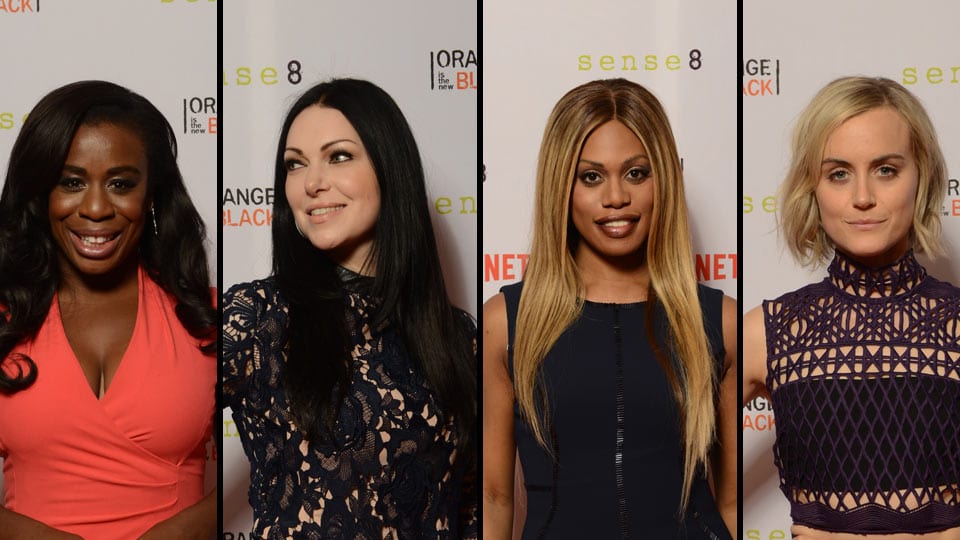 (c) Netflix
Vergangene Woche durften wir zusammen mit anderen Bloggern und Journalisten die Stars von Orange Is The New Black befragen. Mit dabei waren Uzo Aduba (Crazy Eyes), Laura Prepon (Alex), Laverne Cox (Sophia) und Taylor Schilling (Piper). In mehr als 30 Minuten wurden viele Fragen direkt oder indirekt zu Orange Is The New Black gestellt. Die spannendsten Punkte könnt ihr im Folgenden Artikel nachlesen.
Alex und Piper
Die dritte Staffel von Orange Is The New Black fokussiert sehr stark die Beziehung von Alex und Piper. Kein Wunder also, dass sich viele Fragen auf diese beiden Charaktere konzentrierten. Dazu stellt Laura heraus, dass allein die Tatsache einer lesbischen Beziehung in einer Serie schon etwas Besonderes sei. Nach wie vor werden homosexuelle Beziehungen eher selten in Serien thematisiert, so dass hier eine Nische bedient wird, durch die sich Menschen in gleicher Lebenslage mit den Protagonisten identifizieren können. Bei der Gelegenheit merkt Laura an, dass Alex und Piper vielleicht nicht das beste Beispiel sind, denn sie führen keine Vorzeigebeziehung. Beide manipulieren sich gegenseitig und belügen sich, aber da diese Beziehung auf tiefer Liebe basiert, wollen viele sehen, wie es mit den beiden weiter geht und wie es sich entwickelt.
"The relationship is grounded on the fact that they genuinely love each other" – Laura Prepon über Alex und Piper.
Wie stark Laura mit Alex und Taylor mit Piper verbunden sind, wurde in der Diskussion sehr deutlich. Laura gab an, dass sie es kaum erwarten konnte, wieder in die Rolle von Alex zu schlüpfen.
"I missed being in Alex' shoes. She's such a bad ass, so awesome." – Laura Prepon über Alex.
Auch Taylor liebt ihren Charakter, besonders deswegen, weil Piper spätestens in Staffel 3 nicht mehr die brave Vorzeigefrau der Mittelschicht ist. In den Folgen der neuen Staffel erfindet sich Piper neu und legt die gelernten Verhaltensregeln ab. Laut Taylor ist sie jetzt fast wie ein Kleinkind, welches Regeln in Frage stellt und sich neu ausprobiert, fragt was falsch und richtig ist.
 "She is almost like a toddler. She is like spreading her wings." – Taylor Schilling über Piper in Staffel 3.
Die Tatsache, dass sich Piper nun zu einem durchaus streitbaren und teilweise auch gemeinen Charakter entwickelt hat, findet Taylor großartig, sie liebt die Variation und Evolution des Charakters. Aber auch generell findet Taylor es sehr positiv, dass OITNB eben nicht glatt und angepasst ist, was ihrer Meinung nach auch ein Grund für den Erfolg der Serie ist.
"There is something very liberating about being able to watch a group of women that aren't defined or constrained by trying to be likeable" – Taylor Schilling über OITNB.
Piper – Das Trojanische Pferd
Mit die spannendste Diskussion kam mit Laura und Laverne auf. Im Kontext von Fragen zu dem Erfolg der Serie und die Rolle des Charakters Piper zitierten die beiden Jenji Kohan, Autorin und Erfinderin von Orange Is The New Black. Sie sagte, dass wenn sie eine Serie über farbige Frauen im Gefängnis gepitcht hätte, wäre die Serie vielleicht gar nicht produzier worden. Und, noch viel besser, Piper als Hauptcharakter dient als Trojanisches Pferd, um es zu ermöglichen, Geschichten über alle in der Serie auftauchenden Minderheiten und gebrochenen Menschen erzählen zu können. Laut Jenji ist es nämlich viel einfacher eine Serie, in welcher die Hauptrolle eine weiße blonde Frau spielt, zu verkaufen.
"If you go to a network and pitch a show about women of colour in prisons it's probably not going to be picked up. But if you do a show about a blonde white women as sort of an entree of these stories (…) people at the network will be ok" – Laverne Cox zitiert die Autorin Jenji Kohan
Uzo merkt zu dem Charakter Piper ergänzend an, dass das besondere an ihr ist, dass man ihren Weg von Tag  1 an sieht. Wie sie aus einer heilen Welt kommt und langsam, aber sicher absteigt. Und dass Piper vielleicht gar nicht so verschieden im Vergleich zu den anderen Inhaftierten ist, diese einfach nur den Weg schon weiter nach vorne – oder eben unten –  gegangen sind.
Die Autorin von OITNB – laut Laverne – ist im Übrigen stark an den Geschichten von Minderheiten und Schwachen interessiert. Bei der Gelegenheit lobt Laverne die Autorin Jenji, denn die Geschichten, die sie schreibt, erlauben es den Schauspielern tief in die Charaktere und deren Biographie einzutauchen ohne an der Oberfläche zu bleiben. Man merkt dabei, dass Laverne Jenji wirklich dankbar für die Chance gewesen ist, welche sie damals als noch unbekannte Schauspielerin bekam.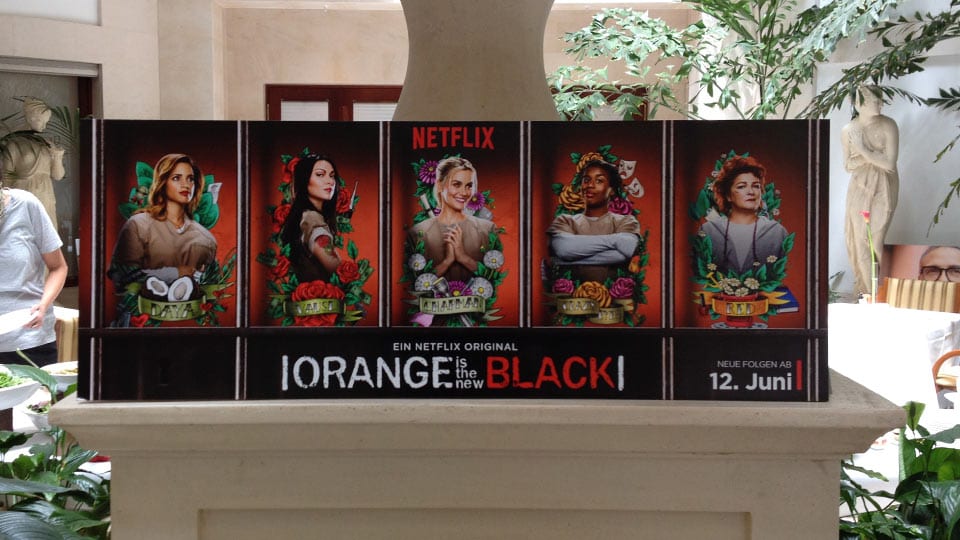 Dieser Beitrag hat mehrere Seiten:

-->