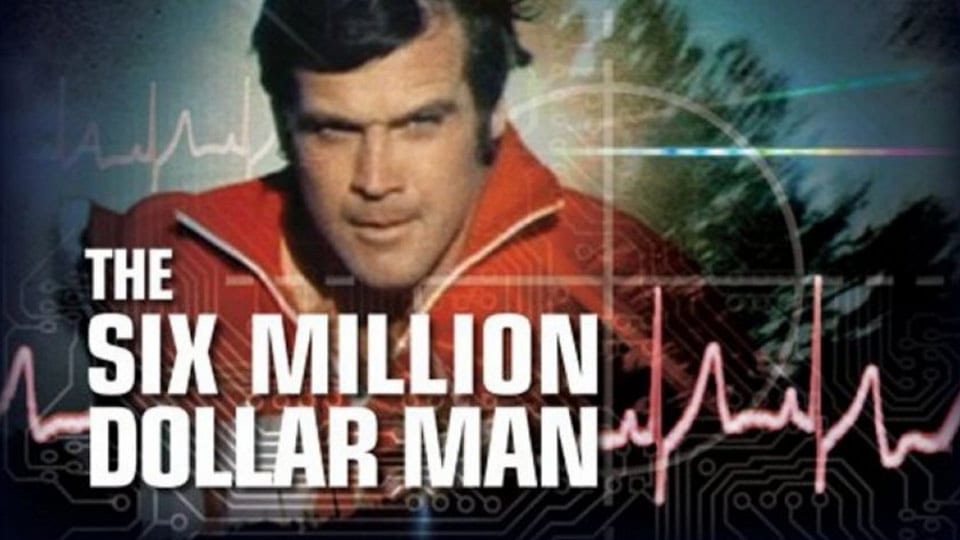 Klassiker-Time! Zu meinen Kindheitstagen gab es nichts Besseres, als US Serien auf RTL Plus zu schauen. Da gab es beispielsweise Knight Rider, das A-Team oder – Trommelwirbel – der Sechs-Millionen-Dollar-Mann.
Seriensteckbrief
Name: The Six Million Dollar Man (Der Sechs-Millionen-Dollar-Mann)
Genre: Action
Laufzeit: 48 Minuten
Staffeln (Folgen): 5 (101) + 6 Fernsehfilme
Ausstrahlung (USA): 1974 – 1978 (ABC)
The Six Million Dollar Man Intro
Technik für 6 Millionen Dollar
Der arme Steve Austin hat einen schweren Unfall. Er stürzt als Testpilot mit einem Flugzeug ab und wird lebensbedrohlich verletzt. Das einzige, was ihn retten kann, ist modernste Technik und eine unfassbare Menge Geld: 6 Millionen Dollar! Steve ist von nun an schneller und stärker als jeder andere Mensch auf diesem Planeten. Ein Sinnbild für die Begeisterung der Menschen über technische Errungenschaften der 70er Jahre, weswegen der Verlust von Menschlichkeit nicht diskutiert wird – ein bionischer Arm ist einfach immer besser. Die folgende Catchphrase aus dem Intro zieht sich demnach wie ein roter Faden durch die Serie und wird gerne im Zusammenhang mit der Serie und der damaligen Zeit zitiert:
We can rebuild him – we have the technology
Das Beste an Steves Fähigkeiten ist, dass diese Superkräfte durch Zeitlupen dargestellt werden. Seltsam wird es, wenn damit eigentlich Schnelligkeit visualisiert werden soll. In jedem Fall ist es sehr einprägsam und man weiß sofort, jetzt sind seine bionischen Gliedmaßen aktiv.
Vom Fernsehfilm zur Serie
Eigentlich war der Sechs-Millionen-Dollar-Mann als einmaliger Fernsehfilm geplant. Basierend auf dem Buch "Cyborg", Bestseller im Jahr 1972, engagierte man Lee Majors als Hauptcharakter und drehte den "Six Million Dollar Man". Im März 1973 feierte der Film Premiere auf ABC – noch ohne den bekannten Stil mit Zeitlupe oder metallischen Sound. Die Quoten waren so gut, dass im gleichen Jahr zwei weitere Fernsehfilme folgten. Da der Hype sich nicht legte, entschied man sich, Steve Austin in Serie zu schicken. 1974 ging es los.
Das Millionen-Dollar-Franchise
Mit dem 6 Millionen Dollar Mann war es nicht genug. 1976 startete der Spin-Off mit dem Namen "Bionic Woman". In Deutschland wurde die Serie "Sieben-Millionen-Dollar-Frau" benannt – etwas stumpf, aber so wusste jeder sofort, worum es ging. Der Name passte aber insofern, da die gute Jaime tatsächlich für 7 Millionen Dollar mit Bionic ausgerüstet wurde. Vielleicht lag das an ihrem Ohr, denn sie konnte besonders gut hören; eine Fähigkeit, welche Steve verwehrt blieb. Mit 3 Staffeln war die Bionic Woman nicht unerfolgreich, jedoch schaffte sie es auch nicht über das Jahr 1978 hinaus.
Trailer "Die 7 Mio Dollar Frau" Jamie Sommers bei RTL Plus
1987 kam die Generation "Zeichentrickserien am Samstagmorgen" auch in den Genuss von bionischen Helden: Die 6 Millionen Dollar Familie (Bionic Six) erfreute durch einfache und kindgerechte Action.
Comeback(s)
1987 gab es ein Fernsehcomeback für Steve und Jaime mit dem Namen "The Return of the Six Million Dollar Man and the Bionic Woman". Darin tritt übrigens auch unser geliebter Bryan Cranston auf. 1989 lief ein weiteres Comeback mit dem Namen "Bionic Showdown: The Six Million Dollar Man and the Bionic Woman". Darin war übrigens auch Sandra Bullock zu sehen. Der letzte Auftritt von Steve fand im Jahr 1994 statt. Im Film " Bionic Ever After?" heiraten Steve und Jaime.
Breaking Bad News: Bryan Cranston: Six Million Dollar Man and Bionic Woman
Seit 2014 gibt es Berichte über einen Kinofilm mit dem Namen "Six Billion Dollar Man". Mark Wahlberg soll die Rolle des Steve Austin übernehmen. Ob der Film wie geplant noch Ende dieses Jahres in die Kinos kommt, ist unklar.
Bonus
Einen habe ich noch. Der Sechs-Millionen-Dollar-Mann tauchte natürlich auch bei den Simpsons auf. Marge schwärmt für den Schauspieler Lee Majors.

I'm Lee Majors, Will You Come Away With Me? (The Simpsons)

-->