Die Situation kennt sicherlich jeder: "Welche Serie schaue ich denn heute mal?" Kaum hat man sich entschieden, flimmert die erste Episode über den Bildschirm – und schwupps startet die nächste. Bei Amazon Prime zum Beispiel muss man dafür ja nicht besonders viel tun, einfach abwarten und dann gegebenenfalls noch die Sprache wieder richtig einstellen. Aber auch wenn wir ein paar mehr Tasten dafür drücken müssen, die Bereitschaft von einer zur nächsten Episode zu springen und zu sehen, wie es weitergeht, ist sehr verlockend.
Netflix hat jetzt eine Studie darüber veröffentlicht, welche Serien wir Zuschauer eigentlich ganz besonders gern bingen. Es wurde das Binge-Verhalten von Menschen aus 190 Ländern bezüglich 100 Serien verschiedener Genres untersucht. Dabei stellte sich heraus, dass man für den Abschluss einer ganzen Staffel durchschnittlich etwa fünf Tage benötigt, was aus einer durchschnittlichen Rezeptionszeit von zwei Stunden und zehn Minuten pro Tag hervorgeht. Wow.
Das Ergebnis umfasst aber noch mehr als nur den Zeitaufwand für das Schauen einer Serie. Auch das Genre der Serien ist ausschlaggebend für unser Sehverhalten: Thriller-und Horror-Serien wie Breaking Bad, Scream oder The Walking Dead verschlingen wir mit mehr als zwei Stunden Zeitaufwand pro Tag nahezu ("devour"), während wir "pietätlose" Comedies wie Bojack Horseman mit weniger als zwei Stunden Zeitaufwand pro Tag eher "langsamer" genießen ("savor").
SAVOR
Irreverent Comedies
Arrested Development, BoJack Horseman, Club de Cuervos, F is for Family, Love,
Summer Heights High, Unbreakable Kimmy Schmidt, Wet Hot American Summer
Political Dramas
Homeland, House of Cards, Occupied, The Good Wife, The West Wing
Historical Dramas
Mad Men, Narcos, Peaky Blinders, The Americans
Superhero Drama
Gotham, Marvel's Daredevil, Marvel's Jessica Jones, The Flash
Crime Dramas
Better Call Saul, Bloodline, Fargo, The Blacklist, The Bridge, Twin Peaks
Dramatic Comedies
Flaked, Grace & Frankie, Nurse Jackie, Orange is the New Black,
Parenthood, Rescue Me, Weeds
Action & Adventure
24, Arrow, La Reina del Sur, Marco Polo, Outlander,
Prison Break, The Last Kingdom, Turn, Vikings
Sci-Fi
Ascension, Between, Heroes, Orphan Black, Sense8,
The 100, The 4400, Under the Dome
Horror
American Horror Story, Hemlock Grove, Penny Dreadful,
Scream, The Walking Dead, Z Nation
Thriller
Bates Motel, Breaking Bad, Dexter, Sons of Anarchy,
The Fall, The Following, The Killing
DEVOUR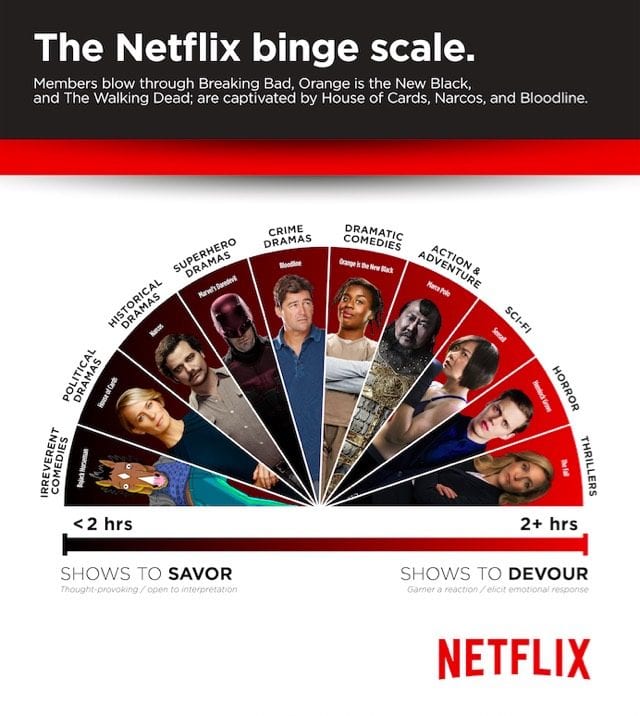 Na, erkennt ihr euch darin wieder?
via: TVLine Bild: Netflix