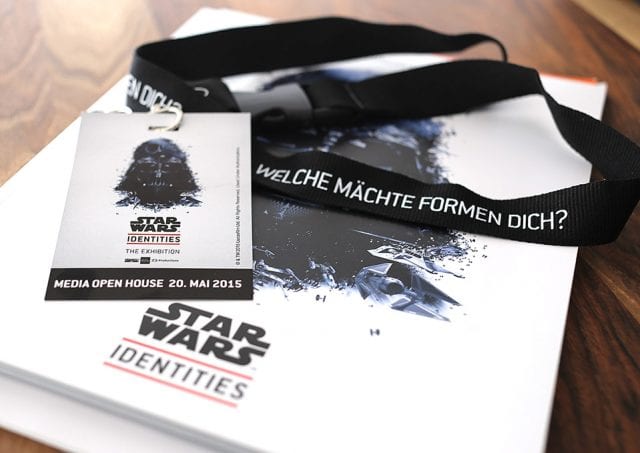 Ab sofort kann man seinen eigenen Star Wars-Charakter formen: In der Star Wars-Ausstellung IDENTITIES, die bis November im Kölner Odysseum zu sehen ist, kann man über zehn Stationen seine Eigenschaften, Vorlieben und Wünsche eingeben – und am Ende steht der eigene Charakter aus dem Star Wars-Universum, den man zum Abschluss der Ausstellung nicht nur auf einer Videowand lebensgroß angezeigt bekommt, sondern den man sich gleich per Mail auch zuschicken lassen kann. Wir haben uns für Euch vorab schon einmal durch die IDENTITIES-Galaxie im Star Wars-Universum begeben und im Odysseum alles ausgetestet.
Los geht's im Odysseum erst einmal mit technischer Aufrüstung: Als besucher bekommt man ein Audiogerät angestöpselt, außerdem gibt's einen schwarzen Armreifen – nicht chic, aber funktional, denn dieser Armreifen ist ein wichtiges Element in der Ausstellung. Dazu aber später mehr.
Die Ausstellung startet mit einem kurzen Introfilmchen mit Szenen aus den beiden Film-Trilogien, ehe sich die Tore zu den Ausstellungshallen öffnen. Hier stehen wir gleich Boba Fett gegenüber – besser gesagt seiner Uniform. Es handelt sich um die Original-Uniform aus den Filmen – eines von rund 200 Unikaten, die im Odysseum zu sehen sind und alle irgendwie in den Filmen benutzt worden sind. "Alles Originale, keine Nachbauten", wie Comedian Hennes Bender als Moderator und bekennender Star Wars-Fan in der Eröffnungsveranstaltung zur Ausstellung betonte. "Uns war wichtig, wirkliche Originale zu zeigen, denn das macht nochmal einen besonderen Reiz aus", erklärte Laela French, Senior Manager of Archives and Exhibits, Lucas Museum of Narrative Art. Mit dabei sind neben Uniformen auch die in den Filmen genutzten Raumschiff-Modelle, Helme, Droiden und vieles mehr. Prima sind die vielen Erklärtafeln und Infomonitore, die so manches Geheimnis zu den Exponaten oder zu der Entwicklung einzelner Figuren wie Yoda oder Darth Vader verraten.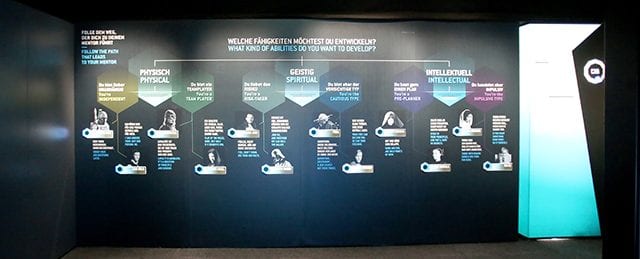 Highlight aus meiner Sicht sind aber die interaktiven Elemente – und hier kommt die Technik wieder ins Spiel, die man am Eingang angehängt bekommen hat. Das schwarze Armband wird gleich am Eingang einmal getestet, ehe man sich dann darüber entscheiden muss, welche Art von Lebensform man in der Ausstellung sein möchte: Ewok, Wookie oder Mensch zum Beispiel. Die Auswahl erfolgt so: Zu jeder Lebensform gibt es ein spezielles Touchfeld, vor das man den Armreifen halten muss. Im Reifen ist ein RFID-Chip enthalten, der die Auswahl speichert. Das macht er auch bei den weiteren Entscheidungen im Laufe der Ausstellung, wenn es zum Beispiel um die Wahl des Heimatplaneten, die Berufswahl oder um Einstellungen und Charakterzüge geht. Zehn Stationen gibt es insgesamt, und es macht richtig Spaß, sich immer wieder darauf einzulassen, weil auch jede Station wieder anders gestaltet ist. "Diese interaktive Form macht Spaß und lockert den Besuch insgesamt auf", sagte Sophie Henault, General Manager bei X3 Productions und technische Produzentin der Odysseum-Ausstellung. Zwischen den Stationen gibt es einerseits die Exponate zu sehen, andererseits gibt's wissenschaftliche Hintergründe zu dem, was man an den zehn Stationen ausgewählt hat – eine gelungene Abwechslung, so dass es nicht langweilig wird. "Uns war auch wichtig, entsprechendes Wissen zu vermitteln, denn das ist ja auch unser Anspruch als Odysseum", erklärte Andreas Waschk, Geschäftsführer des Odysseums.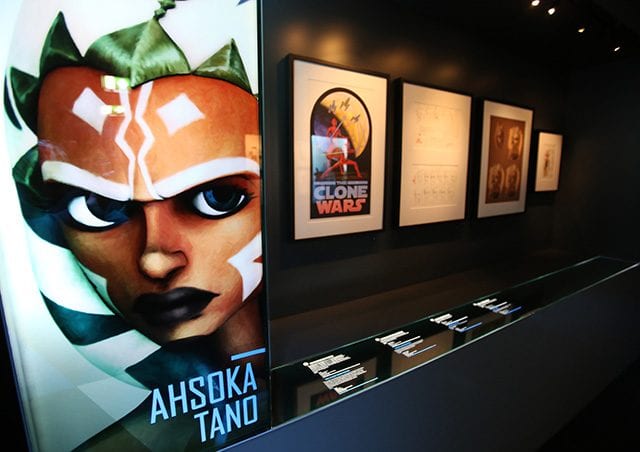 Die Entstehung von Ahsoka Tano als Figur wird erklärt. (Foto: Michael Braun/sAWE.tv)
Auch die animierten Serien aus dem Star Wars-Universum spielen eine Rolle: Es wird zum Beispiel gezeigt, wie die Figur Ahsoka Tano entstanden ist. Am Ende der Ausstellung gibt es einige Fotos aus der neuen Star Wars Rebels Serie zu sehen.
Alle Infos zur Ausstellung:
Star Wars IDENTITIES
, Odysseum, Corintostraße 1, 51103 Köln, Tel: 0221 – 690 68 111, E-Mail: info@odysseum.de. Öffnungszeiten: Mo-Fr 9-19 Uhr, Samstag 9-20 Uhr, Sonntag 10-20 Uhr. Eintrittspreise: Erwachsene ab 21,95 EUR, Kinder & Jugendliche ab 15,95 EUR, Familienticket (2+2) ab 17,50 EUR (pro Person), wochenends jeweils 2 EUR Zuschlag.
Auf den folgenden Seiten bekommt Ihr einen Eindruck der Ausstellung in Köln
Die Fahrzeuge & Raumschiffe | Die Figuren | Die Interaktionen | Die Eröffnungsveranstaltung
Hier seht Ihr, wie mein Charakter am Ende des Ausstellungsbesuchs aussieht: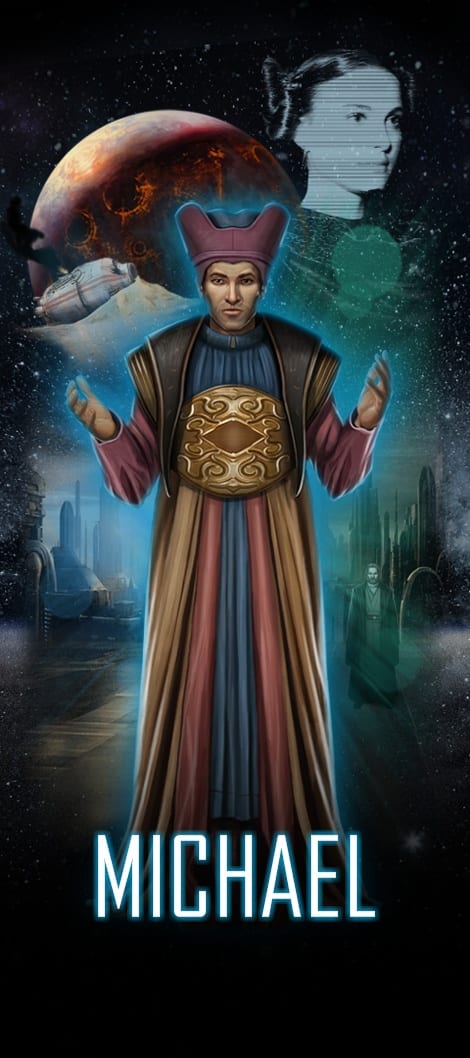 Weitere Bilder findet Ihr in unserem Star Wars-Fotoalbum auf unserer Facebook-Seite!

-->