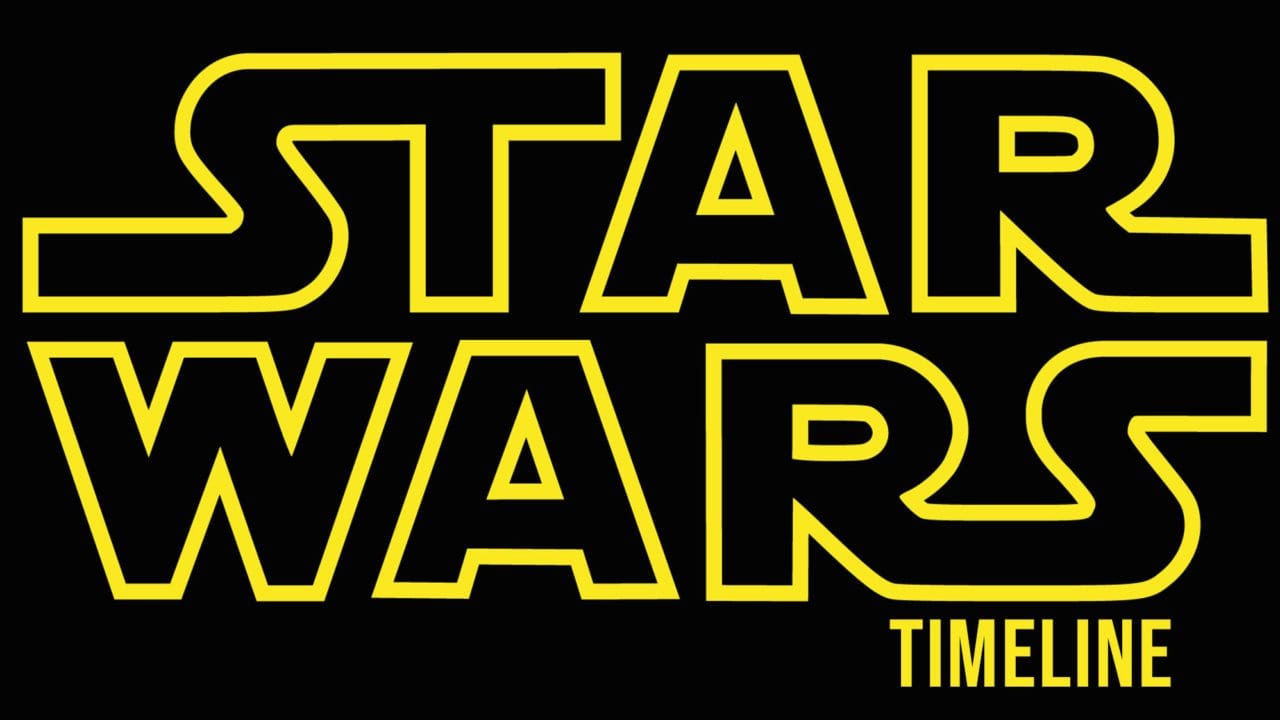 Spätestens mit "Star Wars The Mandalorian" sind auch Serien im "Star Wars"-Universum ein erst zu nehmender Teil geworden. Doch wie lassen sich nicht nur "The Mandalorian", sondern auch Serie wie "Star Wars Rebels" oder "Star Wars Resistance" in den Gesamtkanon von "Star Wars" einsortieren? Die Reihenfolge der klassischen Filme ist ja relativ klar – auch wenn es 1977 zwar mit dem ersten Film los ging, es sich dabei aber um Episode IV der eigentlichen Geschichte handelte. Aber die Serien? Deswegen haben wir – auch mit Blick auf die Beliebtheit unserer "Marvel Timeline" zum Marvel Cinematic Universe – einmal eine Timeline zum offiziellen "Star Wars"-Kanon erstellt.
Also, blicken wir auf die klassischen Filme: "Episode IV" war der erste Film, und der Hinweis auf diese eben 4. Episode stand auch schon im Vorspann des Films. Hat natürlich etwas verwundert, dass hier mit teil 4 gestartet wird, aber offensichtlich war es für "Star Wars"-Erfinder george Lucas einfach spannender, die Story von Luke Skywalker zu erzählen und sich die Vorgeschichte (auf)zu sparen. An dieser Episode IV orientiert sich übrigens auch die offizielle Zählweise der Jahre, in denen die Filme spielen. Im Mittelpunkt steht die "Battle of Yavin", also jener Zeitpunkt, zu dem die Rebellen den ersten Todesstern zerstören. Alles, was davon passiert, wird in "Before Battle of Yavin" (BBY) gerechnet, alles danach in "After Battle of Yavin" (ABY). Das haben wir in unsere Timeline übernommen.
Nach der klassischen Trilogie, die eben die Episoden IV, V und VI beinhaltet, ging es weiter mit der Prequel-Trilogie (Episode I, II, III). Abgeschlossen wurde die Haupterzählung mit der Sequel-Trilogie (Episode VII, VIII und IX). Wer nochmal etwas aufholen möchte – hier kann alle neun Teile gleichzeitig nochmal sehen… ;-)
Zwischen den Hauptfilmen sind dann die ersten "Star Wars Story"-Filme veröffentlicht worden, zum einen der sehr gute "Rogue One" und der eher schlecht angekommene "Solo". Und dann haben wir noch die Serien…
… zu denen es witzigerweise auch einen Film gibt, nämlich "The Clone Wars". Die gleichnamige Serie ist wie der Film animiert und hat eine wechselvolle Geschichte hinter sich. Sie wurde von 2008 bis 2014 produziert und erlebt jetzt bei Disney+ ihr Finale. Ebenfalls animiert sind "Stars Wars Rebels" und "Star Wars Resistance". Die erste Realserie ist "Star Wars The Mandalorian", die auch beim Publikum sehr gut angekommen ist. Es folgte "Obi-Wan Kenobi" und "Star Wars: Andor". Weitere Realserien sind in Planung, unter anderem "Star Wars: Ahsoka".
Damit kommen wir zur Timeline – so sieht sie aktuell aus: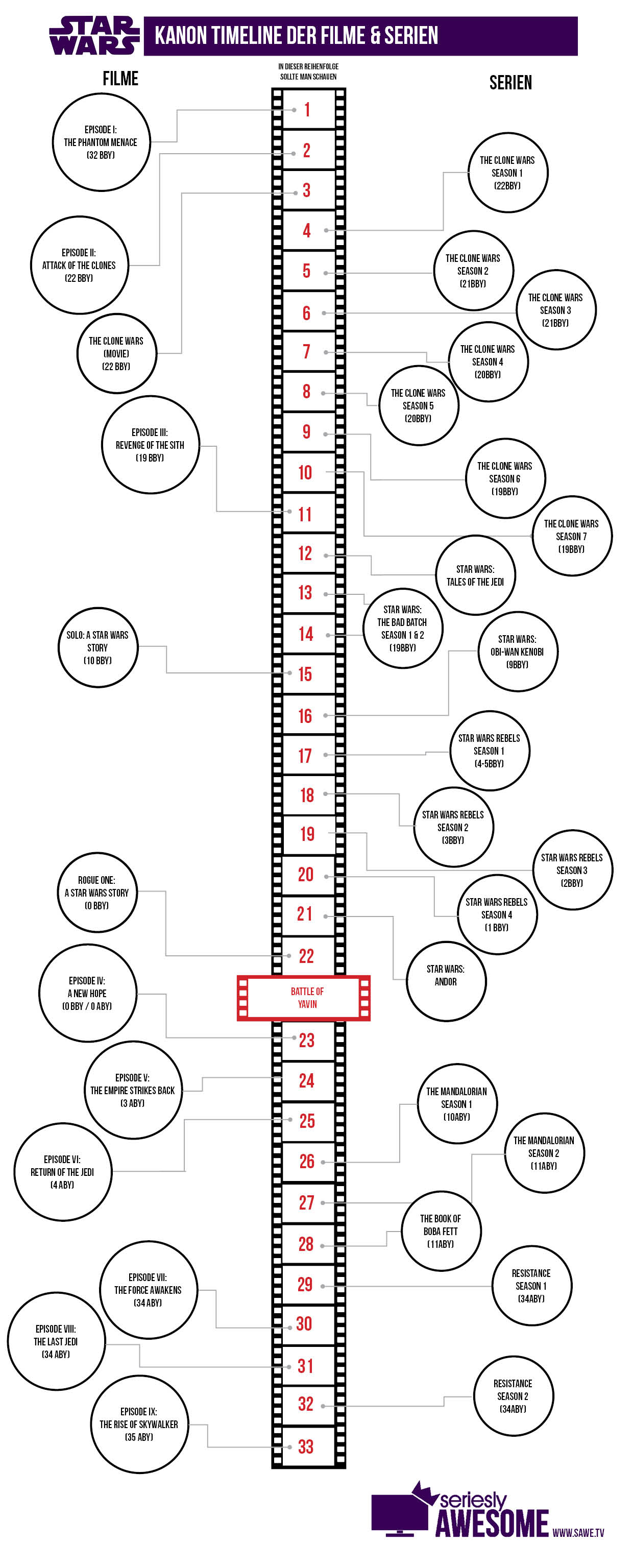 (Hier klicken für hochauflösende Version)

UPDATE 11/2022: Wir haben die Serien "Obi-Wan Kenobi", "Andor", "The Bad Batch" und "Tales of the Jedi" hinzugefügt.

Ein paar Ideen für eine Erweiterung der Timeline gibt es auch schon – ich wollte zum Beispiel noch die Ewoks-Filme und -Serien dazupacken, auch wenn sie irgendwann aus dem offiziellen Kanon herausgenommen wurden. Außerdem sind ja weitere Realserien geplant – die werden wir dann natürlich auch entsprechend nachtragen. Wer weitere Ideen hat – ab in die Kommentare damit.

-->