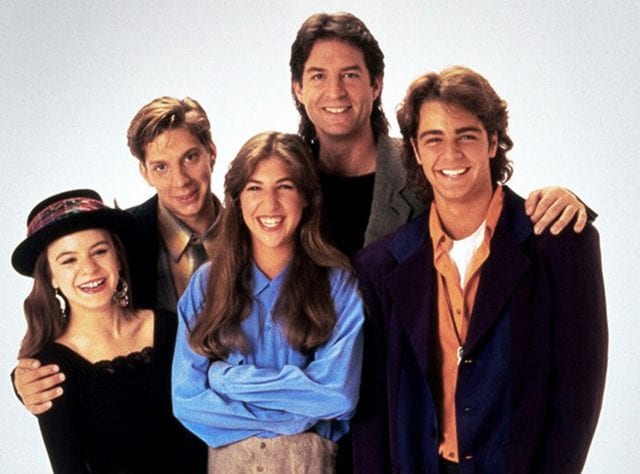 Bei dem ganzen Revival-Gerede rund um Akte X, Twin Peaks usw. kommen jetzt natürlich immer mehr 80er- und 90er-Jahre-Serien wieder ins Gespräch – so auch Blossom, eine von mir sehr geschätzte Serie, die von 1990 bis 1995 bei NBC lief. Sie geht humortechnisch so ein bisschen in Richtung Parker Lewis und Tool Time, oder auch Scrubs. Im Mittelpunkt steht das Mädchen Blossom Russo, gespielt von Mayim Bialik, die man heute vor allem aus The Big Bang Theory kennt. Zum Cast gehörten damals auch Joey Lawrence, den man später bei Californication oder CSI: NY gesehen hat, und Jenny von Oy, die nach Blossom allerdings nur noch Gastauftritte in Serien wie Cold Case hatte.
Auf jeden Fall hat sich Mayim Bialik kürzlich gegenüber Yahoo TV bezüglich eines möglichen Blossom-Revivals geäußert. Um es kurz zu machen – aktuell denke wohl niemand aus dem damaligen Blossom-Umfeld an ein Revival – auch wenn sich der Maincast regelmäßig trifft, so auch 2014 zu einem Blossom Reunion Marathon auf dem Hub Network, der sehr erfolgreich war – der erfolgreichste Hub Marathon seit Bestehen. Im Interview bei Yahoo TV bestätigt sie, dass man weiterhin in gutem Kontakt stehe.
The Blossom Reunion Marathon from Merrill Hagan on Vimeo.
Auch interessant: Im Interview berichtet sie noch über die restriktiven Disney-Verträge zu Blossom. Jetzt sei sie allerdings im Chuck Lorre Universum angekommen – und offensichtlich glücklich:
Now that I live in the Chuck Lorre universe, I am appropriately contracted to the Chuck Lorre universe, so I think it might be legally more interesting than people would imagine.
Worüber sie sich freuen würde, wäre eine Veröffentlichung der Blossom-Staffeln 3-5 – bislang gibt es nur die ersten beiden Staffeln auf DVD. Tja, das wäre wirklich zumindest mal ein Anfang und würde mir auch gefallen – oder um es mit Blossoms Bruder Joey zu sagen: "Whoa!"

-->