Ta-daa! Ich habe die zweifelhafte Ehre, den 100. Beitrag zu "Fear The Walking Dead" hier im Blog zu schreiben. Hach, was toll geht so. Mein Gefühl gleicht der aktuellen Folge, die ihrem Episodentitel leider alle Ehre macht und eher schwach daher kommt. Aber das ist ja das neue "Normal" im Walking Dead-Universum.
Ganz den Weg, konzeptionell zunächst jede Woche Einzelepisoden rund um die Handlungsstränge bestimmter Personen(gruppen) zu zeigen, geht "Fear The Walking Dead" nicht mehr. Zwar wird uns jetzt das Post-Sturm-Schicksal von June und Al gezeigt, aber die eigentliche Sturm-und-wenig-Drang-Phase wird mit einer kleinen SWAT-Truck-Montage und so viel John-Interview-Gucken gelöst, dass die Batterien so leer sind wie der Wasserbestand. Hm.
"When the going gets tough, I run. Or worse…" (June)
Kurz darauf treffen wir auf die neu gefundene Truckerrunde von letzter Woche, 65 Meilen vor Houston. Dort entscheidet Morgan mal wieder recht grundlos, in der gefährlichen Zombie-Apokalypse alleine loszuziehen, nur, damit er einzeln auf die Mystery Woman treffen kann. Die füllt Wasserflaschen aus einem aus dem Nichts erscheinenden Behälter auf. Schaut nach Regenwasser aus, meine TWD-Skepsis lässt mich aber direkt an Gift oder Krankmacher denken. Die führt nichts Gutes im Schilde, ich schreib es euch!
"I… don't need any… help. I'm not weak." (Mystery Woman)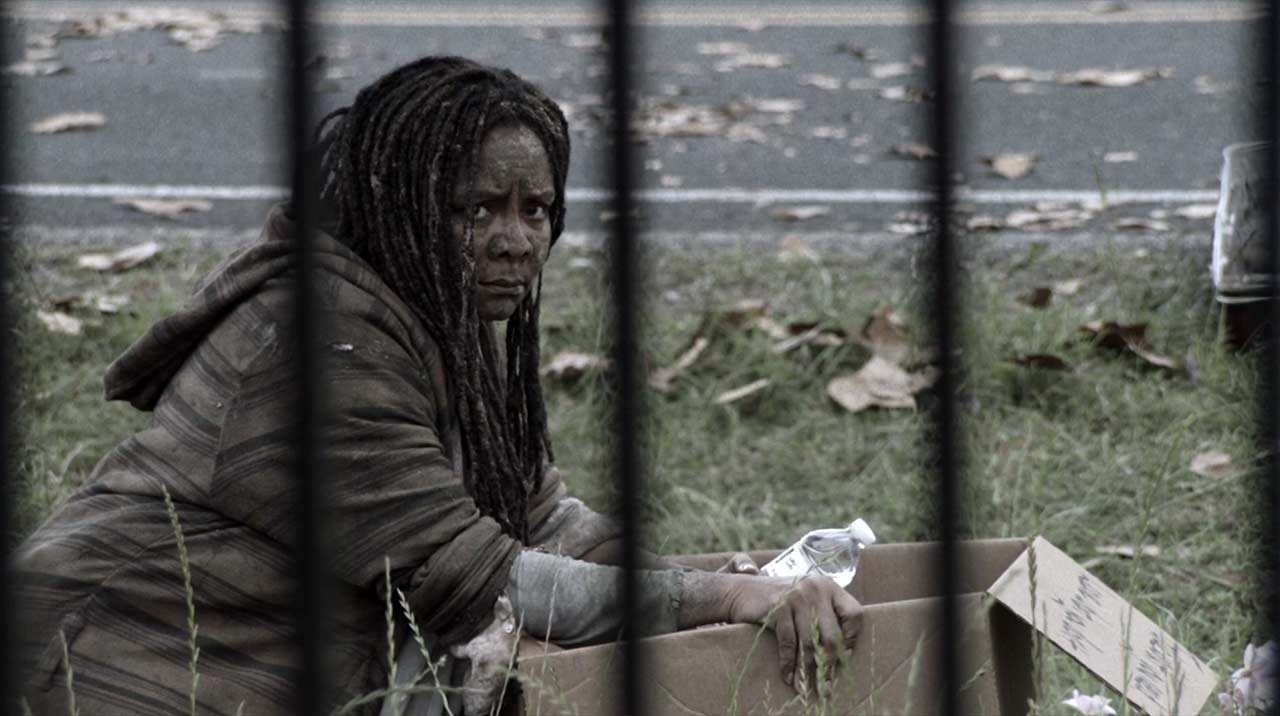 Die Idee, dass die Funkgeräte als Übergangsmittel zwischen den Orten und Gruppen fungieren, gefällt mir ganz gut und klappt auch meistens (also dann, wenn es soll und die Story es braucht). Signalstärke und Batterie-Stand zeigen sich ähnlich situationsbedingt wechselhaft, wie der Krankheitszustand von Al.
"When you spend as much time as I do, collecting other people's stories, you kinda stop having your own." (Al)
Hat sie nun niedrigen Blutzucker oder Malaria? Man weiß es nicht genau, aber im einen Moment ist sie stark genug, einen Reifen zu wechseln(!), dann wiederum schafft sie es nicht, zum alarmierenden Funkgerät zu robben. Dass sie den Walker Crawler nicht erstechen kann, nur um einen überflüssigen Radlager-Kill vollführen zu können, ist dann so plump wie schnell ersichtlich. Aber gut, es geht um ihren einzigen Schatz, den sie noch hat, denn Jemand (Quinn) hat ihren Truck mit ohne Medizin drin gestohlen! Das führt so weit, dass sie gar auf menschenleerer Straße so schnell fährt, dass June ihr sagt, langsamer zu fahren (nämlich ~80 km/h, wow…). Letztlich springt Al nach einem unnötigen Morgen-Gedächtnis-Sturrheits-Moment über ihren Truck-Trennungsangst-Schatten und billigt in das Wiedervereinigungs-Vorhaben ein.
"Those are my guns!" (Al)
Nur doof, dass parallel Quinn Diesel und den Truck gefunden hat. Quinn ist sehr gut im Finden, außer, es geht um Meilenpfeiler. "Äh, da steht aber doch '27' drauf?!" spricht er, um selbst noch zu sagen, dass kurz vorher doch die "20" gekommen sei. Dieser ach so schlaue Move hätte eigentlich nie funktionieren dürfen, aber jetzt wissen wir auch, weshalb Al vom Truck gewichen ist – damit Mystery Woman ihn sich krallen kann. Und nebenbei konnte sie Pursey durch Quinn austauschen, der fortan ein schickes "Peoply you know"-Zitat auf der Stirn stehen hat. Als wolle man uns sagen, dass es jetzt aber auch mal reicht mit neuen Figuren und wir lieber mal bei denen bleiben, die wir bereits kennen. Deal?
"You know what we say… or, what the man we stole the truck from said. 'When the road get to buckin' keep on truckin'." (Wendell)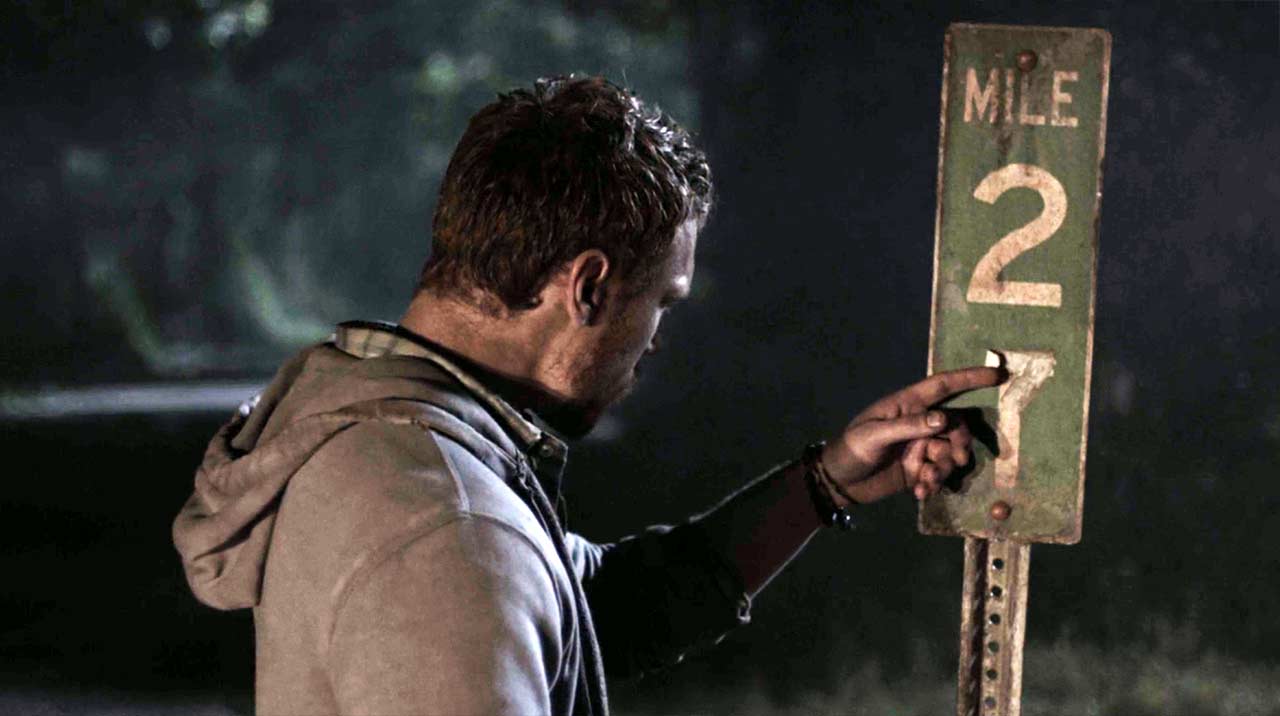 Eine Überraschung gab es dann doch noch für mich, denn nach etlichen Folgen habe ich endlich bemerkt, dass Al-Darstellerin Maggie Grace in "LOST" mitgespielt hat! Noch mit langen blonden Haaren, als Shannon Rutherford. Oh wow…! Das kann ich euch an dieser Stelle in Ruhe sagen, weil es sonst nicht viel zu berichten gibt.

Die Folge hatte eigentlich einen vielversprechenden Aufbau, der leider wie so oft durch Details und die eigentliche Story zerstört wurde. Die Entscheidungsfindung der Personen ist zumindest fragwürdig (wieso stehe ich stundenlange offen an so einem Kack-Meilenmarker?!), das Aufeinandertreffen von bislang untereinander fremden Figuren schwankt zwischen totalem Fremdenhass und liebe- sowie verständnisvoller Zuneigung. Zu offensichtlich serviert uns die Serie jeweils die Parameter, die gerade für den Fortschritt der Handlung benötigt werden, nicht die, die die Geschichte sinnvoll voranbringen könnten. Und besteht der Charakter Jim eigentlich tatsächlich NUR aus Bier?! Nein, das war mal wieder "weak". Aber wen überrascht das überhaupt noch…?

Bilder: amc

-->