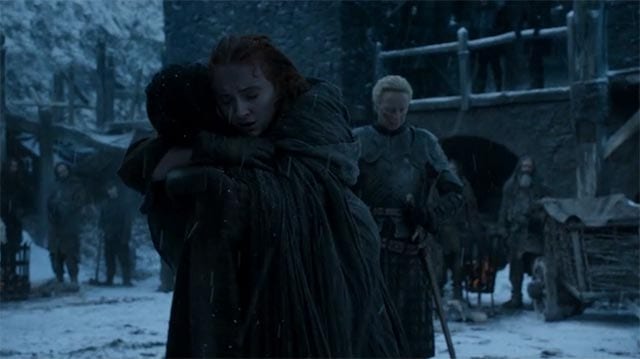 Hach, willkommen bei der neuen Folge von "Wo bist du? Aktenzeichen gesucht, gefunden, verbrannt – Nur die Liebe zählt". Diese Woche gab es in Westeros viele starke Momente, aber auch eine Menge Leerlauf zu sehen. Der Reihe nach.
Jon hat genug vom Kämpfen und dem schlechten Ale und der Kälte – ihm wird wenigstens schon einmal warm ums Herz als plötzlich Sansa auftaucht. Emotionaler Schmelz, der dank musikalischer 08/15-Untermalung an die Endlos-Verabschiedungs-Orgie in "Herr der Ringe" erinnert hat. Unausweichlich, aber zu dick aufgetragen. Naja.
"We never should've left Winterfell." (Jon)
Brienne ist immer noch tough und Robin immer noch schlecht in allem außer nervig sein. Aber verdammt, hat der einen Pubertätsschub bekommen! In Westeros scheint man deutlich schneller zu wachsen, als bei uns. Littlefingers Spiel wird langsam konkreter und auch Tyrion versucht sich in seiner neuen, diplomatischen Rolle.
"I don't make peace with the queens enemies, I kill the queens enemies." (Grey Worm)
Das funktioniert auf jeden Fall besser, als sein Versuch, in der Sprache Mereens zu reden. Billiger Untertitel-Gag, aber allgemein war diese Sequenz noch am besten geschrieben, hatte tolle Zitate parat und einmal mehr bewiesen, dass große und weitreichende Handlungs-Elemente auch komplett ohne (physische) Gewalt auskommen könn(t)en.
"Just because your master has silver hair and tits, doesn't mean she's not a master." (Master)
"You're right – slavery is a horror that should be ended at once, war is a horror that schould be ended at once – I can't do both today." (Tyrion)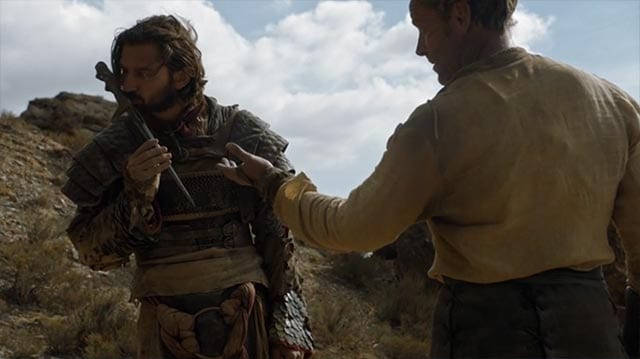 Puh – endlich sehen wir wieder Jorahs Arm! Ich hatte schon ganz vergessen, wie steinig sein Weg doch ist… Okay, hier ging es tatsächlich darum, zum ersten Mal das Geheimnis preis zu geben – zumindest vor dem Dolch-vernarrten Daario.
"I should have been born a Dothraki." (Daario)
Der schafft es eindrucksvoll, eine Messer-Attacke ohne Stichwunde zu vollführen, bleibt ansonsten jedoch auf Altherren-Witzen und L'oreal-Haar-Werbung hängen. Hatte mir mehr vom Duo erhofft, dem Daenerys mal wieder die Show zu stehlen weiß…
Zwischendrin kommt endlichendlichendlich viel zu spät mal richtig Bewegung in die High Sparrow-Geschichte und den mehr als zähen "Glaubens-Strang". Cersei kann ja doch noch aufstacheln, das Haus Lannister hat doch noch Eier und vielleicht ist dann auch irgendwann mal Schluss mit dreckigen Lumpen in alten Gemäuern. Team #Margearysollwiederhübschaussehen!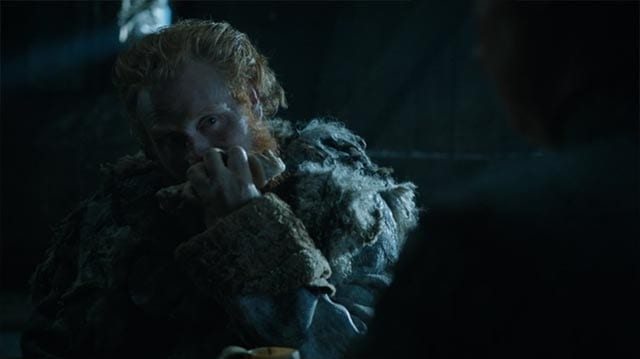 Und wo man sich gerade freut, Osha mal wieder zu sehen – das! Menno… Ich werde ihre Blicke vermissen. Dafür erhält Brienne einen verdammt erotisch-wilden Flirtblick beim leckeren Nights Watch-Mahl zu sehen. Rarrr! Die Beilage in Form einer Nachricht schmeckt weniger, aber ist natürlich die perfekte Grundlage für einen Kampf mit den Wildlingen. Hoffen wir mal, dass diese Schlacht um Winterfell nicht derart enttäuschend verläuft, wie die letzte.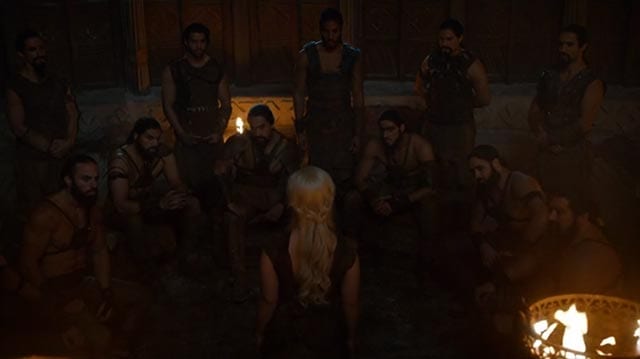 "You're not going to serve. You're going to die." (Daenerys)
Ach ja und dann wäre da noch Daenerys. Die schafft es dann doch noch, die Folge zu retten, indem sie mal wieder ihren heißen Partytrick vorführt und erstaunlich schnell die Massen hinter sich bringt. Schöner Rahmen zur ersten Staffel, jetzt hat sie ganz viele Pferde, die ihr helfen können, die Sklaven-Heinis und Masken-Fetischisten zu schlagen und endlich nach Westeros zu kommen.
Auf dem Papier sah das gar nicht schlecht aus. Konkrete Fortschritte in vielen Landesteilen, einige schöne Zitate, ein "epischer" Moment (wenn auch eher daraufhin inszeniert, als wirklich episch) – und doch war es leider kein großer Sprung. Der Mittelteil war langweilig, einzelne Passagen mir persönlich zu nichtig. Ja, es ist schwer bei solch unterschiedlichen Szenerien und Handlungen das Pacing komplett zu treffen, aber zwischendrin hat es halt nicht ganz gepasst. Dafür hat es sich kurioser Weise nicht als zu voll angefühlt (wir haben endlich mal nicht Arya oder Bran für je zwei Minuten gesehen) und es ist deutlich geworden, welche Armeen in welche Richtungen marschieren dürften. Wenn das so klappt, wie ich mir das denke, könnten die eigentlich eine sehr geniale "Schlachten überall!"-Episode bringen, wenn zeitgleich in King's Landing, Winterfell und Mereen gekämpft wird. Das hätte was – in Konferenz-Schaltung mit Kommentar von Marcel Reif und George R.R. Martins Steuerberater. Das wird schon werden, ich habe es in den Flammen gesehen.

Bilder: HBO

-->