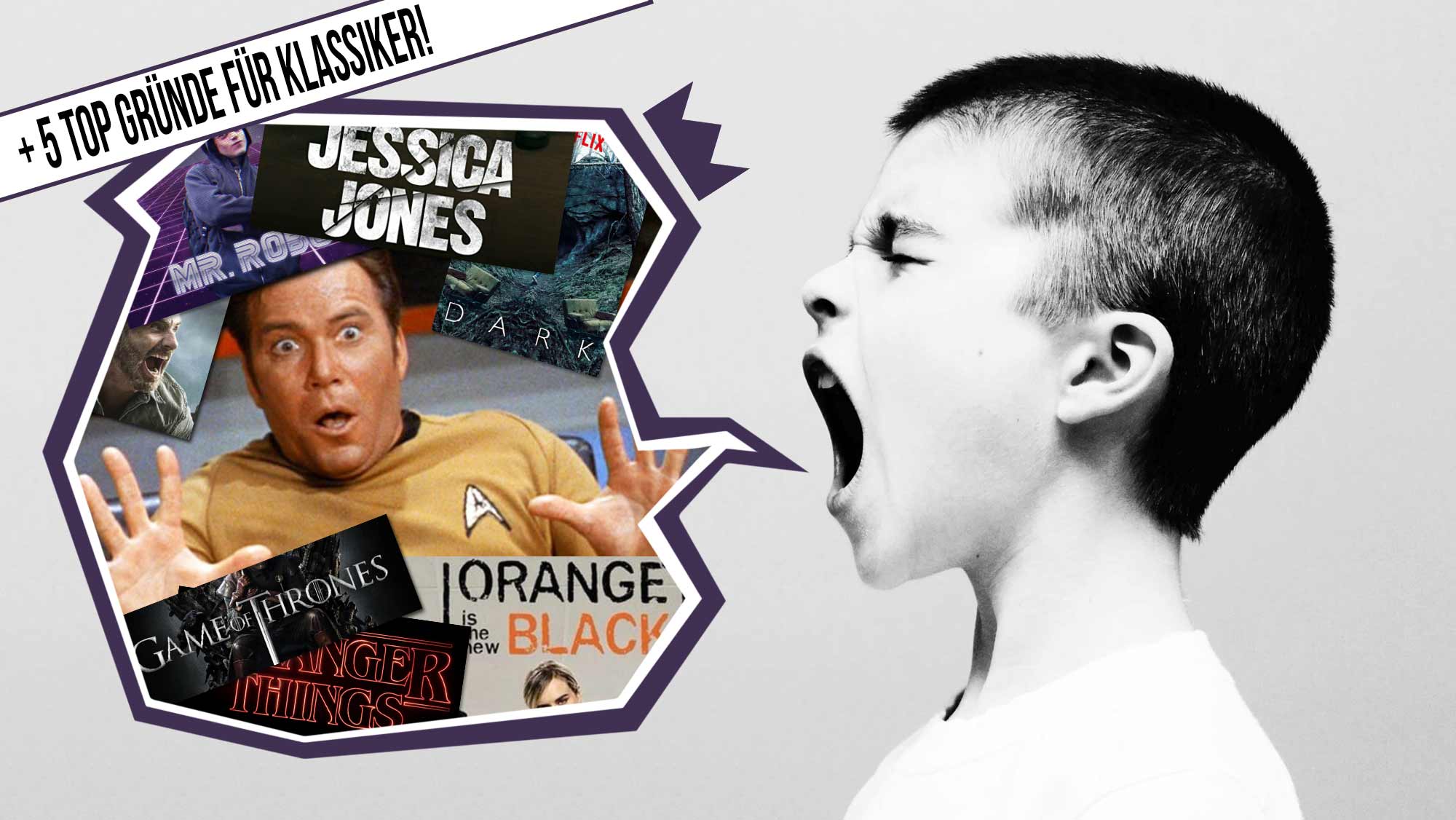 Jeden Monat findet ihr bei uns die neuen Netflix Serien, die neuen Amazon Serien, Serien, welche auf Sky laufen, oder sogar wöchentlich Tipps zu Serien und Neustarts in den USA.  Ein wahrer Overkill an nigelnagelneuen Serien. Die eine Serie heißer als die andere, mit noch bekannteren Schauspielern, einer mega innovativen Erzählweise, krassen Twists und das alles in 4k, HDR auf allen Geräten streambar.
Und ja, diese Wahrnehmung ist nicht neu. Wir hatten dazu schon einen Kommentar von Falko. In gewisser Weise ging auch Matthias mit seinem Plädoyer gegen Binge Watching in die gleiche Kerbe. Und selbst ich habe mich mal über den Verlust am Spaß an Serien aufgeregt.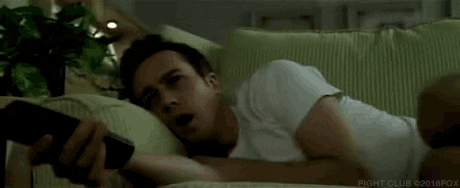 Insofern kein neues Problem, aber vielleicht gibt es eine neue Lösung: Gebt Klassikern eine Chance!
Ich nehme mich mal als Beispiel. Es ereignete sich vor drei Wochen. Durch Krankheit an das Bett gefesselt, verbrachte ich eine Woche Zuhause und wusste nichts mit mir anzufangen. Eine neue Serie starten, das war der Plan, irgendwie musste ich ja die Zeit zwischen Tee und Schlafen rumkriegen. Aber alles ach so toll Neues sagte mir nicht zu. Vielleicht auch durch meine Abgeschlagenheit hatte ich einfach keine Lust auf die neueste Netflix Millionenproduktion mit Hollywood Stars und Sternchen. Also suchte ich nach einem Ersatz und kramte im Hirn: Was wurde dir mal empfohlen und was hast du bisher nie gesehen? The IT Crowd! Die bekannte britische Sitcom hatte ich bis dahin nicht gesehen – trotz Empfehlungen von allen Seiten. Irgendwie hatten mich aber diese Tipps über viele Jahre nicht überzeugt, aber nun dachte ich, viel zu verlieren habe ich nicht, also fing ich an und war sofort begeistert. Die Bildqualität war oder ist miserabel und das Produktionsvolumen der Serie ist sicher noch geringer als in der Trash-Serie Hercules, ABER es lohnt sich.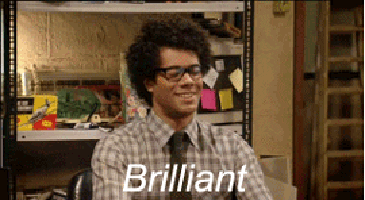 Der Humor hat bei mir voll eingeschlagen und ich dachte mir, warum habe ich es nicht schon eher geschaut? Beziehungsweise, was ist denn mit anderen Klassikern, warum muss ich immer das Neueste schauen, wenn es doch schon so gute Serien gibt, die ich vielleicht noch gar nicht gesehen habe? Aus diesem Gedankengang heraus habe ich mal gesammelt, welche Vorteile es alle gibt, wenn man sich einer alten, bereits abgeschlossenen Serie annimmt.
Die Top 5 Gründe Serienklassiker zu schauen:
Die komplette Serie ist sofort verfügbar!
Was gibt es schlimmeres, als eine Woche auf die neue Folge warten zu müssen oder – noch schlimmer – ein ganzes Jahr auf die neue Staffel? Mit einem Klassiker kann euch das nicht passieren!
Keine Angst vor Spoilern!
Entweder ihr wurdet schon längst gespoilert, da die Serie ja schon einige Jahre auf dem Buckel hat, oder, viel wahrscheinlicher, ihr wurdet bisher nicht gespoilt und seid durch die fehlende Aktualität auch nicht in mehr Gefahr. Wer würde euch schon über Folge 10 Staffel 2 eurer X Jahre alten Serie im Twitter oder Facebook Feed den Spaß verderben?
Ihr könnt direkt mit anderen über die Serie reden!
Was habt ihr schon davon, wenn ihr immer up to date mit der neuesten Serie seid? Ihr könnt doch mit fast niemanden darüber reden. Und wenn, dann ist euer Kumpel oder Freundin nicht bei der gleichen Episode. Bei einem Klassiker habt ihr sofort mehrere Personen, mit denen ihr über Theorien reden könnt und eure Meinung.
Kein 4k, kein HD: Ein alter Fernseher tut es auch
Ein Klassiker macht auch auf einem einfachen Röhrenfernseher noch Spaß. Wer braucht schon HD, wenn die Geschichte spannend ist. Bei einem Klassiker braucht ihr kein schlechtes Gewissen haben, wenn ihr nicht die neueste Technik zu Hause habt.
Ein schnelles Internet braucht ihr nicht
Euer WLAN spackt rum, die Mitbewohner nehmen euch ständig die Bandbreite oder ihr habt gar kein Gerät, welches einen Videostream auf den Fernseher bringen kann? Bei einem Klassiker kann man auch zur DVD greifen, ein riesiger Vorteil bei einer Klassiker-Serie. Abseits dessen bezahlt ihr dann auch keine monatlichen Gebühren an Netflix, Amazon und Co.
Also 5 gute Gründe für einen Klassiker. Abschließend noch ein paar Tipp für den angehenden Klassikergucker.
Aus 1967 "The Prisoner", die Mutter aller Mystery-Serien. Von 1989 Seinfeld, eine Comedy-Serie die ihresgleichen sucht. HBOs Aushängeschild die Sopranos aus dem Jahr 1999. Nicht zu vergessen, die (vielleicht zu extrem) gelobte Serie The Wire aus dem Jahr 2002. Und zwei junge Klassiker zu guter Letzt: Lost von 2004 und Breaking Bad 2008.
Traut euch, lasst die Neuen links liegen und biegt ab auf den Klassiker-Highway.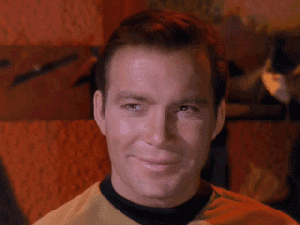 -->