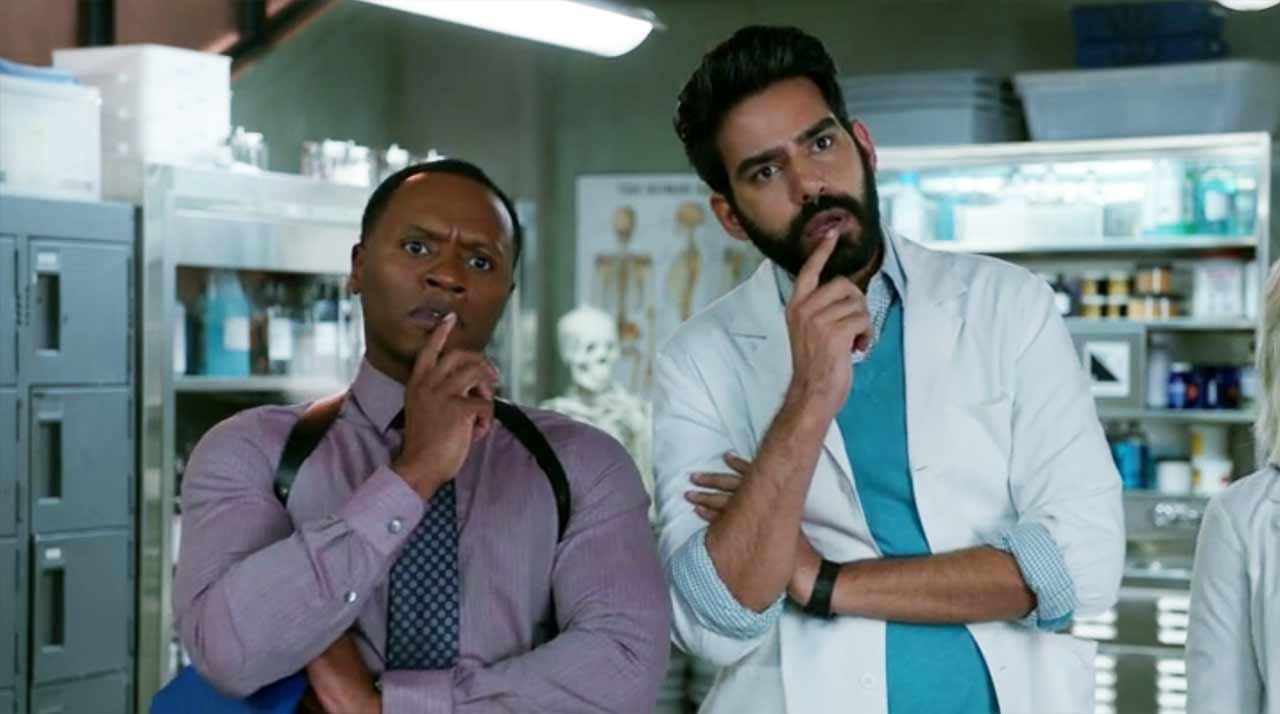 Diese Woche hatte "iZombie" tatsächlich mal Neues und Tiefgreifendes zu bieten. Also Mundschutz rein, noch schnell ein paar "Brain Bites" gegriffen und los! Und um vorab Enttäuschungen vorzubeugen: Ich werde keine Witze über Leute mit französischem Akzent machen, das ge-ört sisch nischt! Aber damit sind wir direkt beim Thema: Diskriminierung. Sehr schön finde ich, wie eine im Bus sitzende farbige Frau sich dem Thema annimmt (Rosa Parks lässt grüßen). Ebenso finde ich ganz angenehm, dass ein kleiner Nebenfall mal abseits von Liv auf Peytons Tisch landet. Also, in Akten- und übertragener Form…
"Last week he snapped at me!" – "With his teeth?!" – "No, for not having the correct change…" (Bus-Reisende & Peyton)
Heute auf dem Menü: Kanadischer Eishockey-Goon mit Fäuste, die loser sind als sein Mundwerk. Mir hat gefallen, dass Clive Ravi angeschrieben hatte, um nichts zu verpassen, und auch, dass endlich mal jemand die ganze Visions-Zombie-Sache durchschaut. Dazu das nette Verhör-Techtel-Mechtel mit Blaine, der gar eine eigene Vision vortäuscht – sehr schön!
"They are soo cute! Which one's yours?" – "Uhm… the little blond one." (Hockeymutter & Clive)
"Now everytime we get together it's all 'Where were you the night so-and-so was killed?'…" (Blaine)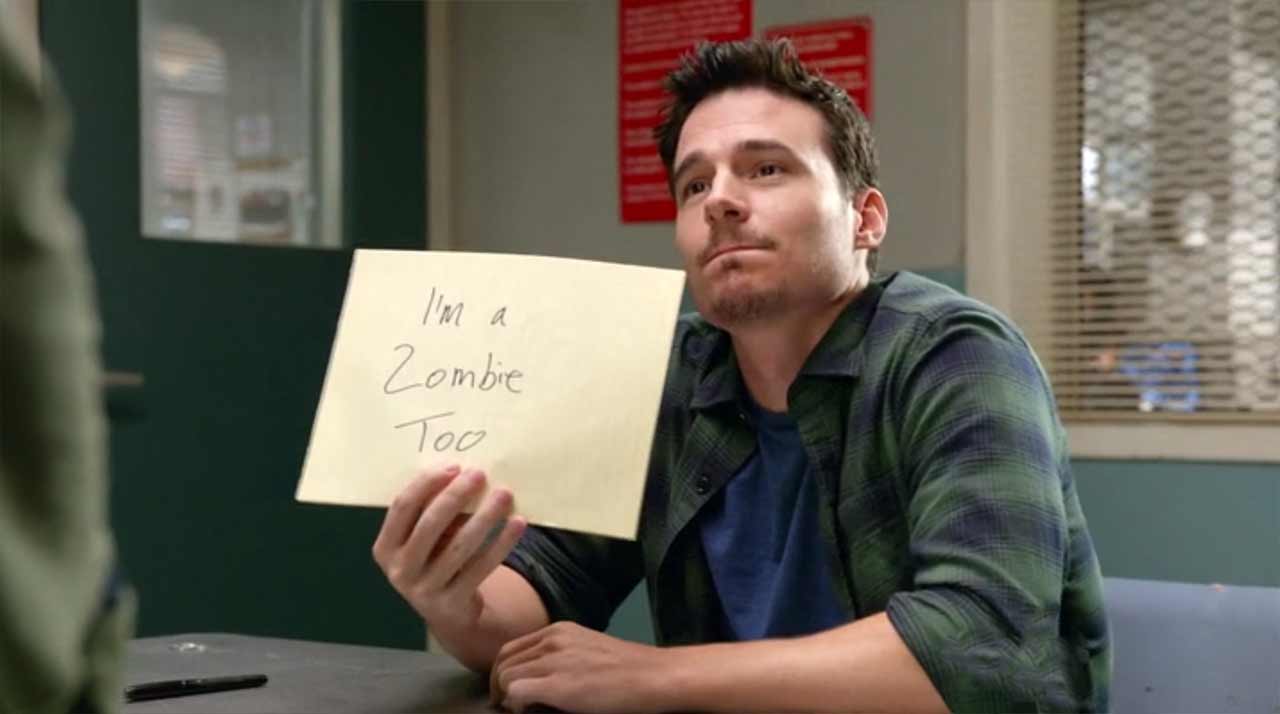 Eine weitere wichtige Lehre aus der Folge: Habe nie Don E als Beifahrer. Immerhin hat er Sum41 im Radio laufen (sowohl im Auto, als auch in der Tankstelle…). Dass er dort "Emotionen hat" lässt ihn ironischer Weise irgendwie menschlich wirken. Der Tochter-Diebstahl des Nuklear-Knopf-vertrauten Generals war eine angenehme Abwechslung, zumal sich das Thema origineller Weise mal von Hinen aufgerollt hat. Und jetzt haben sie nicht nur eine Geisel, sondern Töchterchen untot gemacht, so dass bei Väterchen vielleicht ganz andere Gefühle aufkommen werden? Eigentlich noch besser!
"What part of 'nana-nanana, I can't hear you' don't you understand?!" (Clive)
Die wichtigsten Entwicklungen haben aber mit Chase und Renegade zu tun. Nein, damit meine ich nicht etwa die zwar irgendwie schönen fancy Übergänge, die dann doch etwas zu gehäuft und übertrieben eingesetzt wurden, sondern die Handlung als solche.
Die Zeichnung des psychischen Verfalles von Chase ist meiner Meinung nach sehr gelungen. Der Druck wird größer, die Lage immer enger und er wird zu drastischeren Maßnahmen gezwungen, auch wenn er eigentlich anderer Meinung ist. So föhnt er die frisch auf Eis gelegte Renegade auf, um sie öffentlich hinzurichten. Dabei wird glaubhaft vermittelt, es würde noch eine klischeehafte Rettung in letzter Sekunde erfolgen – aber nein, sie ist tatsächlich so schnell wieder weg, wie sie gekommen ist. Ein erstaunlich harter Moment, kannten wir sie doch eigentlich erst wenige Folgen. Auch wenn diese Entwicklung natürlich schade ist, da in ihrem Charakter noch eine Menge Potenzial lag, wird ihr Handeln ja fortan durch Liv weiter leben. Man darf gespannt sein, ob nicht vielleicht sogar noch ein paar Hirnfetzen vom Boden aufgesammelt werden, um die richtige Stimmung zu erlangen…
Das war gut, teils sogar sehr gut. Ich schwankte zwischen 4 und 4,5 Kronen, will aber mal nicht so sein und ein kleines Abgrenzungszeichen setzen. Die Erzählweise war erfrischend anders, indem sie uns direkt in die Handlung hat springen und zunächst etwas rätseln lassen (habe ich etwa eine Episode übersprungen…?!). Dialogseitig war das gewohnt unterhaltsam und durchdacht geschrieben, dazu einige visuell annehmbare Übergänge, ein zwar recht einseitiges, aber doch unterhaltsames "Hirn der Woche" und mehr als ordentlich Entwicklung, was die übergreifenden Stränge angeht. So darf es bitte unbedingt weiter gehen. Merci!

Bilder: The CW

-->