Was bewegt Menschen dazu, schreckliche Dinge zu tun? Wie werden sie zu Mördern, ja sogar zu Massenmördern? Die psychischen Aspekte hinter Straftaten dieser Art versucht die neue Netflix-Serie "Mindhunter" zu erforschen. Sie spielt im Jahr 1977 und begleitet zwei FBI-Agenten, die als Dozenten durch die Lande ziehen und Polizisten psychologische Hintergründe zu vermitteln, die bei Straftaten eine Rolle spielen. In Szene gesetzt wird die Serie von David Fincher, der weder bei Netflix-Zuschauern noch bei Serienfans ein Unbekannter ist, zeichnet er sich doch zum Beispiel für "House of Cards" verantwortlich.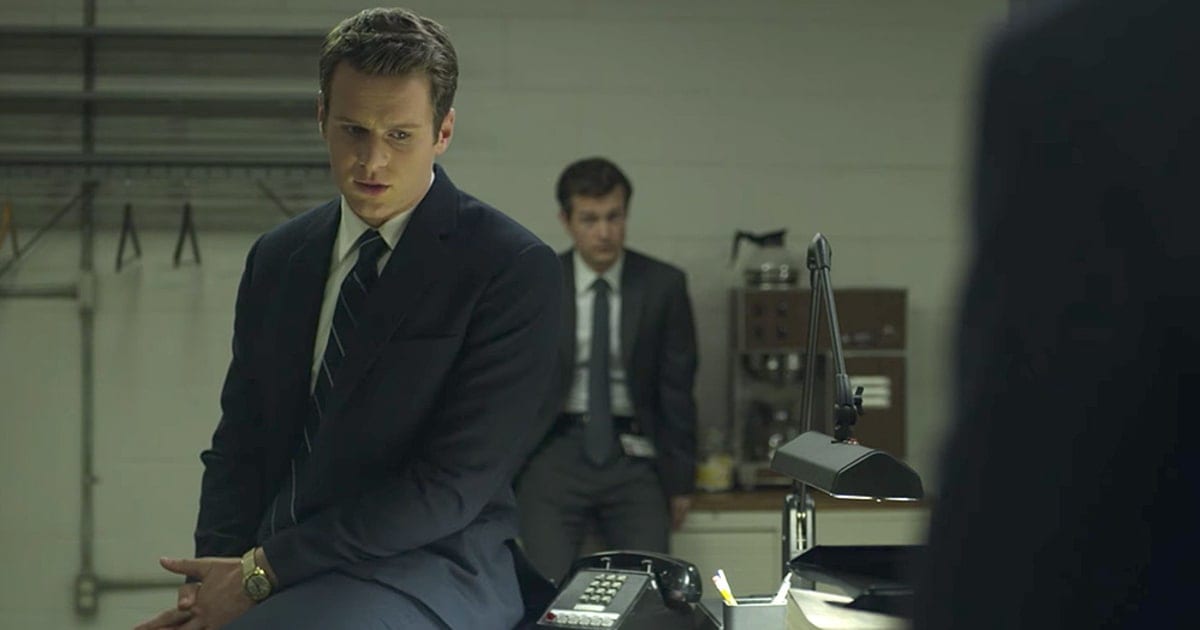 Netflix, House of Cards, David Fincher – da sind die Ansprüche an eine neue Serie natürlich nicht unbedingt klein. Die Optik der Serie wird der hohe Anspruch erst einmal gerecht. Alles ist hervorragend ausgestattet, selbst bis ins Detail sieht alles chic aus, so dass man als Zuschauer gleich voll in die Szenerie aus den 70er Jahren einsteigt. Der Pilot startet auch gleich mit einem Knalleffekt – alte Schule eben. Doch dann beginnt "Mindhunter" zu erzählen, nimmt sich Zeit, stellt vor allem FBI-Agent Holden Ford in den Mittelpunkt. Jonathan Groff spielt den jungen, an einigen Stellen zurückhaltend und unerfahren wirkenden Agenten. Im Piloten überzeugt er mich noch nicht so wirklich, da bleibt er zu oberflächlich und wirkt zu bemüht, unerfahren zu wirken.
Wir sehen hier zwar eine Agentenserie, dürfen jetzt aber keine Action erwarten. Aufreger gibt es hier – mit Ausnahme der ersten fünf Minuten – keine. Wir nehmen an Vorträgen teil, lauschen den Gesprächen von Ford mit Kollegen und Straftätern, sitzen mit ihm in der Bar und lernen Debbie Mitford kennen, die im Laufe der Serie noch eine größere Rolle spielen wird. Für all das nimmt sich David Fincher Zeit. Und die Zeit muss sich auch der Zuschauer nehmen. Man muss schon extrem auf erzählende Serien stehen, um auf Anhieb mit "Mindhunter" d'accord zu sein. Ich meine, "Rectify" nimmt sich auch viel Zeit, eine ruhige, aber immerhin extrem emotionale Geschichte zu erzählen. Oder in "Fargo" laufen viele Folgen auch so vor sich hin, aber das Gefühl ist da irgendwie anders.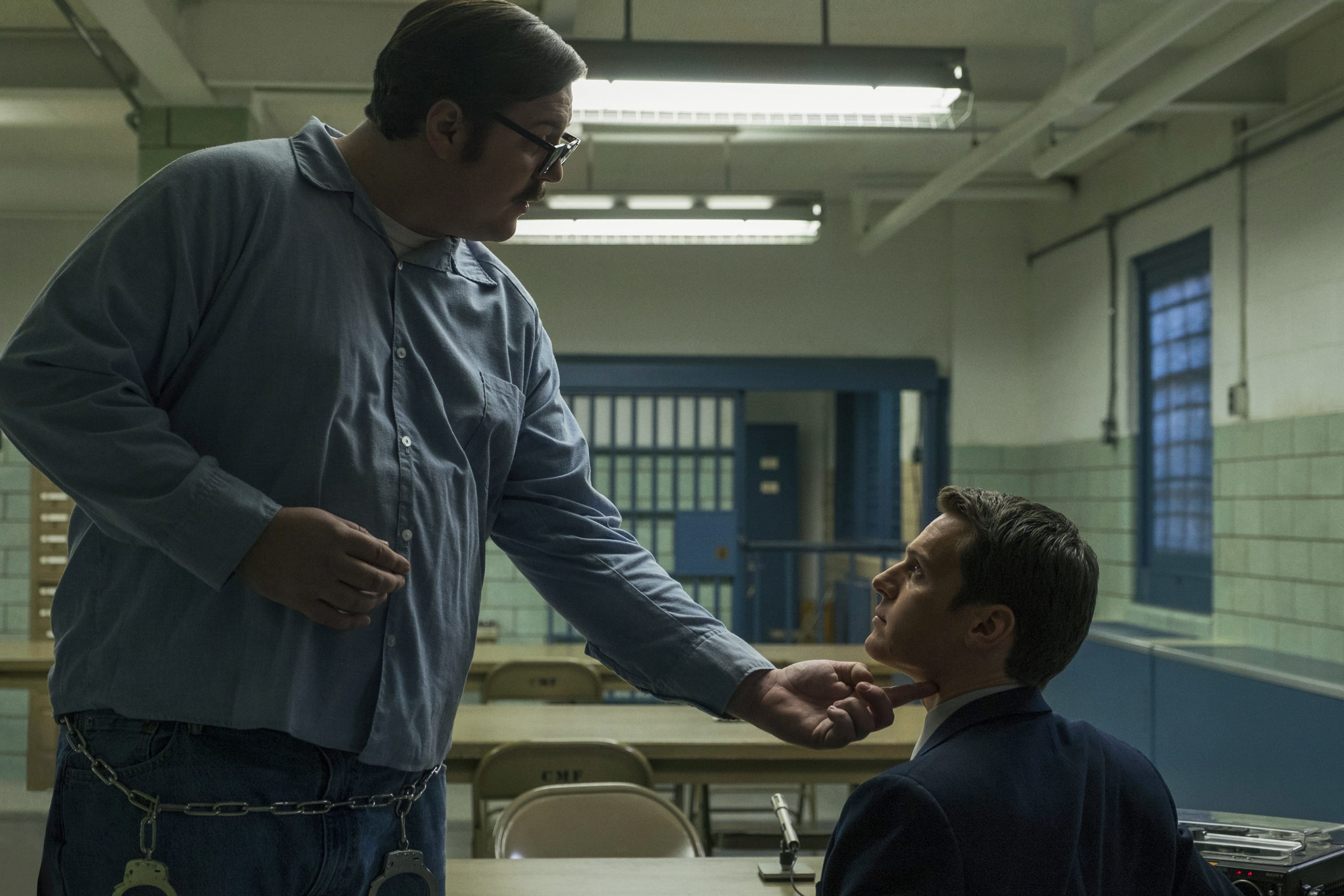 Hier sitzt der Zuschauer immer direkt mit dabei, befindet sich im Auditorium, am Bartresen, neben dem Gefangenen, der interviewt wird. Man wird Teil der Szenerie, was nicht unwesentlich an der Inszenierung und – wie gesagt – an der Ausstattung liegt. Aber es passiert eben auch nicht viel. Man muss wissen, dass man sich im Grunde eine Stunde lang mit Holden Ford trifft und – quatscht. Leider ist Ford als Person nicht sonderlich interessant, fast schon eher langweilig. Und: Die Dialoge, auf die "Mindhunter" statt Handlung setzt, sind leider weder witzig noch interessant oder in irgendeiner anderen Weise unterhaltsam. Man merkt, es soll alles interessant und ambitioniert wirken (unter anderem bindet man reale Fälle und Täter aus jener Zeit ein – warum eigentlich schon wieder Charles Manson?), aber es bleibt doch alles recht belanglos. Das ist für mich jetzt nicht der große Reiz für einen Serienabend.
Wenn "Mindhunter" Aufreger zu setzen versucht, dann durch die Erzählungen von Straftäter Edmund Kemper (übrigens exzellent gespielt von Cameron Britton) oder durch die gezeigten Slides in den Schulungsvorträgen. Doch diese Erzählungen und Bilder haben vielleicht in den 70er Jahren schockiert, vor dem heutigen Hintergrund ist das natürlich kein wirklicher Aufreger. Selbst hier bleibt die Serie dann etwas blass. Und wenn dann alles so blass bleibt und soviel geredet wird, dann beginnt man als Zuschauer selbst, investigativ zu werden – allerdings mit Blick auf die Serie. Dann fallen einem erste Fehler auf, und es wird zum Sport, weitere zu entdecken. Die Kaffeebecher beim Gespräch im Gefängnis sind mal mehr, mal weniger gefüllt, je nach Einstellung. Eine Getränkedose wird in der einen Szene zerdrückt, ist wenige Momente später aus einer anderen Einstellung aber wieder in der ursprünglichen Form zu sehen. Kleinigkeiten, ja. Aber man hat ja Zeit, sie zu entdecken…

Insgesamt also wenig überzeugend, was wir bislang von "Mindhunter" sehen durften. Wie gesagt, die Ansprüche waren hoch, doch nach dem Piloten kann man sagen, dass wenn es keine Netflix-Serie wäre und sie nicht von David Fincher wäre, es eigentlich keinen Grund gäbe, weiter am Ball zu bleiben.

-->