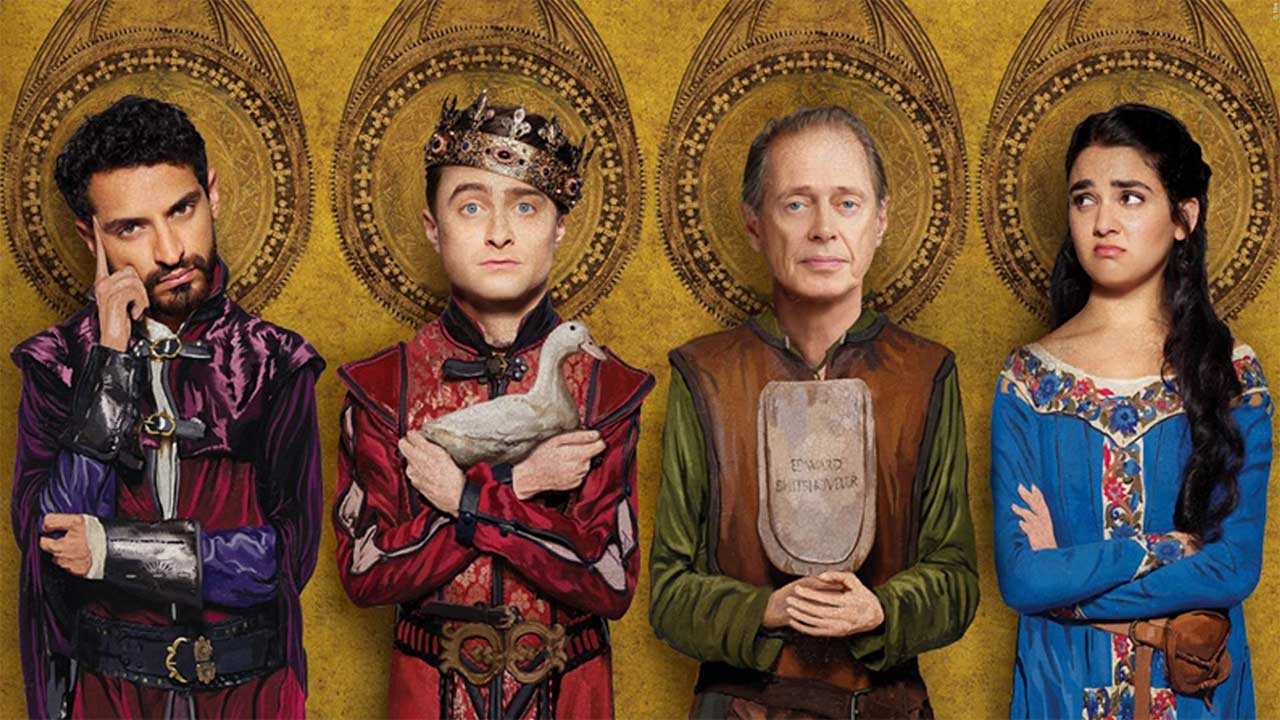 In der Nacht zu Heute lief in den Vereinigten Staaten die zehnte und letzte Episode der zweiten Staffel von "Miracle Workers". Noch ist leider nicht klar, wann das unter dem Beititel "Dark Ages" laufende Kapitel der Anthologie-Serie hierzulande laufen wird, das himmliche Setting der ersten Staffel hatte im Sommer vergangenen Jahres noch auf TNT Comedy eine Fernseh-Heimat gefunden. Vielleicht klappt das ja auch dieses Mal. Zu wünschen wäre es, denn die Comedy weiß auch in ihrem zweiten Lauf zu überzeugen.
Zurück in die Vergangenheit
Ich hatte die neue Ausgangslage ja bereits im Review zur ersten Folge erläutert. Statt in "Heaven Inc." befinden wir uns dieses Mal im Mittelalter. Auch wenn Ort, Handlung und Figuren komplett anders sind, bleiben doch einige Konstanten. Neben der Übernahme etlicher DarstellerInnen betrifft das vor allem den Humor. Denn auch "Miracle Workers: Dark Ages" weiß mit sehr gekonntem Timing und einem frischen Humor aufzuwarten. Vor allem das Spiel mit dem Gegensatz zwischen alter Zeit und modernen Elementen funktioniert des Häufigeren sehr gut. Und von dem "Party, party, party, everybody's at the party…"-Song habe ich ständig einen Ohrwurm.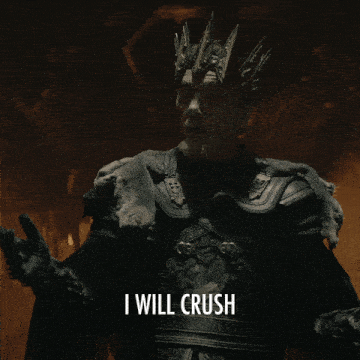 In gewisser Weise geht es auch in dieser zweiten Staffel um Erfindungen. Doch statt der göttlichen Eingebung folgt diese Innovation eher dem ausgeprägten Hirn von Alexandra "Al" Shitshoveler. Leider gehen in diesem "realistischen" Setting einige sehr geniale Absurditäten verloren, die bei der Darstellung des Himmels als Firma origineller möglich waren. Dennoch gibt es etliche Überraschungs-Momente sowie einen angenehm indirekten Humor (auch wenn Slapstick durchaus seinen Raum findet). Alleine so Kleinigkeiten, wie die Tatsache, dass Harry Potter-Darsteller Daniel Radcliffe in seiner Rolle als Prince Chauncley in einer Szene zu einem Zweig "You're a vessel of incredible power!" sagt, habe ich gefeiert!
Auch die Besetzung ist einfach klasse. Neben Steve Buscemi und Daniel Radcliffe wussten mich auch etliche weitere Rollen zu überzeugen. Bis in die kleinste Nebenrolle scheinen die Figuren sehr klar gezeichnet und entsprechend konsequent gespielt, was zwar teilweise eindimensional wirkt, aber eben der cartoonhaften Darstellung der Figur geschuldet ist. Beispielsweise bei Peter Serafinowicz als wunderbar tiefstimmigen Terror-König.
"They are not just filthy peasants, the are filthy people!" (Prince Chauncley)
Etwas gestört hat mich dagegen die ein oder andere Charakterzeichnung. Ist die stetige überfreundlich-naive Art von Edward Shitshoveler (Steve Buscemi) zwar grenzgängerisch, aber noch auflockernd passend, hat mir Prince Chauncley eine zu drastische Wandlung genommen. Versteht mich nicht falsch, der Charakter gefällt mir an sich gut, die Zeichnung seiner Ausgangslage und Vergangenheit wirkt jedoch derart überzeichnet, dass sein letztliches Verhalten etwas unrealistisch wirkt. Aber vielleicht ist er auch einfach nur in eine Art Erwachsen-werd-Prozess geraten, nachdem er seine lächerliche Perücke abgesetzt hat.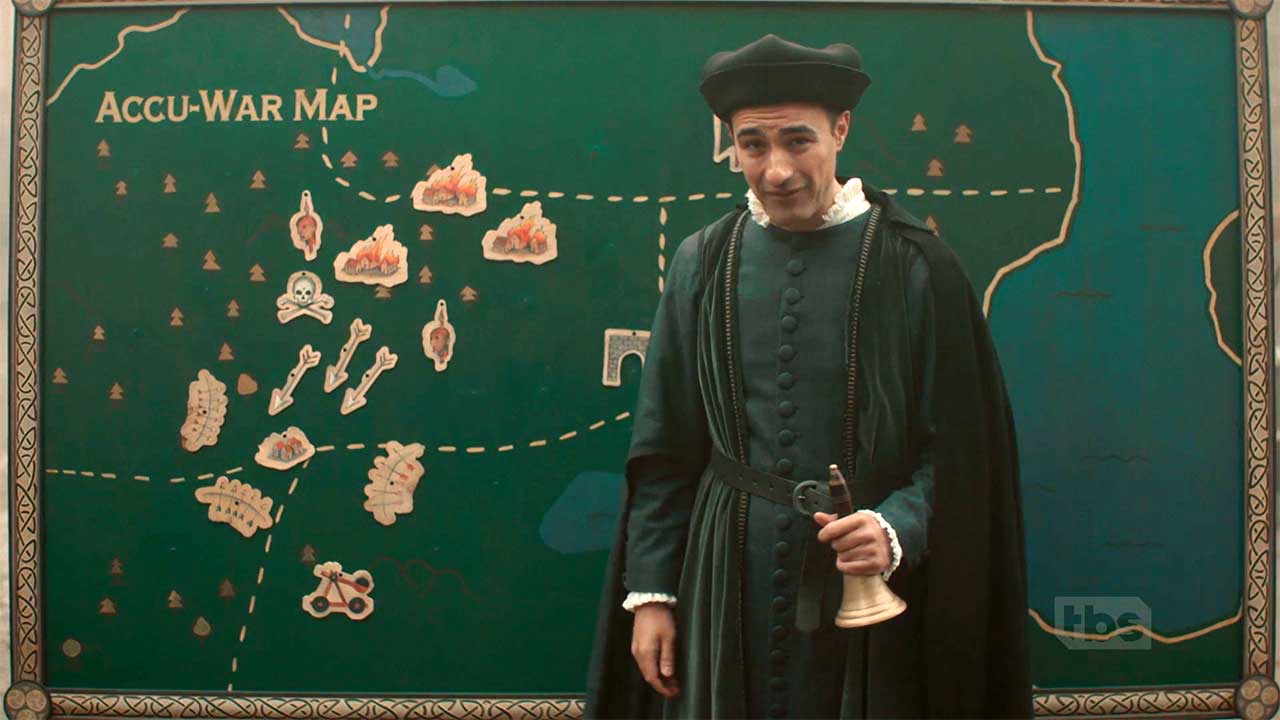 Ich hatte anfangs so meine Zweifel, ob die Serie ihren Anfangsreiz nicht nur durch das frische Setting erhalten hat. Aber nein, die Staffel ist durchgängig sehr unterhaltsam (wenn auch mit Höhen und Tiefen) und macht einfach Spaß. Vor allem die Mischung wirkt kurzweilig, kann man zwar eigentlich wunderbar den Kopf abschalten und mitlachen, aber eben auch Momente beobachten, die zum Nachdenken anregen. Vor allem dann, wenn Probleme und gesellschaftliche Konstrukte unserer aktuellen Zeit in der mittelalterlichen Epoche dargestellt werden, was sie gleich nichtiger erscheinen lässt.

Vor allem in der zweiten Hälfte der Staffel hat "Miracle Workers: Dark Age" nochmal eine Schaufel drauf legen können und meine Hoffnung genährt, dass es zu einer dritten Staffel der TBS-Serie kommen könnte. Noch ist leider nichts offiziell. Die Quoten waren zwar minimal schwächer, lagen aber noch auf einem guten Niveau und Macher Simon Rich hat bereits angekündigt, eine Idee für das neue Setting zu haben. Mal schauen, welche Zeit und Wunder uns dann erwarten werden.

"Miracle Workers" gibt's bei:

Bilder: tbs

-->