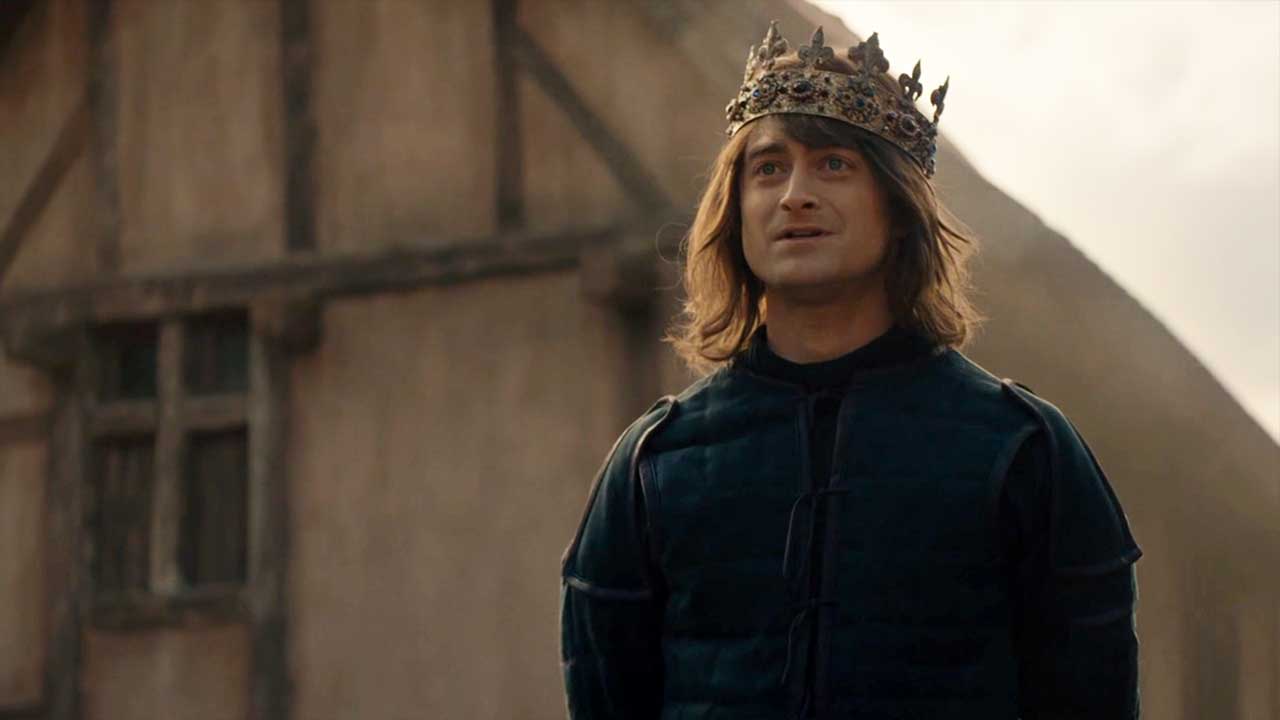 Da sind sie wieder, die "Miracle Workers". Nach der erfrischenden ersten Staffel war nicht direkt weiter, ob und wie es weiter gehen würde mit dem Format. Aber Serienschöpfer Simon Rich konnte tbs davon überzeugen, dass es weiter gehen sollte, was mich sehr freut. Entgegen der Debütrunde wird aber nicht wieder Gott in "Heaven Inc." gespielt, die neue Staffel bringt ein neues Setting mit sich: das Mittelalter.
"Miracle Workers: Dark Ages centers upon a group of medieval villagers trying to stay positive in an age of extreme income inequality, poor healthcare, and widespread ignorance. This 10-episode installment will feature Daniel Radcliffe, Steve Buscemi, Geraldine Viswanathan, Karan Soni, Jon Bass, and Lolly Adefope returning in new roles and facing new challenges."
Analog zu "American Horror Story" und Co. ist "Miracle Workers" nun also endgültig zur Anthologieserie geworden. Ich mag den Ansatz, da so immer wieder neue Geschichten erzählt werden und nebenbei bei größtenteils gleichbleibendem Cast stets reizvoll ist, welche Rolle X oder Y dieses Jahr wohl einnehmen werden. So erhält man auch mal eine größere Bandbreite von SchauspielerInnen geboten bzw. kann sie richtig wahrnehmen, da die Grundausrichtung der Serie ja bestehen bleibt. Der Humor bleibt jedenfalls gleich, auch wenn er vermutlich noch eine Spur makaberer werden dürfte diese Staffel – immerhin beginnt alles direkt mal mit einer Hinrichtung.
"Do you ever feel like we're living on a particularly bad period in history?" (Alexandra)
Neue Gesichter gab es dann aber natürlich dennoch zu sehen, sehr gefreut habe ich mich über das von Peter Serafinowicz. Der unter anderem aus "Shaun of the Dead" oder "The Tick" bekannte Brite mimt den ruchlosen König Cragnoor. Sein Sohn ist dagegen eher weniger leidbringend und wird von Daniel Radcliffe verkörpert. Steve Buscemi ist von Gott in Staffel 1 zu Eddie Shitshoveler, dem Scheißeschaufler, abgestiegen. Namen waren damals halt mehr als Schall und Rauch.
"The earth is flat, the devil is real and the sun is… crazy. That's all we know. Congratulations, graduates!" (Lehrerin)
Allgemein spielt die Serie bislang gefällig mit Stereotypen der damaligen Zeit. Alles war etwas… simpler gestrickt. Das Leben verlief langsamer und geordneter. Vor allem die Schulszene empfand ich als sehr gelungen, auch wenn hier offensichtlich wird, wie viel Logik die Serie für gute Gags opfert, wenn es denn sein muss. Dabei muss man der Folge dennoch lassen, dass es nie komplett überzogen ist. Stets bleibt es einigermaßen konsequent und authentisch für die Art der Inszenierung. Auch wenn man immer wieder mit Brüchen spielt, indem Begrifflichkeiten und Habitae aus unserer modernen Zeit Einzug halten. Ansonsten wäre die Serie aber wohl sprachlich auch kaum zu verstehen.
"W-What, what the heck is that?!" – "Oh, I just made a slight design modifcation." – "You made a what-what-a-what-what?!" (Edward & Alexandra)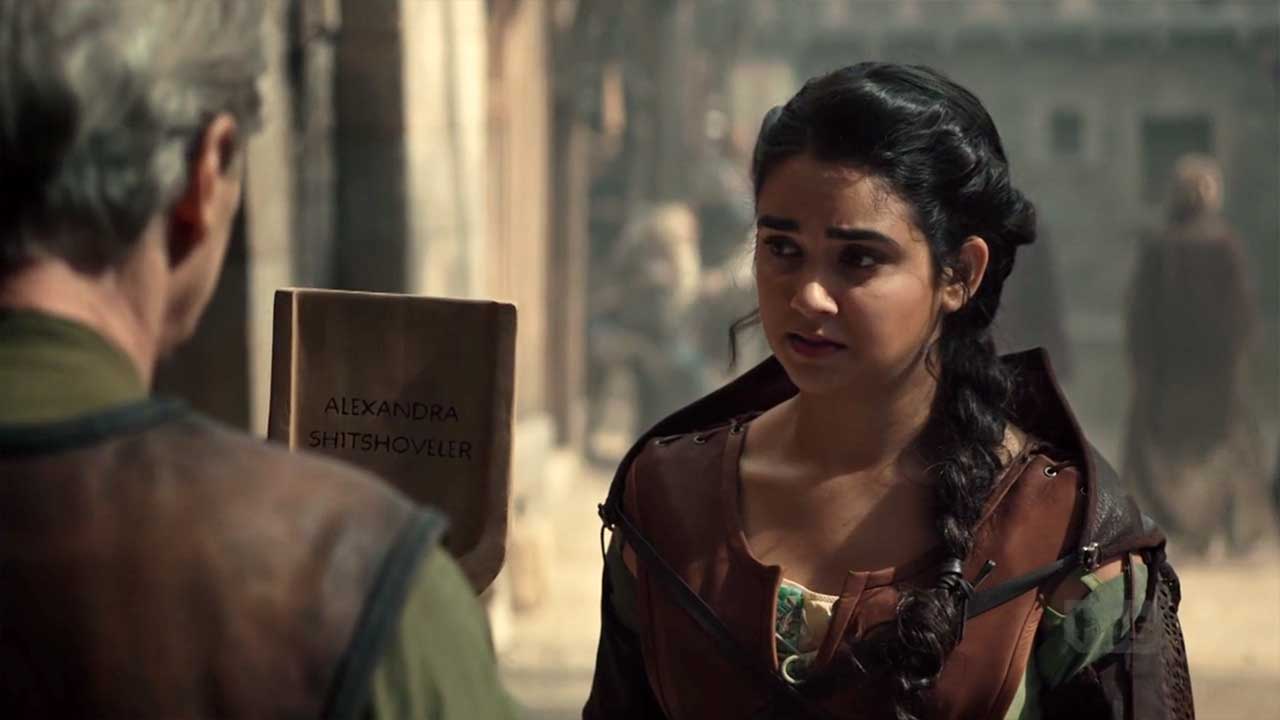 Letztlich lässt sich aber auch vieles aus der Darstellung der damaligen Zeit in die heutige Übertragen. Das Erwartungsbild, das Eltern von ihren Kindern haben, die Tradition, die wir "schon immer so gemacht!" haben, die Angst vor Fortschritt, respektive Veränderung – gibt es alles noch in der aufgeklärten Ära der Langstielschaufeln. Ein erster Schritt ist aber gemacht. Tochter Alexandra und "Prince Chauneley the Pretty Cool" haben erste Exempel statuiert und den Weg für Veränderung frei gemacht.
Den Auftakt empfand ich als kurzweilig, was aber bei Anthologiestaffeln auch immer ein bisschen durch den Reiz des Neuen entsteht. Dennoch fehlte mir der originelle Ansatz der Erzählung. Das war mir dem gespielten Himmel schon direkt reizvoller. Dennoch bleibt es unterhaltsam und ich mag allgemein den lockeren Comedy-Stil, der zwar nicht hoch-komplex ist, aber dennoch etwas smarter als die übliche Lachsalven-Kost daherkommt. Etwas irritiert bin ich noch, in wie fern das alles unter den Namen "Miracle Workers" passt, da bisher ja eher keine Wunder geschehen sind. Aber vielleicht ist damit im übertragenen Sinne auch einfacher nur das Revolutionieren starrer Traditionen durch VorreiterInnen gemeint. Oder es folgen noch magische Elemente. Ich freue mich jedenfalls auf die weiteren Folgen, von denen es diese Staffel sogar insgesamt zehn geben wird, hatte die erste Staffel lediglich derer sieben.
Bilder: tbs