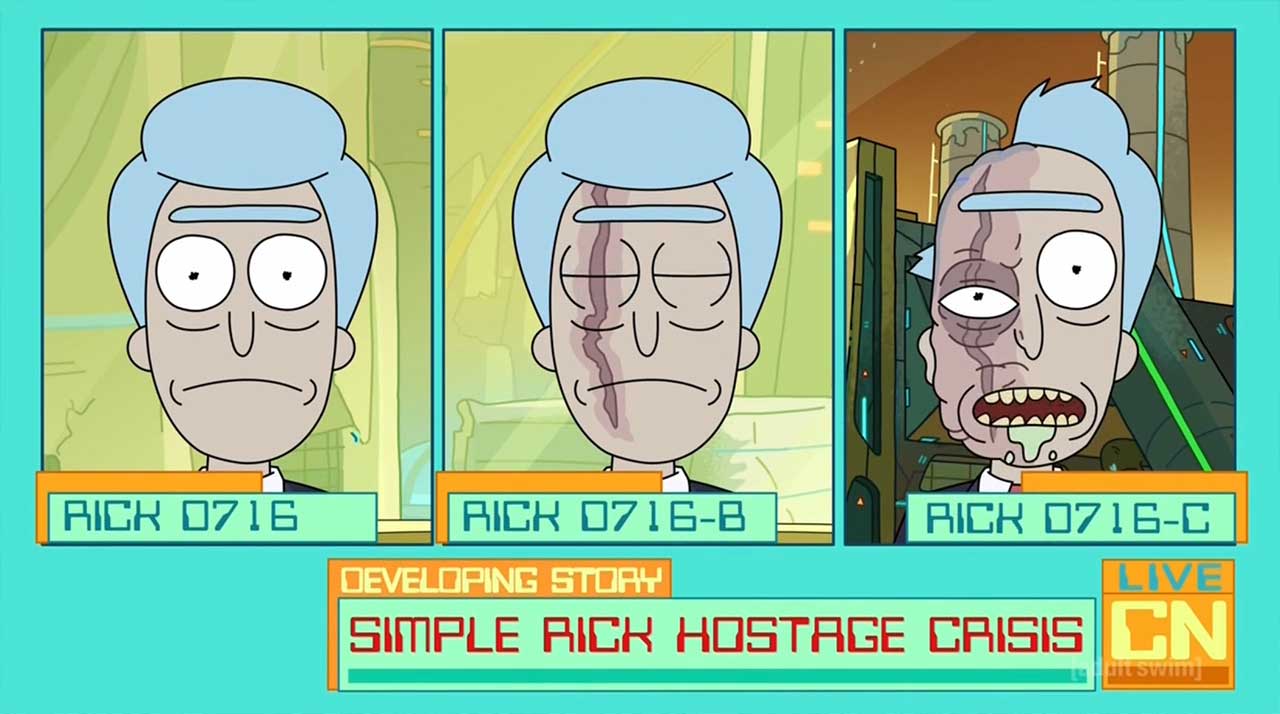 Nach der einwöchigen Pause haben sich bereits erste Entrickserscheinungen eingestellt, nur gut, dass "Rick and Morty" wieder Neues zu bieten hat und dabei direkt mal eine der besten Folgen der Staffel abliefert. Und nein, da braucht man gar nicht traurig darüber sein, ein anscheinend sehr lustvolles Atlantisabenteuer verpasst zu haben – schnappt euch euren "Simple Rick's-Riegel und ab geht's!
"You tried to murder him first!" (Morty)
Erneut bekommen wir unser Rick und Morty-Duo nur im Anschnitt (Vor- und Abspann) zu sehen, dafür tauchen wir Tief in den Spendenaufruf für den "Citadel Redevelopment-Fund" ein. Statt "Tales from the crypt" setzt es diese Woche "Tales from the Citadel". Statt lediglich den mittlerweile ermordeten Rat der Ricks und ein paar beiläufige Passanten-Mortys zu sehen, bekommen wir eine ganze Folge voller skurriler Charaktere und kleiner Geschichten im multiversalen Zentrum zu sehen. Von einem "Severus Rick" als Morty-Lehrer über diverse NachRicktensprecher-Versionen oder einen "Tall Morty" bis hin zu einem Morty als Kandidat für die neue Führung der Zitadelle.
"Is your uranium powered cellular matrix making you sick? The answer may not surprise you – it's 'yes'. It's uranium." (Rick D716-B)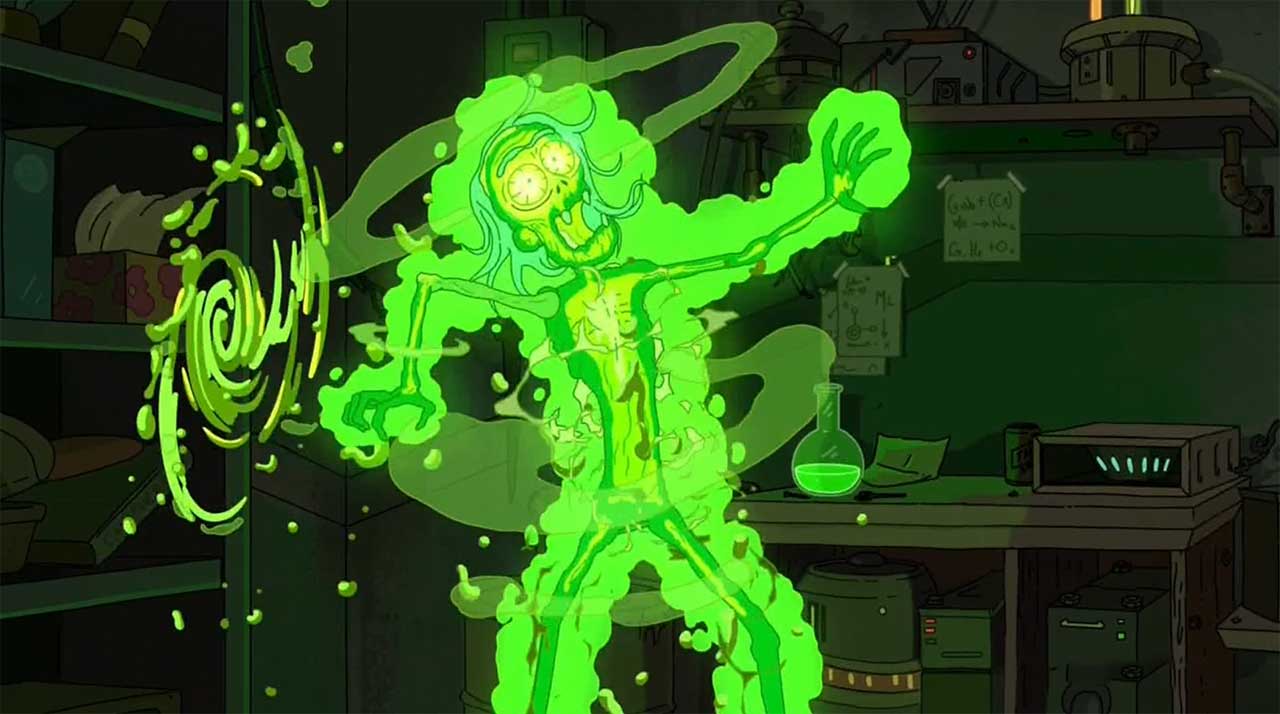 Es gibt einige Anspielungen auf durchaus weltliche Themen, wie Gleichberechtigung, Minderheitendiskriminierung, Sexismus und vor allem Politik. So bekommen wir mal ein wirklich unterhaltsames TV-Duell zu sehen. Und neben einer netten kleinen "Stand By Me"-Filmvariante eben auch die Geschichte um einen Morty-Officer und seinen neuen Rick-Partner. Gekonnt wird durch die Dialoge suggeriert, dass wir keineswegs besondere Fälle und Geschichten zu sehen bekommen, es ist eben "alles wie immer", die "alte Leier", ihr wisst schon. Alltag in der Zitadelle.
"Mortys are raised to be sidekicks. Without a side to kick, they just start kicking." (Morty Officer)
"Do you wanna have a good time? One dance for 10, two for 25!" – "No thanks. And bad math." (Morty Stripper & Rick Officer)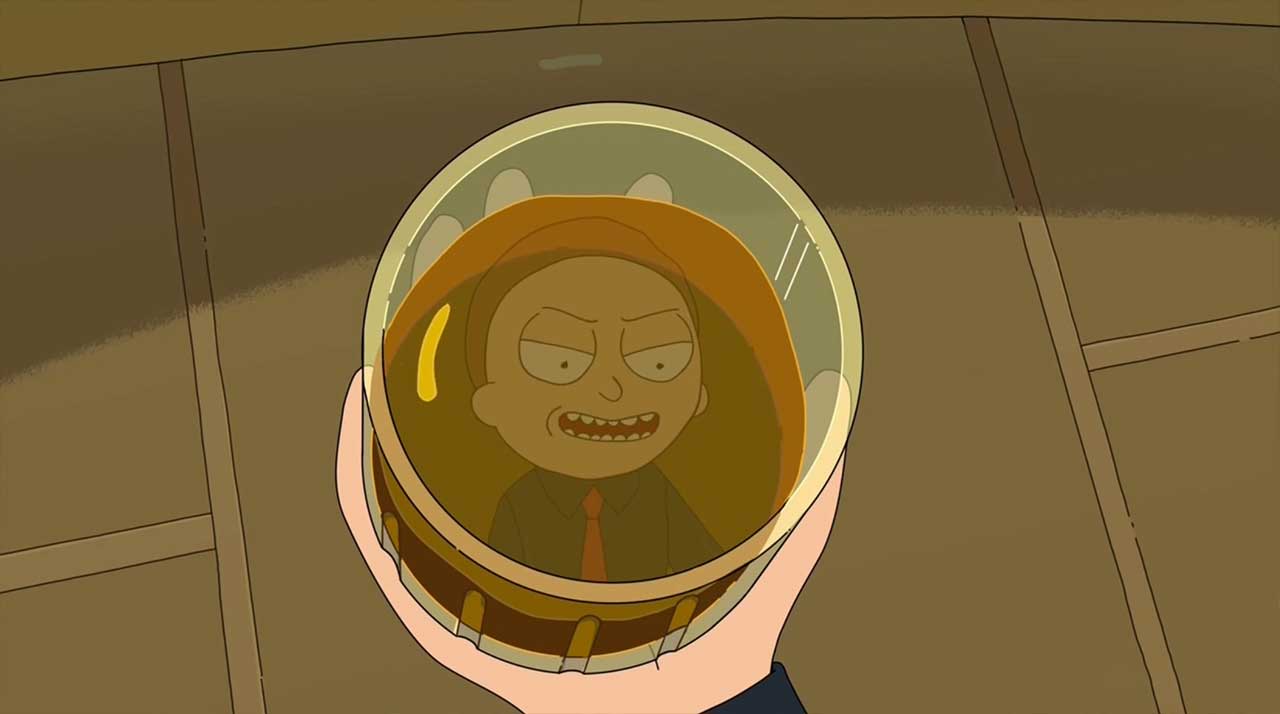 Der neue Morty-Präsident handelt schneller als Trump es gerne gemacht hätte. Und entpuppt sich als der große Gegenspieler, auf den alle gewartet hatten: Evil Morty is back! Der in der letzten Staffel noch seine Augenklappe wegwerfende Ober-Morty hat die fieseste Bösewichtenposition für sich entdeckt: Politiker. Und so dürfte er aus der Zitadelle eine neuerliche Gefahr für "unseren" Rick bilden, der in den kommenden Folgen sicherlich wieder an den von ihm so verhassten Ort gezogen wird, obwohl er doch eigentlich jetzt "jeder Woche" Spaß mit Meerjungfrauen haben möchte…
"Is… that… enough off the top?" (Friseur Rick)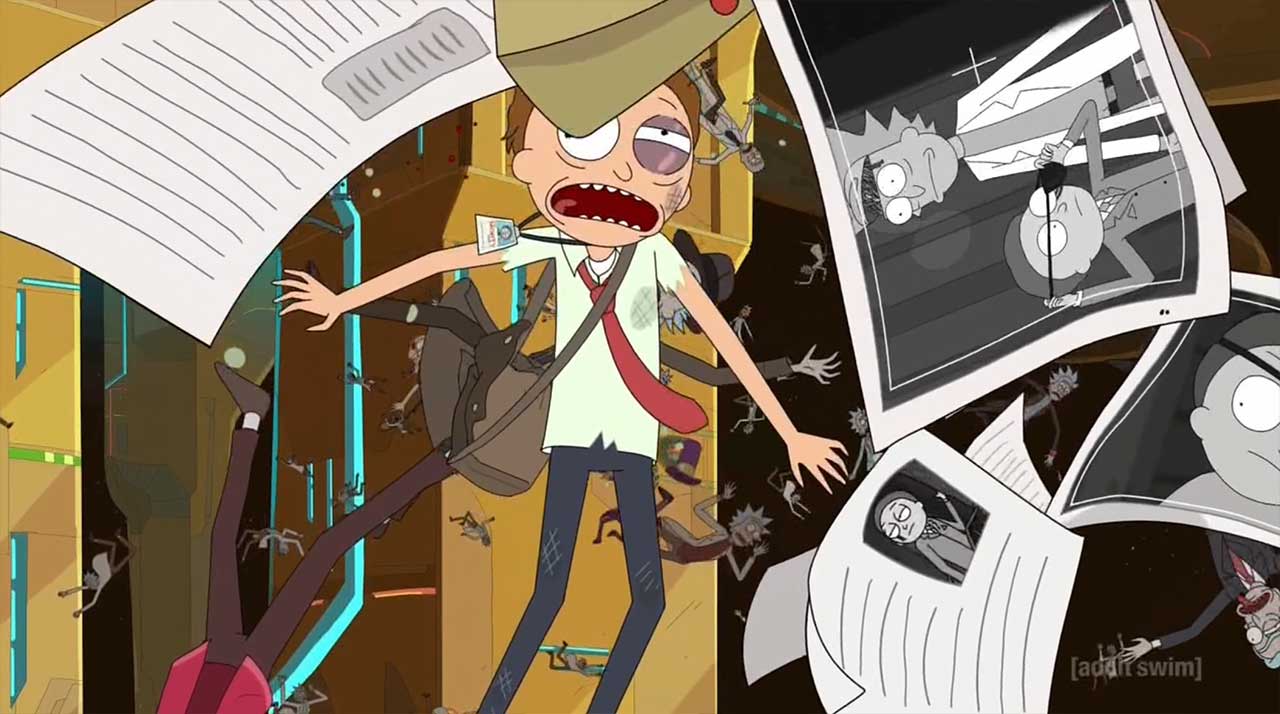 Ah, Jeez – ich fand die Folge verdammt großartig! Sie war ausgewogen erzählt, vollgepackt mit allerlei kleinen Dingen, Referenzen, originellen Rick- und Morty-Variationen und selbst die scheinbar zusammenhangslosen Geschichten haben sich recht homogen zusammengefügt (lediglich die Stand By Me-Truppe empfand ich als nicht ganz griffig und letztlich sind natürlich unsere Rick und Morty zu kurz gekommen). Die Dialoge waren in Sachen Timing perfekt und haben sowohl nachdenkliche, als auch punchline-volle Momente besessen. Und ganz nebenbei haben wir den Aufstieg des lang vermissten Gegenspielers zu sehen bekommen, was die ganze Folge nochmals eine Stufe epischer hat werden lassen. Große Unterhaltung, die nur leider viel zu schnell vorbei war.
Rick and Morty S03E07 Stream
Aktuell (und wer weiß, wie kurz) gibt es die komplette Episode im Stream zu sehen (ab 2:00):

Bilder: adult swim

-->