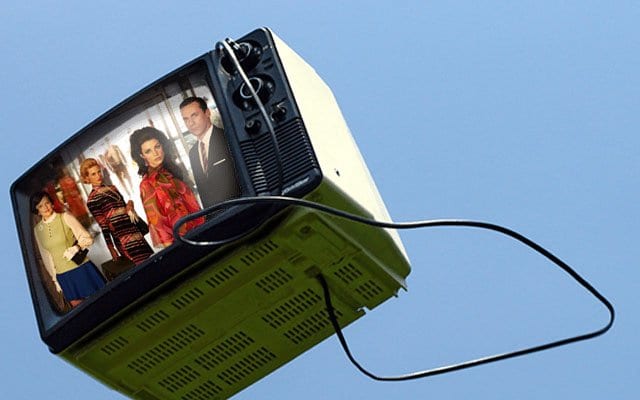 Gerade eben hatte ich einen Anruf in der Redaktion bekommen, von einer Urlaubsvertretung aus einer Agentur. Da fiel mir ein: "Mensch, diese Woche bin ich ja selbst Urlaubsvertretung für Jonas!" Hätte ich natürlich auch so wissen können, da a) wir es abgesprochen hatten und b) Kira mir heute Nacht extra noch eine Erinnerung schrieb. Aber dann, heute morgen… naja, Ihr wisst, wie das ist. Es ist Montag, man hängt in Maiks Bilderparade fest, schaut über sein neuestes Rätsel zu und vergisst dabei die Zeit…
Zeit ist auch das Keyword für den aktuellen Serienkonsum bei mir. "Twin Peaks" ist durch, "The Leftovers" ist durch, "Game of Thrones" ist durch – da dünnt sich das doch ein wenig aus, was mich serientechnisch reizt. Ich will Euch trotzdem ein paar Tipps für diese Woche an die Hand geben, bevor ich einen ordentlichen Gegenkommentar zu Matthias' Hassiker der Woche schreibe. ;-)
Heute zum Beispiel geht es mit "Fear the Walking Dead" weiter. Ja, früher hat Amazon Prime da noch heftig Werbung gemacht, aber jetzt läuft es (selbst da) unter ferner liefen. Schade eigentlich, denn meiner Meinung nach war Staffel 3.1 durchaus ansehnlich. Mal sehen, wie es heute weitergeht – Falko wird entsprechend reviewen (hier kann man sich von ihm auf den letzten Stand bringen lassen). Ebenfalls Montag ist "The Last Ship" weiter unterwegs – ich habe meine Meinung ja schon im Review zum Staffelstart kundgetan – ist eben was zum "nebenbei weggucken". 20:15 Uhr geht's bei TNT Serie weiter.
Nochmal kurz zurück zu Amazon: Dienstag kommt das Staffelfinale zu "Preacher", und nach den soliden letzten Folgen bin ich guter Hoffnung, dass wir hier noch ein würdiges Ende serviert bekommen.
An aktuell laufenden Serien hätte ich dann nur noch "Marvel's Agents of S.H.I.E.L.D." aus meiner Favoritenliste anzubieten – nach dem mauen Start rund um den Ghost Rider ist die Staffel mit dem Androiden-Thema derzeit recht nice entwickelt – macht endlich wieder Spaß. 20:15 Uhr geht's auf RTL Crime weiter.
Und – als ewigen Klassiker – biete ich auch in dieserm DDWM wieder die "Lindenstraße" an – 18:50 Uhr am Sonntag in der ARD; aktuell wieder mit Folgen, die von Michael Meisheit geschrieben sind (= gute Folgen).
Ich hole parallel übrigens noch die aktuelle Staffel von "Homeland" nach. Nach etwas zähem Beginn bin ich aktuell auch wieder gefangen von der Serie und kann's kaum erwarten, weiter zu schauen. Aber: Jetzt muss ich mich doch erst nochmal um dieses verdammte 'Mad Men'-Rätsel kümmern. Das muss doch zu lösen sein…