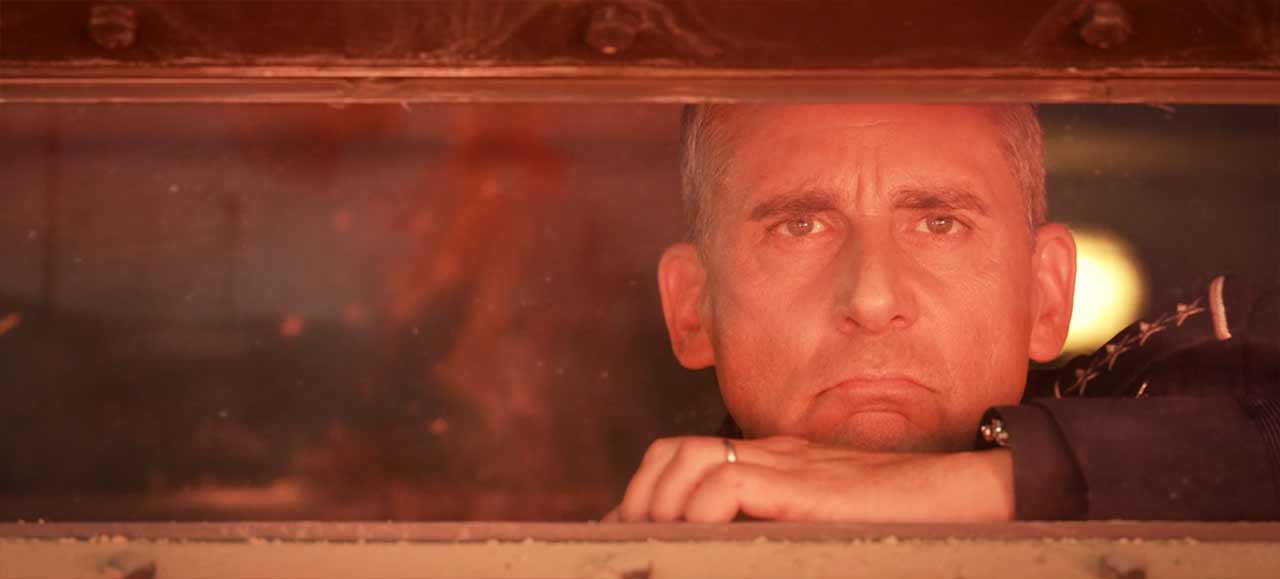 Nach vielversprechenden Trailern, vor allem, was die Zusammensetzung von Cast und Crew anbelangt, hatte ich mich sehr auf den Start von "Space Force" gefreut (s. auch unser Netflix-Podcast). Oder sollte ich lieber "Launch" sagen? Denn passend zum aktuellen Bestreben, mal wieder Menschen mit Raketen ins All zu schießen, geht es im neuen Netflix-Original um Weltraum-Missionen. Heute ging die erste Staffel von "Space Force" in den Orbit und ich habe mir die allererste Folge angeschaut. Ein spoilerarmer Ersteindruck.
"I only wish, that… my… parents could have been here to see this… But they were unable to get flights from New Jersey in time." (Mark)
Mark R. Naird wird zum Vier-Sterne-General und somit zum höchsten Amtsgrad des amerikanischen Militärgrades ernannt, dem lediglich der Präsident der Vereinigten Staaten vorsteht. Nur doof, dass es sich beim aktuellen "PotUS" um einen affektiv und pubertär handelnden Blöd-Greis handelt… Über Twitter lässt er verlauten, die "Space Dominance" zu erhalten und "Boobs Boots on the moon 2024″ haben zu wollen. Das Trump-Gebashe fällt gar nicht mal unbedingt indirekt aus, was mir gefällt. Ebenso der Gedanke, dass aus einem Blödsinns-Tweet eine ganze Serie wird. Ob der BR wohl bereits an einer Söder-Variante "Bavaria One" arbeitet?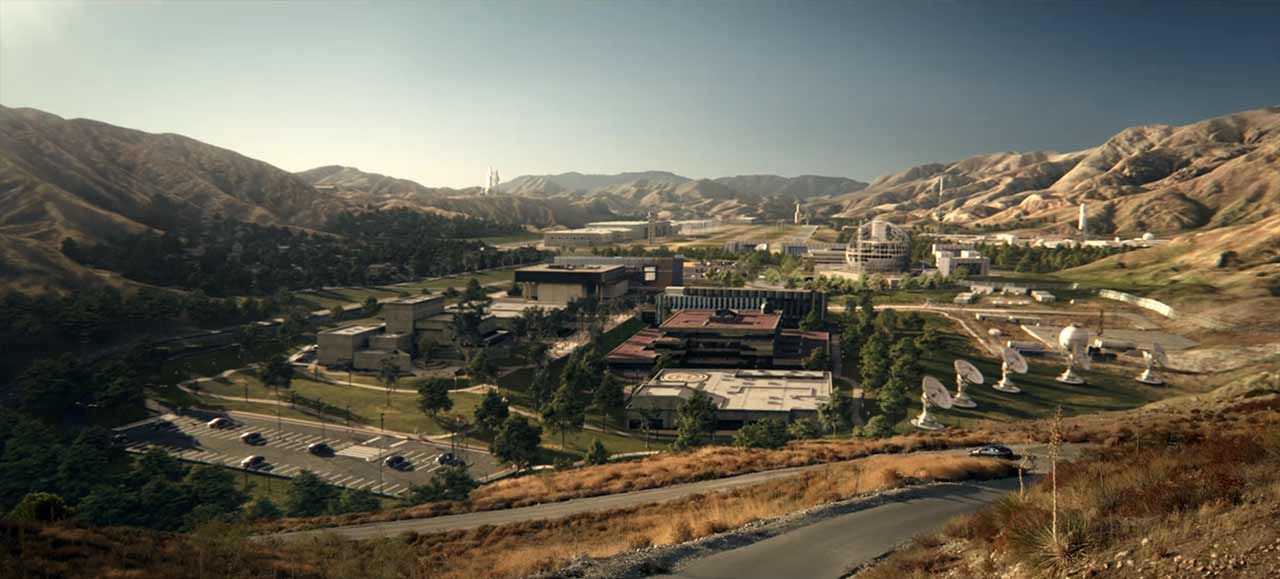 Es geht jedenfalls nach Colorado. Wie Marks Frau über diese unabgesprochene Entscheidung weint und er nicht im Ansatz darauf eingeht, empfand ich äußerst unangenehm und wie die komplette Szene sehr überspielt und stumpf abgeliefert. Das wirkte nicht sehr homogen. Gerettet werden konnte der Eindruck von den Übergängen danach und das durchaus nett versteckte Areal. Zumal das angeblich binnen eines Jahres geschaffen worden sein soll (davon kann sich der BER mal eine Scheibe abschneiden). Verrückt ist auch die Tatsache, dass die der Launch in der Serie aufgrund suboptimaler Wetterbedingungen abgesagt werden soll, was die realen Ereignisse von gestern mit dem verschobenen SpaceX-Start erstaunlich gut wiederspiegelt.
"Come on, we're not China here!" (Yury Bobby)
Wiedergespiegelt werden auch so einige gesellschaftliche wie globale Elemente. Ein offenkundig russischer Spitzel, ein Social-Media-Mitarbeiter der Generation "Spaß-über-Relevanz", die Tatsache, dass lustige Tweets nicht unbedingt im realen Leben Wirkung haben müssen. Da waren ein paar nette Momente dabei.
Dennoch haben mich auch einige Sachen gestört. Running Gags sind an sich eine tolle Sache, hier wirkten sie aber etwas lieblos auf den ihnen inne liegenden Aspekt reduziert. Die stets auf ein Neues nach Echsen suchende Frau hat augenscheinlich stundenlang ihren Ort nicht gewechselt, das wirkt etwas lieblos. Auch finde ich die Erzählweise um die Ehefrau nicht ganz gelungen und (dafür kann die Serie jetzt wenig) ich kann Jimmy O. Yang als Wissenschaftler einfach nicht ernst nehmen nach seiner Rolle in "Silicon Valley"…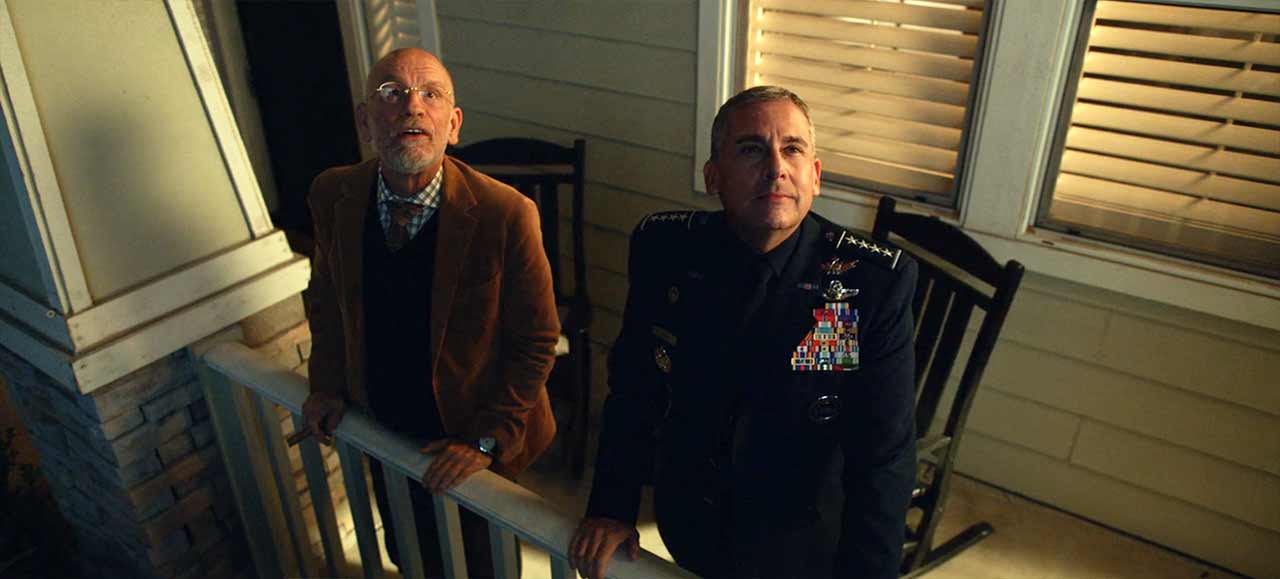 Insgesamt war das in etwa das, was ich mir vorgestellt hatte. Ein vortrefflicher Cast, ein bestrebenswerter Ansatz aber die Komik will noch nicht ganz zünden bei mir. Das mag vielleicht auch daran liegen, dass der Look im Allgemeinen extrem hochwertig wirkt. Das hat nicht nur aufgrund des schmalen Bildverhältnisses im Kino-typischen 21:9-Format Spielfilm-Güte. An sich super, aber die bisweilen etwas stocksteif überbrachten Komik-Elemente wirken im Gegensatz dazu unpassend plump. Da hatte ich mir etwas mehr Subtilität und Tiefe gewünscht.

Auch wirkt alles noch extrem auf Steve Carell fixiert. Das wundert wenig, ist der Hauptdarsteller auch Mit-Creator in Personalunion und alleine sein Spiel mit der Mimik ist vortrefflich, wie wir auch in dieser Folge beobachten dürfen. Aber es wirkt etwas schade, dass Leute wie John Malkovich oder Lisa Kudrow bislang (noch) komplette Randfiguren darstellen. Und so ganz kann Carell die Michael-Scott-Rolle nicht ablegen. Also zumindest in meinem Kopf, in dem ich entsprechende Assoziationen abfeuere. Er hat in "Space Force" zwar eine aufgesetzte Rauheit in der Stimme und wirkt insgesamt natürlich deutlich ordnungsliebender als der "The Office"-Freigeist, aber große Reden schwingen mag er auch dieses Mal.

Ein zwar kurzweiliger und Interesse schürender Auftakt, aber auch kein komplettes Feuerwerk, wie ich finde. Dafür war das in Teilen zu hölzern rüber gebracht, vor allem, was die Comedy-Elemente betrifft. Dennoch werde ich vermutlich weiter schauen, weil mich die Entwicklung interessiert und vor allem einige Figuren Potenzial für weitere Geschichten und komische Momente besitzen.

Die Folge wurde übrigens Schauspieler Fred Willard gewidmet, der Vater Fred Naird in "Space Force" mimt und am 15. Mai im Alter von 80 Jahren gestorben ist. Auch zu seiner Ehren möge abschließend noch ein Lied gespielt werden – ich habe mich dann doch gegen den "Coco Cabana"-Song entschieden und die zweitnaheliegenste Wahl getroffen:

Bilder: Netflix

-->