Anfang Oktober hatte ich euch erstmals über die neue Zombie-Comedy "Zomboat!" geschrieben. Im Review zur Pilotfolge gab es auch einen Online-Stream und siehe da: Zum Abschluss der ersten Staffel sind alle sechs Folgen der Serie aktuell online für lau zu sehen (keine Ahnung, wie lange das der Fall sein wird, aber sie sind alle am Ende des Beitrags eingebettet). Ich kann euch empfehlen, mal reinzuschauen. Wie sehr, will ich im spoilerarmen Review erläutern.
"Zomboat!" Season 1 Review
Die Zombies sind los und irgendwie anders als sonst. Aber so ungewiss die Lage auch ist, Kat meint, dass ihr aus Videospielen und Filmen gewonnenes Zombie-Wissen nun endlich zum Tragen kommt. Zumindest ihre Hauptidee wird zunächst erfolgreich umgesetzt: Mit dem Boot vor den Zombies flüchten. Die Fahrt auf dem Kanal gen London ist quasi die Haupthandlung, die "Zomboat!" die sechs Episoden über trägt. Aber keine Angst, langweiliges Kabinen-Drama gibt es nicht, denn regelmäßig wird das Land aufgesucht, um Lebensmittel oder andere Dinge aufzutreiben, was zu sehr ausgefallenen Geschichten führt.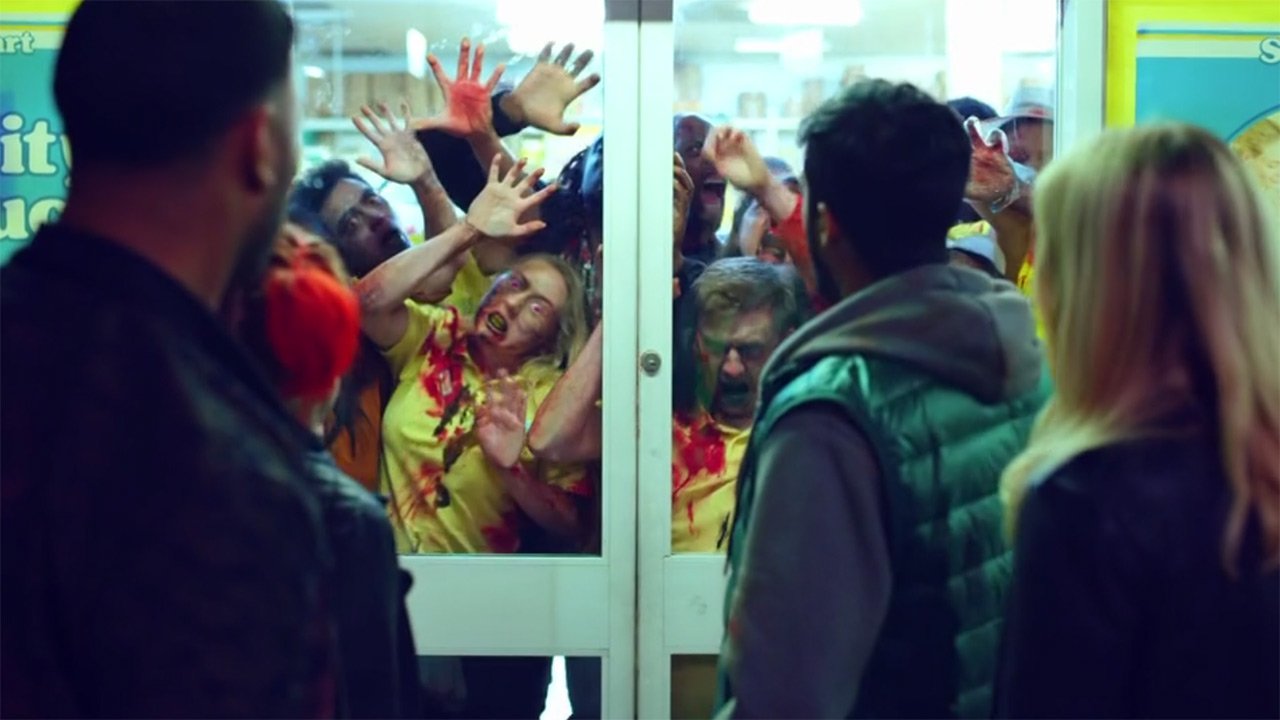 "Zomboat!" ist sicherlich was für Fans von "Shaun of the Dead" und ähnlichen Zombie-Komödien, die sich selbst nicht zu, aber das Genre an sich durchaus ernst nehmen. Die Handlungen sind größtenteils konsequent und in sich stimmig, die Reaktionen der Figuren passen und auch wenn es immer mal wieder überdreht ist und Gevatter Zufall mehr als ein Mal die Finger im Spiel hat, macht das alles im Groben und Ganzen durchaus Sinn. Also, von existierenden Zombies mal abgesehen…
"All five 'Twilight' movies?! Somehow the apocalypse got worse…" (Sunny)
Das Haupt-Quartett an Charakteren, bestehend aus Kat, Schwester Jo sowie den zunächst ihnen fremden beiden Buddys Sunny und Amal finde ich sehr gelungen zusammengestellt. Nicht nur besitzen sie allesamt unterschiedliche Eigenschaften und Fähigkeiten, auch haben sie allesamt größtenteils eines: Schwächen. Und doch rotten sie sich irgendwie zusammen und schaffen es immer wieder, über sich hinaus zu wachsen – auch wenn sie manchmal selbst nicht wissen, wie.
Das Ende der Staffel kommt dann doch schneller als erwartet und mir lieb war. Die kurzweilige Reise schließt mit Folge 6 ab, lässt inhaltlich aber zumindest noch einen kleinen Raum für eine Fortsetzung, auch wenn es keinen wirklichen CLiffhanger gibt und das Ganze auch theoretisch in einer weiteren Viertelstunde abgefrühstückt sein könnte. Aber wie das mit der Zombie-Apokalypse so ist – Theorie ist das eine, Praxis das andere…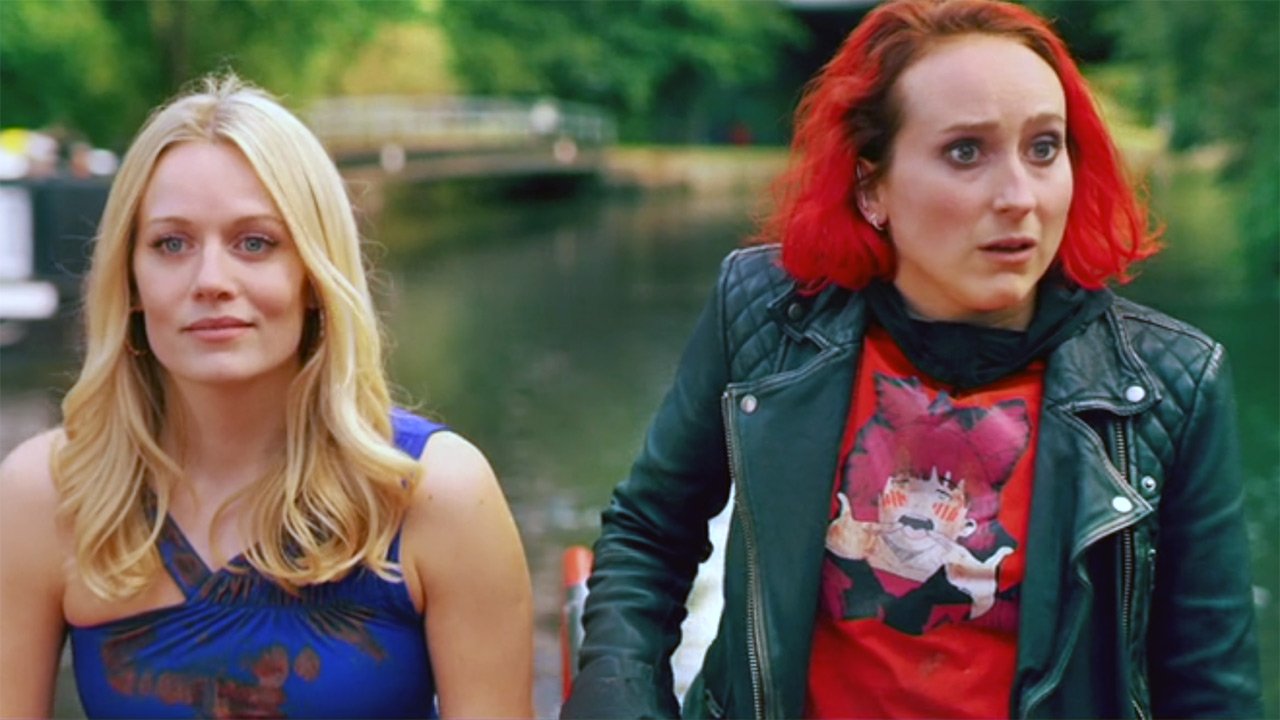 Ich bin mittlerweile etwas überrascht, der Pilotfolge lediglich drei Kronen gegeben zu haben. Insgesamt hat sich "Zomboat!" dann doch als sehr unterhaltsames Kleinod entpuppt, das mit gängigen Klischees des Zombie-Subgenres spielt und viel derben Humor beinhält. Dazu gibt es ein paar durchaus gelungene zarte Gore-Momente, ein bisschen "Shaun of the Dead"-Spirit ist hier und da zu spüren und der tolle britische Akzent tut sein Übriges. Sicherlich ist "Zomboat!" nicht die tollste Serie des Jahres, aber eine willkommene Abwechslung zum mittlerweile doch recht lahm gewordenen Einheitsbrei, den Zombie-Serien heutzutage meist ausmachen, die sich viel zu ernst nehmen. Aber alles, ohne dabei komplett überzogen und trashy zu werden, wie bspw. "Z Nation" es getan hatte. Dazu sind 6×23 Minuten super schnell durchgeschaut – worauf wartet ihr also noch?!
"Zomboat!" Season 1 im Online-Stream anschauen
Zwar gibt es bislang noch keine Infos, wo und wann "Zomboat!" in Deutschland offiziell zu streamen sein wird, aber über YouTube und Dailymotion lassen sich aktuell tatsächlich alle sechs Episoden der ersten Staffel in voller Länge streamen. Nutzt die Chance, solange es sie noch gibt, wer weiß, wie lange die Videos online bleiben!
Zomboat S01E01 Video
"Sisters Kat and Jo realise a Zombie Apocalypse has begun in Birmingham and plan to escape it in a boat. Sunny and Amar flee from the train station when they are confronted by zombies, will they make it to safety or succumb to the zombies?"
Zomboat S01E02 Video
"Jo and Amar go on a mission, while Kat meets her gaming idol, who soon turns into a zombie. As things get more frantic, the girls realize strength may be in numbers."
Zomboat S01E03 Video
"The team come across the hotel where the lads were staying for the stag night. Will any of the stag party still be alive inside?"
Zomboat S01E04 Video
"Jo and Amar go on the hunt for food, and discover a supermarket that appears deserted."
Zomboat S01E05 Video
"Zombie Jude is still following them and Jo is concerned. Jo and Kat have a disagreement and when they see another boat, Jo jumps ship."
Zomboat S01E06 Video
"The gang are taken to the local evacuation centre, where Jo is reunited with Rob but he needs to find Patient Zero – which turns out to be Jude. The group become separated following a zombie attack during which Jo is bitten."
Bilder: ITV / Hulu

-->