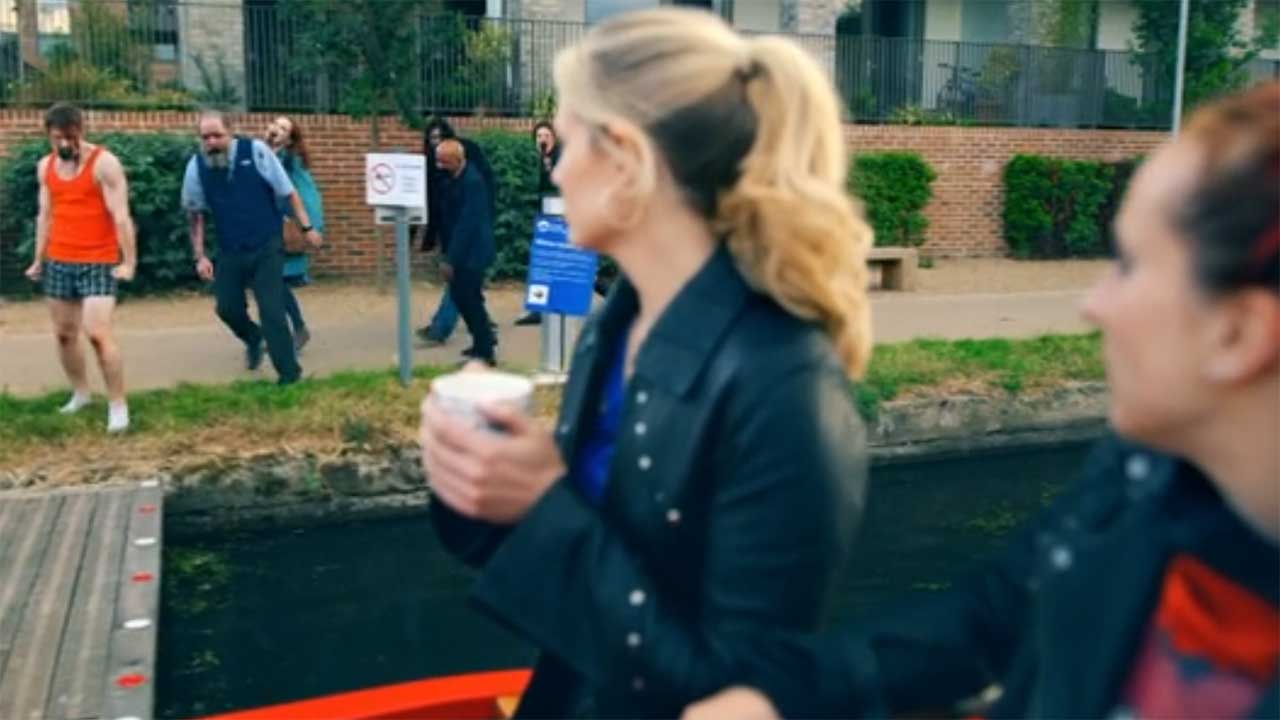 Gestern lief in Großbritannien die neue Zombie-Comedy "Zomboat!" auf ITV2 an. Auch wenn man meinen möchte, dass doch endlich mal jemand auf die Idee kommen müsste, bei Zombies was mit Booten zu machen (okay, "Fear The Walking Dead" hat diesen nautischen Ausflug mal eher mittelprächtig gewagt), hatte ich mir die Worte bereits zurechtgelegt, um zu schreiben, dass ich die Pilotfolge gesehen habe, "damit ihr es nicht müsst". Aber um es vorweg zu nehmen: Das war überraschend unterhaltsam.
"A Zombie apocalypse is unleashed in Birmingham and sisters Kat and Jo, together with unlikely travel companions Sunny and Amar must flee for their lives…by canal boat."
Solltet ihr lieber spoilerfrei bleiben wollen, dann lest nur das Fazit – ganz unten im Beitrag gibt es auch die komplette Folge als YouTube-Video zu sehen!
Zomboat! Pilot Review
Ein Sonntagmorgen im englischen Birmingham, eine idyllische Kanallandschaft voller Boote, eine Tasse Kaffee, aber keinen Zucker – dafür eine Leiche an Bord. Das schwesterliche Zusammentreffen von Kat und Jo war ganz und gar nicht so geplant.
"This has been a really shit morning." (Kat)
Zwei Stunden zuvor war noch alles fein und die Zombies wurden lediglich im Videospiel erschossen. Per Zeitsprung wird uns nacherzählt, wie es zu der skurrilen Situation gekommen ist. Dabei wird der Ausbruch der Zombie-Apokalypse im Schnelldurchlauf abgehakt. Immerhin gibt es einige nette, kleine Übergänge und Ideen im Detail zu sehen, sei es smarter Schnitt (aus dem Intro in den Gaming-Screen), akustisch (Sirenen beim Absetzen der Kopfhörer) oder mit der Kamera (Seitenschwenk zur Jogger-Zombiegruppe). Ein interessantes Spiel wird auch mit den Erwartungen beim Mann im Bett gespielt, bei dem es aussehen soll, als würde er zum Zombie werden, dabei war das zu beobachtende gequälte Leiden lediglich Zeichen sexueller Aktivität – und dann ist er doch untot. Fraglich bleibt in dem Stadium jedoch noch, welcher Logik die Menschen zu Zombies werden?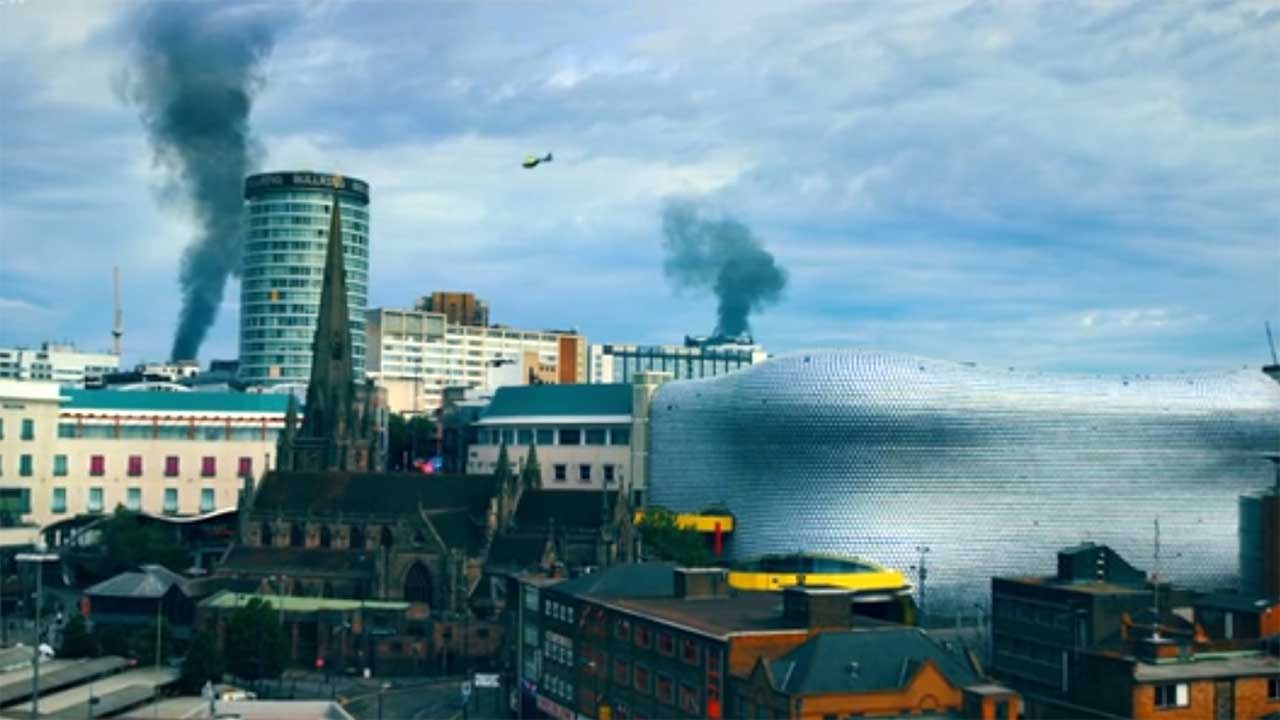 Das zeigt sich allgemein an diversen weiteren Fakten. Zunächst muss natürlich die wichtigste Frage der Zombie-Popkultur geklärt werden: klassisch langsam schlürfend oder neumodisch schnell sprintend? Hier bleibt man – vermutlich auch der Komik wegen – bei der alten Variante. Aber: Die Untoten könnten Türklinken im Gegensatz zu Treppen bedienen und es handelt sich nicht um "The Walking Dead"-Zombies, denn eine Kopfwunde lässt sie nicht zwangsläufig für immer umfallen, ein normaler Stich ins Herz reicht (wobei das bei dem Gefangenentransporter etwas inkonsquent wirkt).
"'The Walking Dead' would've been over in one series if Rick Grimes used his brains and've gone to the Everglades!" (Jo)
Bei der zweiten Gruppe, Amar und Sunny, gibt es viele Zombie-Aktivitäten im Bildhintergrund zu sehen, was ein bisschen an "Shaun of the Dead" erinnert hat. Natürlich muss man auch allgemein den Vergleich zum ulkigen Zombie-Comedy-Film von Edgar Wright ziehen – britisch, Zombies, Comedy, da werden verdammt viele Checkboxen abgehakt. Leider kann man sich in den rund 20 Minuten nicht so viel Zeit für die viel Potenzial inne habende erste Phase der Verwirklichung nehmen. Dafür wirkt die Serie deutlich frischer und dynamisch. Humor gibt es auch, auch wenn der nur selten über flache Sprüche hinweg geht. Aber das Timing sitzt größtenteils (z.B. beim minimal schnelleren Boot), ebenso der Dress Code.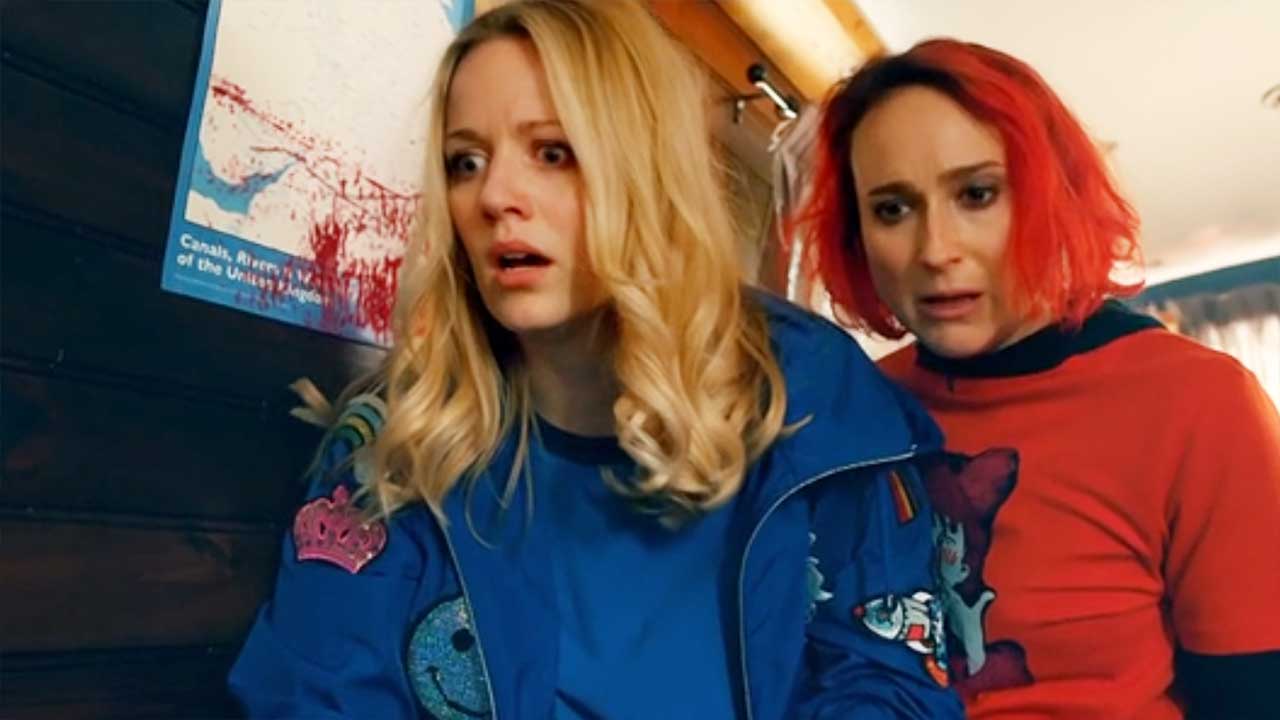 "Zomboat!" wird sicher kein Kassenschlager und scheint auch kein absoutes Must-See sein. Aber wer gerade von den ersten Zombie-Serienalternativen gelangweilt ist, erhält eine kurzweilige Alternative mit britischem Humor. Gerade die kurze Laufzeit der Einzelfolgen sowie die kurze Staffeldauer insgesamt (lediglich sechs Episoden sind geplant) lassen einen nicht allzu viel Zeit investieren (eigentlich ist das insgesamt auch nur eine Filmlänge). Und mit Cara Theobold bekommen "Downton Abbey"-Fans ein vertrautes Gesicht (Ivy Stuart) zu sehen. Entscheidend wird jetzt sein, wie man fortan mit dem engen Platz des Schauspiels umgehen wird. Durch die Tatsache, dass man lediglich einen Kanal entlang fährt, bleibt das Festland aber natürlich stets in erreichbarer Nähe.
Zomboat! Trailer
Die ganze Folge gibt es weiter unten, hier erst einmal der Trailer (der etwas eigenartig im News-Programm von Sender ITV2 verankert worden ist, geht nach 18 Sekunden richtig los):
Zomboat! S01E01 Online Stream
Aktuell gibt es (noch?) die Pilotfolge von "Zomboat!" kostenfrei bei YouTube dailymotion zu sehen. Das ist zwar deutlich ins Bild gezoomt, so dass ihr es nicht komplett sehen könnt, aber besser als gar nichts. Gute Unterhaltung!

Bilder: ITV2

-->