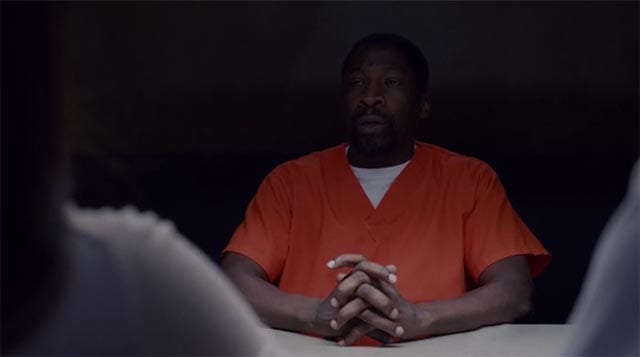 Und hinein in eine neue Runde "Was machst du denn hier? – Es gibt einfach keinen anderen weg. – Es gibt doch einen anderen Weg! – Oh nein, jetzt geht doch nichts mehr…"! Wobei wir diese Woche eine erfreulich starke erste Episodenhälfte zu sehen bekommen, voll toller Dialoge. Mir gefällt z.B., wie Harvey tun muss, als würde er ungewollt verlieren. Dass er einen armen VC nieder macht, erzeugt ein gelungenes Mischungs-Gefühl aus Mitgefühl für ihn und Bewunderung für Harvey.
"You can tell him, his algorithm was leaked to Cahill." – "When the hell did that happen?!" – "Last night, when I leaked it." (Harvey & Mike)
Wo wir bei gelungenen Dialogen sind – auch die "Guy-Sache" fand ich sehr gelungen und auflockernd. Klar, ein gängisches Schema, aber hier wirkte es natürlich und passend.
"After that, you get your own guy." – "I don't understand – why can't I use your guy, too?" – "Because then it wouldn't be my guy." (Jessica & Rachel)
Ebenso war Donnas Einleitung beim BROker ganz nett, wenn auch mittlerweile stark überzogen aufgespielt. Hier müssen die Macher aufpassen, dass sie die Donna-Karte nicht überreizen. Das wirkt dann irgendwann utopisch und abgeklatscht. Noch geht es, weil Donna einfach Donna ist, ich fürchte aber, dass das noch abstrusere Ausmaße und Selbstinszenierungen geben wird.
"I'm Donna, and I'm awesome." (Donna)
Aber hey, plötzlich sieht Donna ein, dass es aktuell wichtigere Dinge für ihre Zeit gibt, als Louis' Liebensleben. Immerhin eine erste Einsicht. Selbst Louis bekommt bei "es geht um Mike" plötzlich eine andere Sichtweise. Seltsam.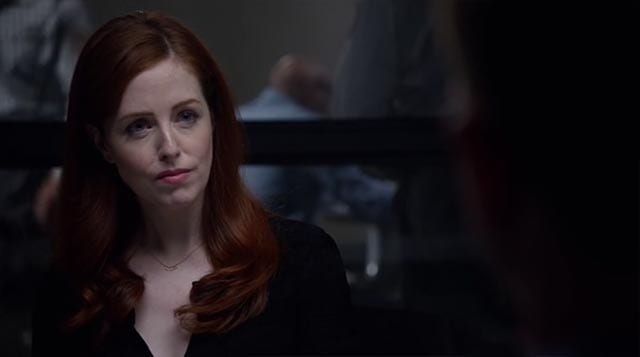 Aber wozu überhaupt die ganze Mühe? Mike kann sogar selbst Meetings arrangieren, wofür will der überhaupt raus? Kann doch "Prison Office" machen… Wobei er als Moralapostel #1 wohl keinen leichten Stand auf lange Sicht haben dürfte. Mit jedem fühlt er sich binnen kurzer Zeit derart verbunden, dass er in den Knast gehen (bzw. dort bleiben) würde. Ja, bei Rachel leuchtete das noch ein, auch der Harvey-"Tausch" war irgendwie vertretbar, aber jetzt wird es langsam lächerlich, wo er eigentlich ganz klare Prioritäten (wieder zur Frau!) setzen müsste. Wobei die ja mittlerweile sehr erfolgreich nicht mehr an ihn denkt…
Okay, sie hat auch andere Dinge, die ihr zu denken geben. Zum Beispiel den Vater eines ermordeten Kindes. Dessen Gefühlsausbruch in der Kanzlei hätte man in der Kameraperspektive nochmals drehen müssen. Das hat nicht zum Ton gepasst und lenkt Rachel natürlich vollkommen zurecht ab.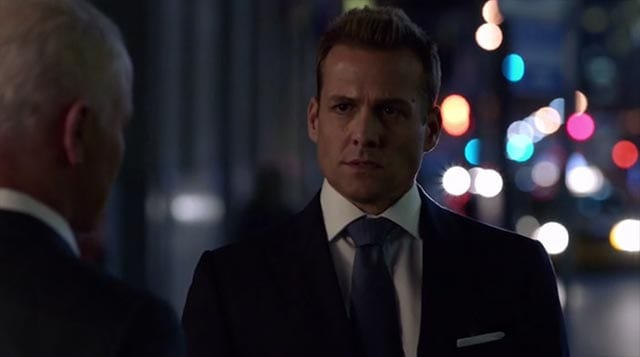 An sich eine gute Folge, vielleicht die beste der Staffel bisher. Die Dynamik hat mir in Story und vor allem Dialog sehr gefallen. Die ganz großen Stolpersteine waren nicht vorhanden und einige Dinge wurden gerade gerückt. Am Ende war es dann aber doch wieder zu verworren, als zwingend Gegenwind eingestreut wurde. "Ups, plötzlich geht es doch nicht!". Tja, wer hätte das gedacht – außer wirklich jeder?!

Bilder: usa

-->