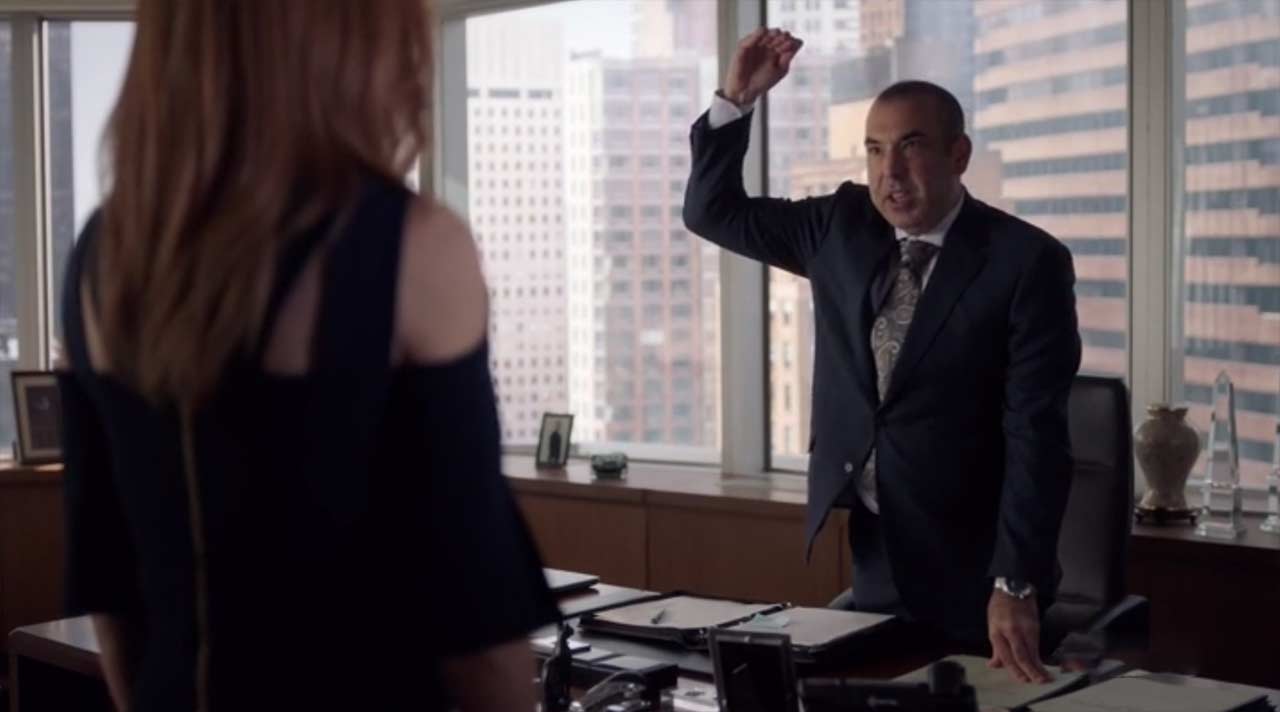 Da ist sie endlich, die siebte Staffel von dieser Serie, auf die wirklich ALLE gewartet haben. Nein, nicht "Game of Thrones", sondern "Suits", die nette und sympathische Anwaltskanzlei von Nebenan. Bodenständige Typen, wie du und ich, die gerne mal im Ferrari-Oldtimer vorfahren, um Eindruck zu schinden.
Bekommen wir in den ersten Sekunden der Staffel mal wieder die obligatorischen "läuft bei mir"-Bilder von Harvey zu sehen, könnte man an einen kleinen Sprung hin zu einer besseren Zeit denken. Aber nichts da – die Staffel setzt im Grunde genommen nahtlos dort an, wo die letzte endete. Und auch die Verlobung von Louis. Der gibt einem angehenden Vater zunächst zwei total zufällig passende Urlaubstage, nur um dann einen manischen Tagtraum in Verkleidung eines herrlichen Stock-Fotos zu erhalten. Um es mit den Worten des Philosophen Nelson M. zu sagen: "Haha!".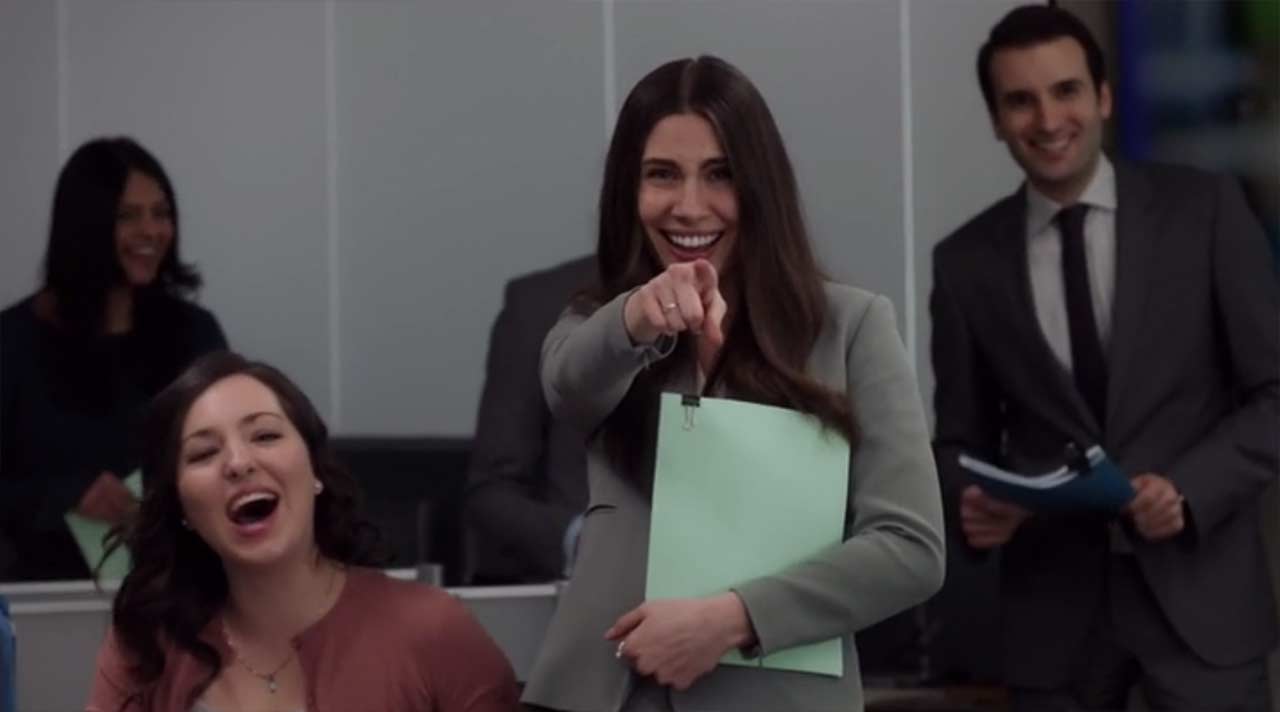 Gretchen ist seltsamerweise die einzige, die einen kühlen Kopf bewahrt. Louis dreht komplett durch, Donna ist zwischendurch auch durch den Wind, und Rachel wechselt weiter fröhlich zwischen starker, moderner Frau und weinerlicher Nebendarstellerin hin und her. Wichtig ist aber doch eh: Die Buddies sind back together!
"You used to work on cases together?" – "Yeah. She was me and I was you and we kicked ass!" – "Right. And what exactly did you contribute to the equation?" – "Uhm, movie quotes, mostly." (Mike & Harvey)
Das Partygespräch zwischen Mike und Rachel war eines der authentischsten und lockersten seit Langem. Dicht gefolgt vom Gespräch an der Party-Bar. Schön fand ich auch, den alten Trick aus einer früheren Staffel nochmal zu sehen zu bekommen. Nein, nicht den mit der "Wie viele Finger halte ich hoch?"-Frage…
"I'd tell you to put food in your stomach, but unfortunately I only ordered enough to give the appearance to have food." (Harvey)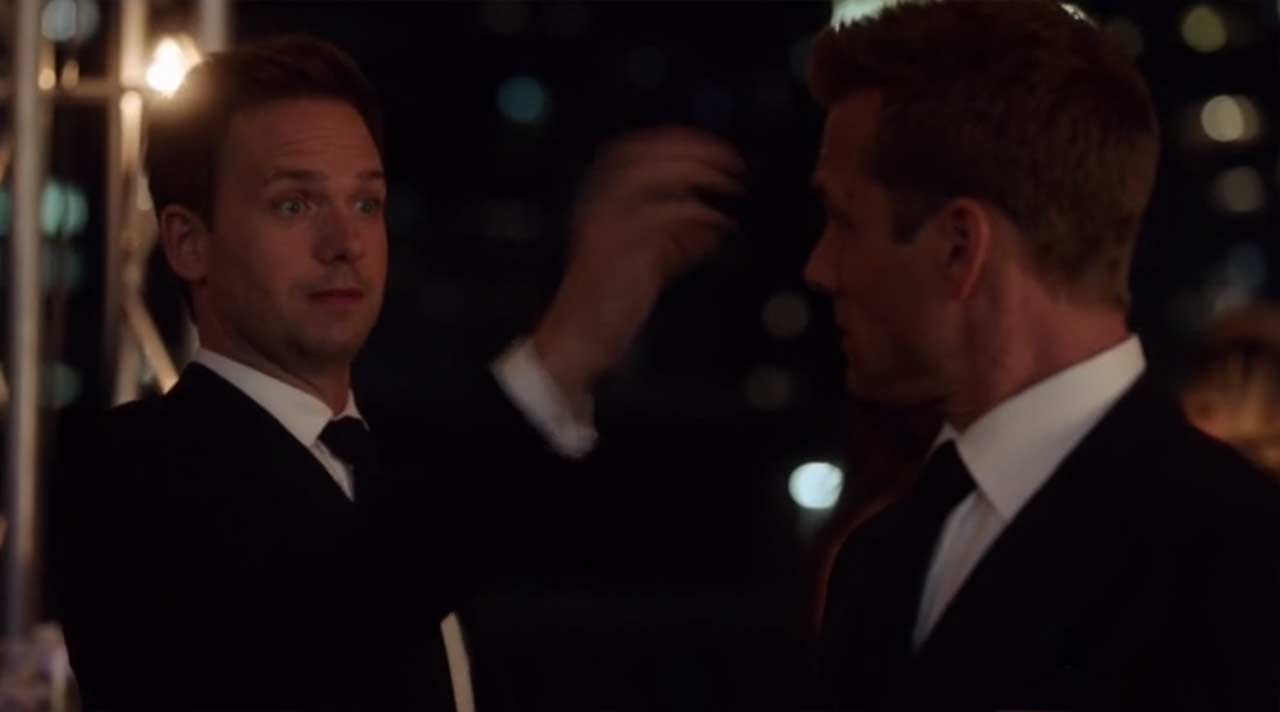 "I liked you better when you were drunk." – "I liked you better when I was drunk, too." (Harvey & Mike)
Wo Freude ist, da ist bei Suits aber natürlich auch das Drama nicht weit – und die suboptimale Darstellung dessen. Mehr oder weniger aus dem Nichts möchte Donna Partnerin in der Kanzlei werden und drängt utopisch schnell auf eine Entscheidung. Harveys Psycho-Date läuft nicht wie erhofft und dann lässt er sich auch noch total untypisch von von einem Kunden einschüchtern?! Ne, da passte so einiges nicht. Da gefiel mir schon eher der Überraschungsbesuch von Oliver, der zeigt, dass dieser Schritt zurück zur Kanzlei nicht direkt (wie so oft) die Vergangenheit vergessen lässt. Ich hoffe, dass wir ihn wirklich öfter sehen werden – vermutlich wird er bei Pearson Spector Litt anfangen. Oder "Spector Litt Ross Paulson"?
"What do you want from me?" – "Are you asking me as my client? Because I don't give free legal advice…" (Vodka-Besitzer & Harvey)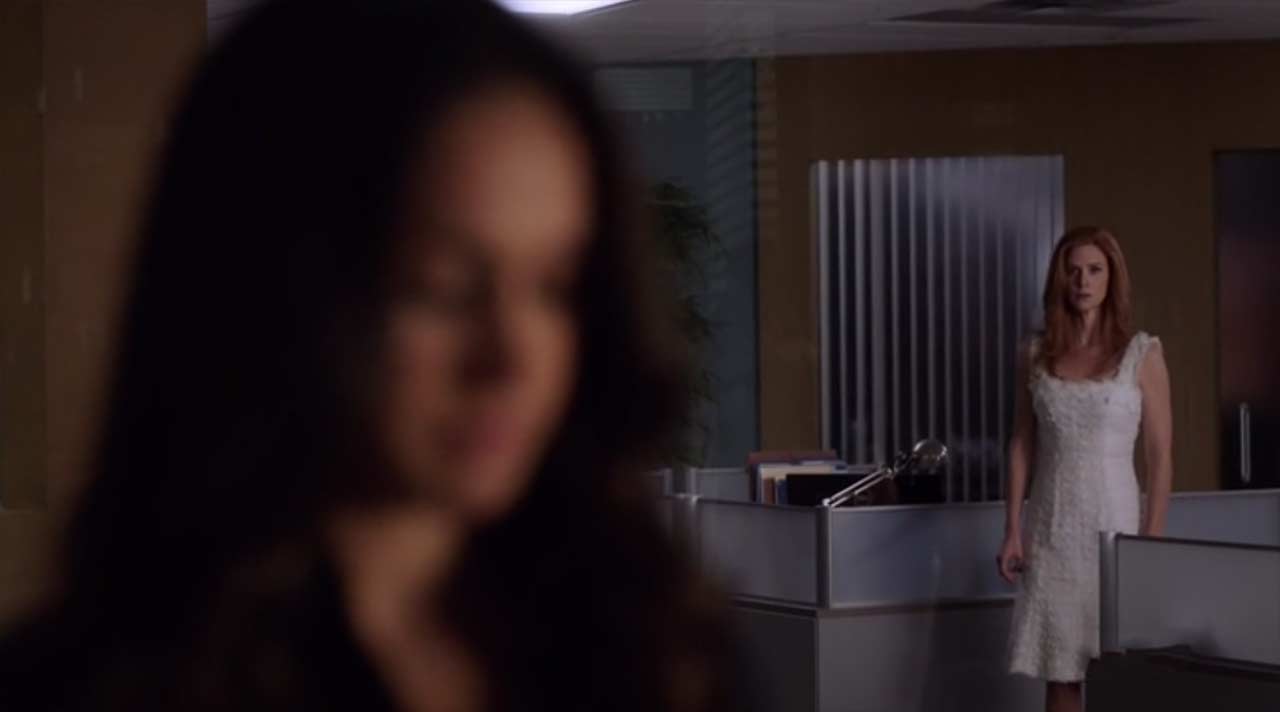 Um alles wieder hinzubiegen, gibt es am Ende nicht nur gleich mehrere fiese, halbzensierte "f…"s in der TV-Variante zu hören, sondern auch eine abschließende Klärung. Plötzlich ist Donna Partner, Harvey Managing Partner und Louis der zahmste Mailbox-Anrufer aller Zeiten. Dass dann am Ende "right now I got some shit to take care off" sagt und tatsächlich aufs Klo geht ist ein sprachliches Bild für die Götter. Von mir aus hätte hier Schluss sein können, aber es musste ja noch der heldenhaft inszenierte Kuss folgen…
Man merkte, dass das Hauptaugenmerk des Auftakts im Wiedersehen und Eingrooven bestand. Dazu gab es (dank Models und Drinks) einen unterhaltsamen, wenn auch tendenziell unspektakulären "Fall". Ein bisschen Moral, ein bisschen Getrickse, bla-blubb. Hängen bleibt da wenig, bis auf vielleicht einen Kater. Was dann eher nervt sind die mal wieder recht schnellen Entscheidungen. Ein neuer Partner einfach so auf der Entscheidungsbasis einer Person? Von sofort rechtsgültig? Naja. Eine halbe Krone gibt es noch extra für die gelungene Folgenklammer das schöne Auto. Jetzt bitte in neuer Besetzung und Stärke geilen Anwalts-Scheiß machen, okay?!
Bilder: bravo