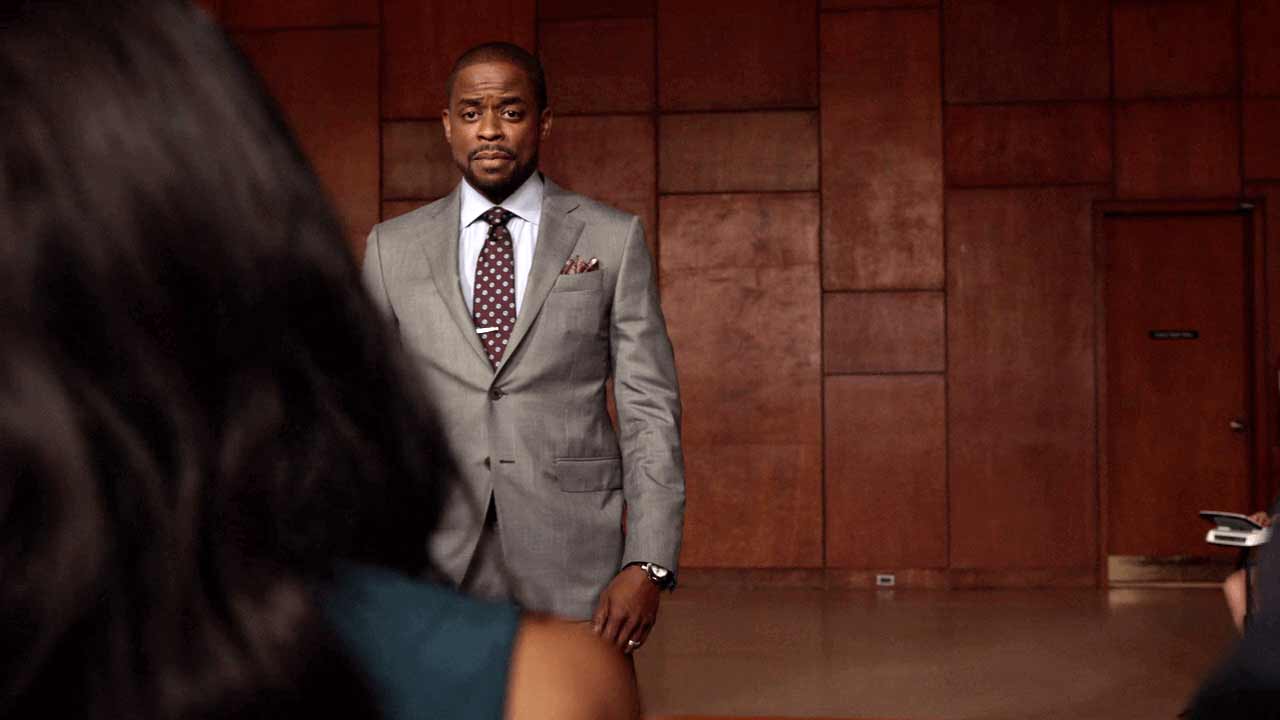 Weil Maik irgendwo in Irland unterwegs ist, hat sich Thorsten – Freund des Blogs und "Suits"-Gucker – freundlicherweise dazu bereit erklärt, das Review für die neue Folge zu übernehmen. Vielen Dank!
Es ist mal wieder soweit: Mid-Season bei "Suits"! Wie dem auch sei, eine Folge geht noch: "Managing Partner".
Ach ja, da war ja noch was?! Das "Bild und das Flugzeug" oder "Alex' Klient und "Sams Klient" oder auch einfach der große Interessenkonflikt, da beide von Zane Spector Litt betreut werden. Es bleibt also in der Familie und wird so zum Spannungsbogen für das Mid-Season-Finale: Los geht's oder wie Robert sagt:
"Let's get ready to rumble!"
Any Questions?!
Alex: "I got one: Is it gonna be 'Williams Zane Spector Litt' or 'Zane Spector Litt Williams'?"
Gefällt mir, denn auch wenn Alex ein guter Anwalt ist, kann ich seine Rolle in "Psych" einfach nicht hundertprozentig ausblenden und nehme Samantha nach dem bisherigen Staffelverlauf doch noch etwas ernster. Donna sieht das übrigens ähnlich:
"Because it is not about who the better lawyer is, it is about winning! And unless he has suddenly become another person, he is not willing to go as far as she is to win."
In verschiedenen Rückblenden erfahren wir noch mehr über Samantha und wie sie und Zane zueinander gefunden haben, Stichwort Geldwäsche und Zanes Familie. Zudem versuchen Louis und Sheila weiter, ein Kind zu bekommen. Es passiert auf einmal also wieder ungemein viel – typisch "Suits" – und zu alledem bekommt Sheila aus dem Nichts ein verlockendes Jobangebot der Columbia Law School. Die Diskussion "Arbeit oder Familie" ist also ebenfalls eröffnet. Louis bleibt aber finalstaffeltypisch stark und Familienmensch:
"How would look her in the eye and you tell her: I choose you! If you don't you would not be able to look her in the eye at all, because you were working."
Der Fall der Woche geht derweil unterhaltsam und kurzweilig hin und her bis Samantha wie die Gewinnerin aussieht, dann aber doch alles verliert und Alex am Ende den Status "Teamplayer" behält und verhindert, dass Samantha "disbarred" wird.
"You can help or not, either way, her name is not going up this wall." (Alex zu Harvey)
Samanthas Softspot ist übrigens auch die Familie, da sie als Waise nie eine hatte und trotz dieser News frage ich mich, was uns da in Staffelhälfte 2 und Ihrer versiegelten Akte noch erwartet?! Dies und die Tatsache, dass Robert sich um sie kümmern wollte, sorgt übrigens dafür, dass das Mid-Season-Finale noch einmal Fahrt aufnimmt. Denn obwohl Alex gewonnen hat, will Managing Partner Robert Zane Samantha befördern, denn das schuldet er ihr noch von früher. Die Rechnung hat er allerdings ohne Danna gemacht, die ihren großen Auftritt als "Louise Whisperer" hat, der jetzt entgegen dem Staffelauftakt doch noch Managing Partner wird.
"They beat us at our own game Samantha, whether you like it or not. But you know what that means?! We are surrounded by some bad ass people, so lets stop fighting in here and start fighting out there, because it's time to make peace." (Robert)
Ergo kann Alex noch einmal nach der Reihenfolge fragen:
"Alex: "Then I guess it is only one thing to figure out: 'Williams Wheeler' or 'Wheeler Williams'?"
Ist halt alles sehr familiär geworden in der letzten Staffel und passend dazu gibt es noch einen Dialog zwischen Louis und Sheila, als diese ihm verkündet, dass sie schwanger ist:
Louis: "It's ok. It is all gonna be ok! I am right by your side, I am not going anywhere."
Sheila: "How are you so calm?"
Louis: "Because I know what is important know and it is this"
Das Ende mit Phil Collins finde ich dann doch etwas arg daneben, aber gut, ist ja eh alles bald zu Ende, ergo sehe ich da mal drüber weg. Insgesamt war die Folge etwas überfrachtet, auch weil jeder seinen Part hatte, Katrina inklusive. Am Ende zeigt es aber auch, dass die Serie sich von "Harvey und Mike" weg entwickelt hat und dieses Erbe auf mehrere Schultern nahezu gleichmäßig aufteilt. Hierbei gefällt mir besonders, dass Louis endlich mal wieder Pluspunkte sammelt, wenn auch mehr als Familienmensch als als Anwalt. Find ich trotzdem gut und alles in allem wurde ich von der Staffel besser unterhalten als bspw. Von den Staffeln vier und fünf. Es hat zwar nicht mehr ganz die Leichtigkeit der Dialoge von Harvey und Mike und auch nicht das Dramatische der großen Fälle der ersten drei Staffeln, aber es hat sich neu erfunden und das ist zum Ende doch auch gut! Ich freue mich auf den Rest, kann der derweil aber auch mal was anderes schauen ;-)

Bild: bravo

-->