2008, ein Film mit dem Namen Cloverfield kommt in die Kinos. Ich habe den Film erst später ohne Erwartungen geschaut und war begeistert. Später – 2016 – kommt 10 Cloverfield Lane in die Kinos. Den habe ich ebenfalls im Kino verpasst und wusste auch wenig zur Vorgeschichte bzw. ob er wirklich zum vorherigen Film dazugehört. Auch dieser Film begeisterte mich. Und jetzt – 2018 – kommt auf einmal – wie aus dem Nichts – The Cloverfield Paradox auf Netflix. Diesmal wollte ich nicht so lange warten.
J. J. Abrams und das Cloverfield Franchise
Cloverfield, 10 Cloverfield Lane und The Cloverfield Paradox gehören zu einer übergeordneten Handlung, für welche sich der Star Produzent J.J. Abrams verantwortlich zeichnet.  Zu den bisherigen drei Filmen wird noch ein weiterer dazu stoßen. Overlord ist der Arbeitstitel des kommenden vierten Films und er soll noch im Jahr 2018 veröffentlicht werden. Der Film soll im Jahr 1944 spielen, womit offenbar (wieder) eine komplett neue Perspektive eingenommen.
Das Cloverfield Paradox präsentiert sich als lupenreiner Sci-Fi Film. Die zwei vorherigen Filme hatten einen deutlichen Mystery und Horror Fokus. Die Handlung des Netflix-Films spielt an Bord einer Raumstation in der Gegenwart oder nahen Zukunft. Die Crew hat die Aufgabe, eine Energiequelle zu erforschen und nutzbar zu machen, denn auf der Erde gehen die Ressourcen aus und der Energiemangel droht zu einem Krieg zu führen.

Was dem Zuschauer dann geboten wird, ist ein Mix aus Horror, Drama und Science Fiction. An sich alles Elemente, die gut zusammenpassen, aber hier will der Film zu viel. Wir haben die unbekannte Bedrohung, bekannt aus Alien, wir haben familiäre Problemen durch die Entfernung, ähnlich wie im Film Interstellar, und problematische Crew-Interaktionen, Event Horizon lässt grüßen. Die Stärke von Cloverfield oder der Cloverfield Lane war der Fokus durch eine begrenzte Anzahl an Akteuren und Orten. Es gibt keine Nebenschauplätze und keine zusätzlichen Handlungsstränge, diese "Cloverfield-Regel" bricht der neue Film. Was grundsätzlich nicht schlecht ist, aber man weiß einfach nicht, wohin der Film möchte. Das Ende ist dann noch recht versöhnlich und passt meiner Meinung nach wieder ganz gut in das Cloverfield Franchise, es kann den Film aber nicht retten.
Die Schauspieler leisten ihren Teil zu der durchwachsenen Präsentation. Sie sind einfach extrem klischeehaft aufgebaut. Der Russe zickt rum, die Chinesin redet nur Chinesisch – warum? Der Deutsche, das ist natürlich Daniel Brühl, ist verbissen in seiner Arbeit. Dann haben wir einen gläubigen Brasilianer und eine – natürlich –  relativ normale US Wissenschaftlerin.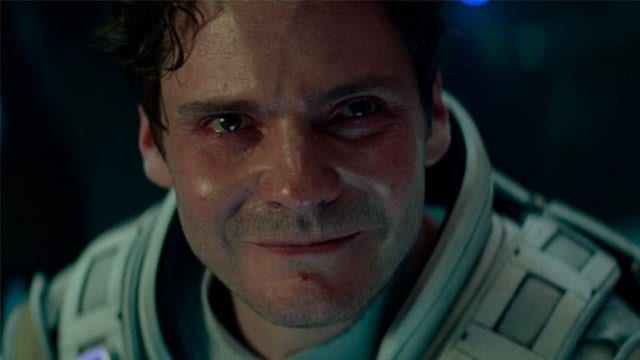 Es ist unbestritten, dass Daniel Brühl gerade auf einer Welle des Erfolges schwimmt. Er ist immer häufiger in den teuren US Produktionen zu sehen. In diesem Film rechtfertigt er seine Nominierung allerdings nicht. Das liegt sicherlich auch an dem Drehbuch, denn viel Redezeit bekommt er nicht; aber trotzdem hätte er mehr draus machen können und er bleibt – wie alle anderen Schauspieler – recht flach.
Für Fans der ersten zwei Filme ist das Cloverfield Paradox leider dann doch Pflicht. Andererseits spielt der nächste Film in der Vergangenheit, also ist eine klare Zeitabfolge doch nicht wichtig? Trotzdem, der Film erklärt vieles, vielleicht zu viel. Mystery und Horror funktioniert am besten, wenn nicht alles klar ist und bekannt. Ich hoffe auf den nächsten Cloverfield Film und damit auf Besserung.
Bilder: Netflix