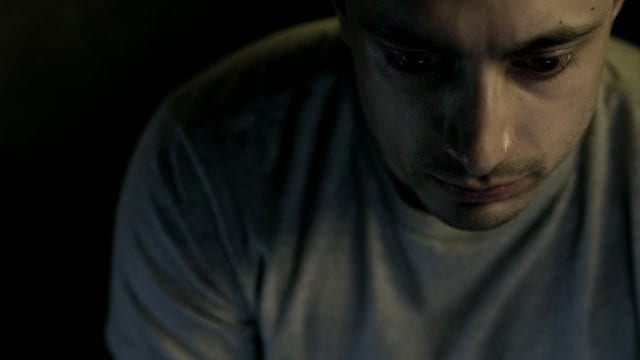 Gefühlschaos. Das ist es, was durch die aktuelle Episode The Night of bei mir hervorgerufen wird. Naz driftet ab. Er liefert uns immer mehr Gründe, an seiner Unschuld zu zweifeln und sein Verhalten zu verurteilen. Hat er keine andere Wahl oder zeigt sich nun sein wahres Ich?
Naz bekommt für seine treuen Dienste von Freddy ein Handy übergeben – natürlich nicht zur Alleinnutzung, aber immerhin ein Zeichen der Anerkennung des Risikos, das er durch das Reinschmuggeln der Drogen auf sich genommen hat. Und leider wächst Freddys und Naz' Freundschaft noch weiter. Die Gespräche werden persönlicher, sie rauchen die verbotenen Substanzen gemeinsam in der dunklen Zelle und zu allem Übel lässt Naz sich dann auch noch mit der schwarzen Farbe einer geschmolzenen Schachfigur ein Tattoo stechen – natürlich keinen kleinen und unauffälligen Stern am Fußgelenk, sondern ein prominentes SIN auf die Finger. Ernsthaft Naz? Sünde? Willst du uns sonst noch etwas sagen?
Chandra bereitet sich weiter auf den Prozessbeginn vor und geht einer neuen Spur nach. Durch die Überwachungskamera der Tankstelle, an der Naz und Andrea in der Mordnacht Halt gemacht haben, sieht sie, wie der Bestatter an der Nachbarzapfsäule mit Andrea in Kontakt kam. Wie wir wissen, schmiss Andrea kopflos ihre Zigarette aus dem Fenster, er hob sie auf und fragte sie: "You wanna be my next passenger?" Zu dem Zeitpunkt wirkte der Unbekannte schon etwas creepy, aber die Konfrontation war ja durchaus gerechtfertigt. Da man auf dem Video allerdings auch sehen kann, dass der Bestatter mit seinem Leichenwagen die Tankstelle direkt nach und hinter dem Taxi verließ, wird diese Spur heißer. Neuer Verdächtiger?
Chandra jedenfalls sucht den Bestatter auf und befragt ihn zu der Nacht. Doch statt ihr nützliche und entlastende Informationen zu liefern, findet sie sich in einem unangenehmen, verstörenden, fast schon bedrohlichen Gespräch wieder, das zeigt, dass dieser Mann nicht viel von Frauen zu halten scheint. Ein für ihn erträglicher Umgang mit Frauen ergibt sich genau dann, wenn diese tot auf seiner Liege liegen.
"You talked to her there, why?" – Chandra
"Because I saw her for the destroyer that she was and I did not like that. Sometimes when you call them out, they get neutralized." – Creepy Bestatter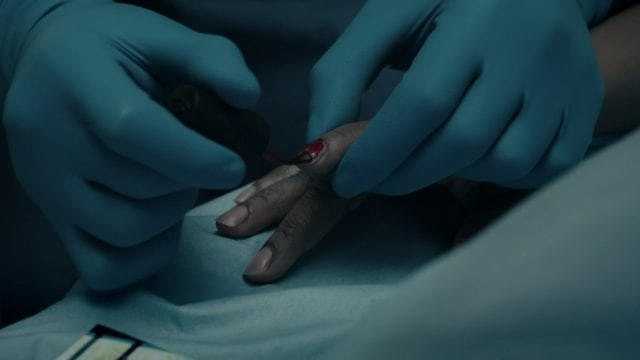 Seine Überzeugungen gründen eigenen Angaben nach auf der Bibel, dem Buch der Richter 16, das von Samson und Delilah erzählt. Chandra geht dem Ganzen natürlich nach und ist geschockt von dem universellen Frauenbild, das in diesem Mann wohnt.
"The Lords of the Philistines came to her with silver. And after putting him to sleep in her lap, she called for someone to shave off his seven braids. And so his strength left him. And she said to him, 'The Philistines be upon thee, Samson.' And they bound him in shackles, brought him to Gaza and gouged out his eyes. That's what he thinks of women." – Chandra
Doch auch auf der Gegenseite, der Seite der Ankläger, des Staates, versucht man noch mehr Indizien zusammenzukratzen, bevor der Prozess beginnt. Das veranlasst Box dazu, mal die sozialen Netzwerke zu untersuchen und Naz' Profile genauer auseinander zu nehmen. Natürlich bringt ihn das weiter, denn so erfährt er nicht nur, dass Naz vor einiger Zeit mitten im Schuljahr aufgrund eines heftigen und brutalen Streits die Schule wechseln musste, sondern auch, dass er jemandem erst kürzlich einen großen Gefallen getan hat. Was steckt dahinter?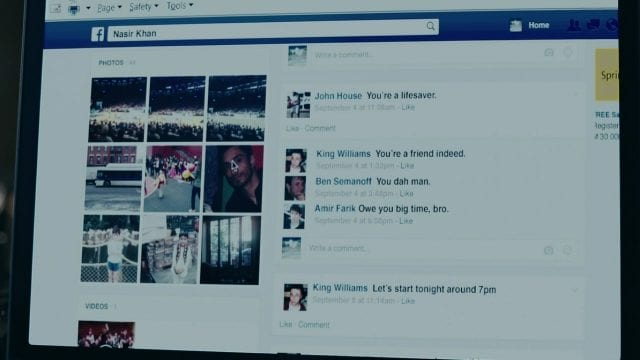 "He lied to us again." – John Stone
Nun also beginnt der Prozess, in dem am Ende über Naz' Schuld oder Unschuld entschieden wird. Zeugen tätigen ihre Aussagen, Kläger und Verteidiger suchen nach den richtigen Worten, um die Jury von ihrer Sichtweise zu überzeugen. Und Naz erlebt den Abend wieder und wieder – bis auf die entscheidenden Momente. Und dann geht der einsame, wie durch ein Wunder – oder aber auch durch ein merkwürdiges, erdartiges Pulver – von seinem Ekzem geheilte John Stone einer neuen Spur nach, die ziemlich schnell zu einem neuen Verdächtigen führt. Der junge Ehemann von Andreas Mutter scheint nämlich eine gewisse Vorliebe für ältere Damen mit viel Geld zu haben.
"So, here he is, personal trainer by trade, if you can call that a trade, makes 30 grand a year, if he's lucky, stops working altogether when he marries Evelyn. Doesn't work a day after that. And he wants half of everything Andrea's got. I mean, some kind of "Driving Miss Daisy" gratuity, sure. But five or six million dollars? Andrea said no way. Actually… Actually, what she said was, 'Over my dead body.' Guess he gets it all now." – Ray Halle, Finanzberater
"Samson and Delilah" ist wieder einmal eine starke Folge, die die Wut aufkochen und die Neugier auf Aufklärung wachsen lässt. Besonders gut gefallen hat mir der extrem abwechslungsreiche Soundtrack dieser Episode: ob mexikanische Klänge zur deutlichen Kritik am schwachen US-amerikanischen System der Geschworenen, italienische Untermalung zur Ekzemfreiheit von Stones Füßen oder der Hip-Hop-Einspieler zum hoffnungsintensiven Ende der Folge – hier ist alles dabei. Sehr schön fand ich auch, wie die Kamera auf Fußhöhe hängt, als Stone den seit Ewigkeiten ersten Gang mit geschlossenen Schuhen wagt.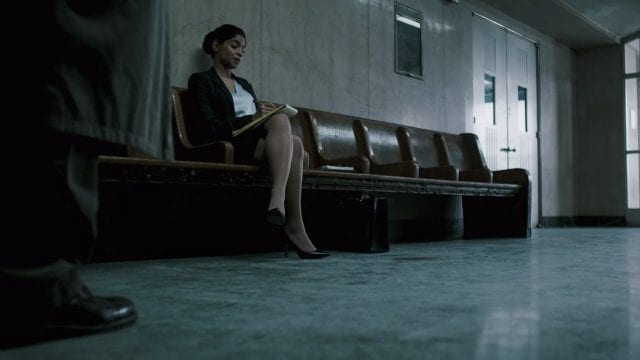 Nun hoffe ich nur, dass die Auflösung keine stumpfe "Gier nach Geld"-Richtung einschlägt. Ich bin allerdings noch sehr guter Dinge.

-->