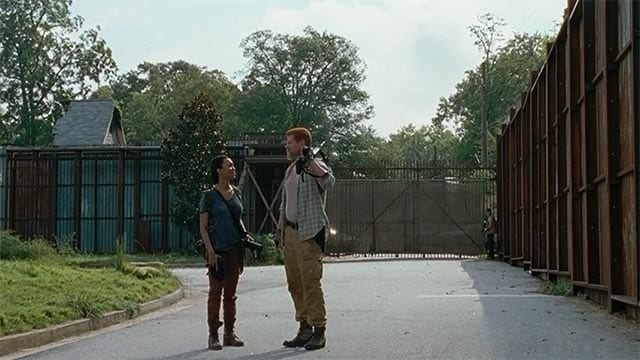 Love is in the air… Nach der übertrieben albernen Benny Hill-Szene und allgemein deutlich überzogenen Story letzte Woche wird es wieder deutlich realistischer aber eben auch gefühls-intensiver. Okay, das hatte sich mit "Rickonne" bereits zum Ende der letzten Episode angedeutet, nun also auch ein doppelt verknallter Abraham. Welche der Damen wird nur seine Rücklichter zu sehen bekommen? Nächste Woche bei "Herzblatt Alexandria"…
Gut, dass es wenigstens noch bzw. jetzt endlich Jesus gibt! Der bringt Schwung in den verstaubten Laden und weiß nicht nur mit überraschend schnelle Loyalität sondern auch mit dem einen oder anderen Spruch aufzutrumpfen: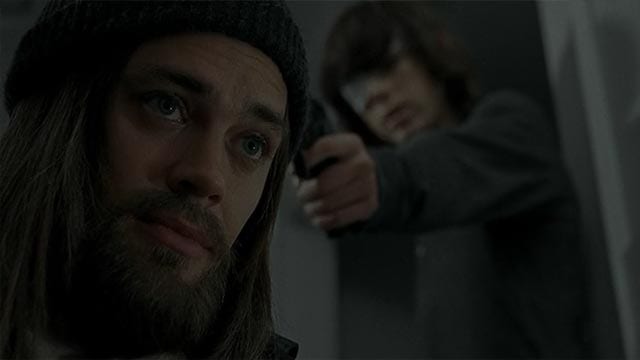 "Well, I appreciate the cookie – make compliments to the chef." (Jesus)
"We're on the same side. The living side." (Jesus)
"Your world is about to get a whole lot bigger." (Jesus)
Und das hat die Serie auch verdammt nochmal gebraucht. Also, die Weltvergrößung. Alexandria wurde einfach zu eingeklemmt und fokussiert erzählt. Das liegt zwar zum einen an der Story selbst, aber eben auch an einigen Fehlern in der Erzählung (hier auch schon wieder – wieso in aller Welt teilen die sich so bescheuert beim Haus-Durchkämmen auf?). Aber sei's drum: Welcome to The Hilltop!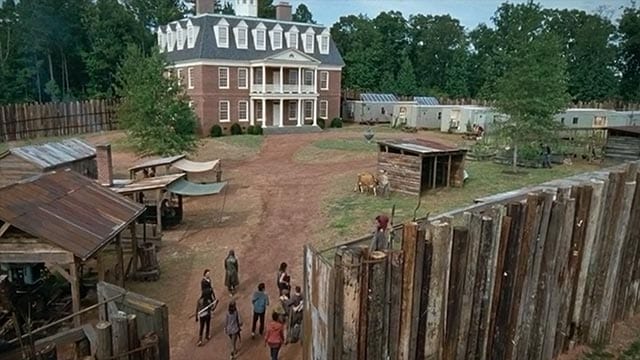 Maggie soll dann doch recht plötzlich das empathisches Sprachrohr der Gruppe und Nummer 2 spielen. Klar, Deanne hatte so etwas in ihr gesehen, aber es wirkt komisch, dass Rick sich plötzlich bremsen und zurückhalten kann. Maggie geht aber erst zu sanft, dann zu hart, dann zu.. keine Ahnung vor. Jedenfalls die gleichen Bedingungen wie Negan? Etwas hart… Aber gut, vermutlich wurscht, was man jetzt abmacht. Sie sollte einfach mit einem falschen Namen unterschreiben, sollte es einen Vertrag geben.
"Thank you, Natalie, what a good talk!" (Gregory)
Bei diplomatischen Rangeleien hält sich Rick dann weniger zurück und mischt direkt mal in erster Reihe mit. Och Mensch – gerade gewaschen und dann das…
"What?!" (Rick)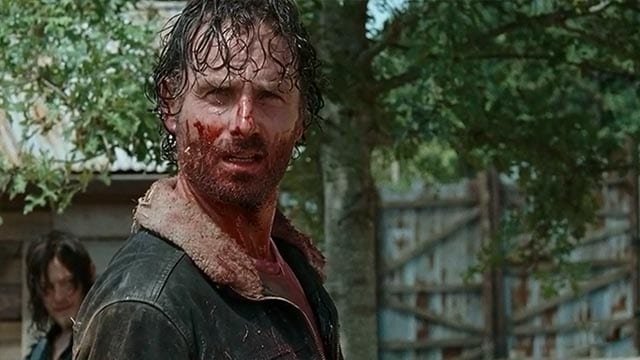 Abraham hatte seine Nahtod-Erfahrung und weiß nun, wen er lieber mag. Toll, ich freue mich für ihn wie ein Schnitzel beim Panieren. Allgemein ist mir das noch zu viel Optimismus. Ja, wir haben verstanden, dass unsere Truppe – wenn es die Story gerade will – die überhärteste Survival-Bande ist, aber der Hochmut scheint parallel zum Hunger anzuwachsen. Nicht nur Daryl denkt noch etwas zu gering von Negan…
"We've handled people like Negan." – "How?" – "They're dead." (Maggie & Gregory)
Dafür gibt es erste kleine Anspielungen auf Lucille – hach, endlich geht es los! Und damit auch die Freunde bedeutungsschwangerer Einstellungen und Metaphoriken auf ihre Kosten kommen, wird noch minutenlang ein Ultraschall-Foto herum gereicht (klar, alles geht zugrunde, aber Elektrizität und Tinte hauen wir mal eben raus…). Ein Neubeginn, neues Leben – nicht nur für das werdende Elternpaar, sondern auch für die Serie. Und verdammt nochmal – sie hat(te) es nötig!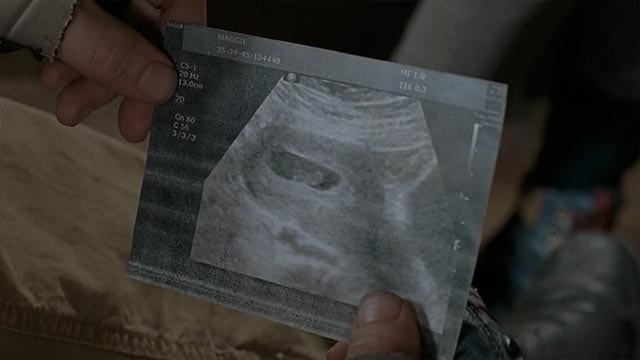 Ja, das Timing war nicht immer gut (bzw. teils utopisch gut) in der Erzählweise, aber größtenteils war das gelungen. Gerade der Spagat zwischen Ver- und Misstrauen wurde meist ganz gut gezeichnet, ebenso die Inszenierung von Rick & Co. als brutale "Machen, was gemacht werden muss"-Leute. Ich freue mich einfach nur ungemein, nicht nur einen neuen Schauplatz, sondern eine der größten Storylines der Vorlage endlich angestoßen zu bekommen. Das dürfte für ordentlich Brisanz und endlich mal wieder konkreten Content für die letzten Episoden dieser und vermutlich die komplette nächste Staffel bieten.

Und weil ich mich eben wie ein kleines Kind darauf freue, gibt es heute mal einen kleinen Vorschuss aus unserem Kronen-Vorrat und satte vier, was trauriger Weise mittlerweile irgendwie richtig gut für eine Episode von The Walking Dead ist. Früher war eben alles besser…

Bilder: amc

-->