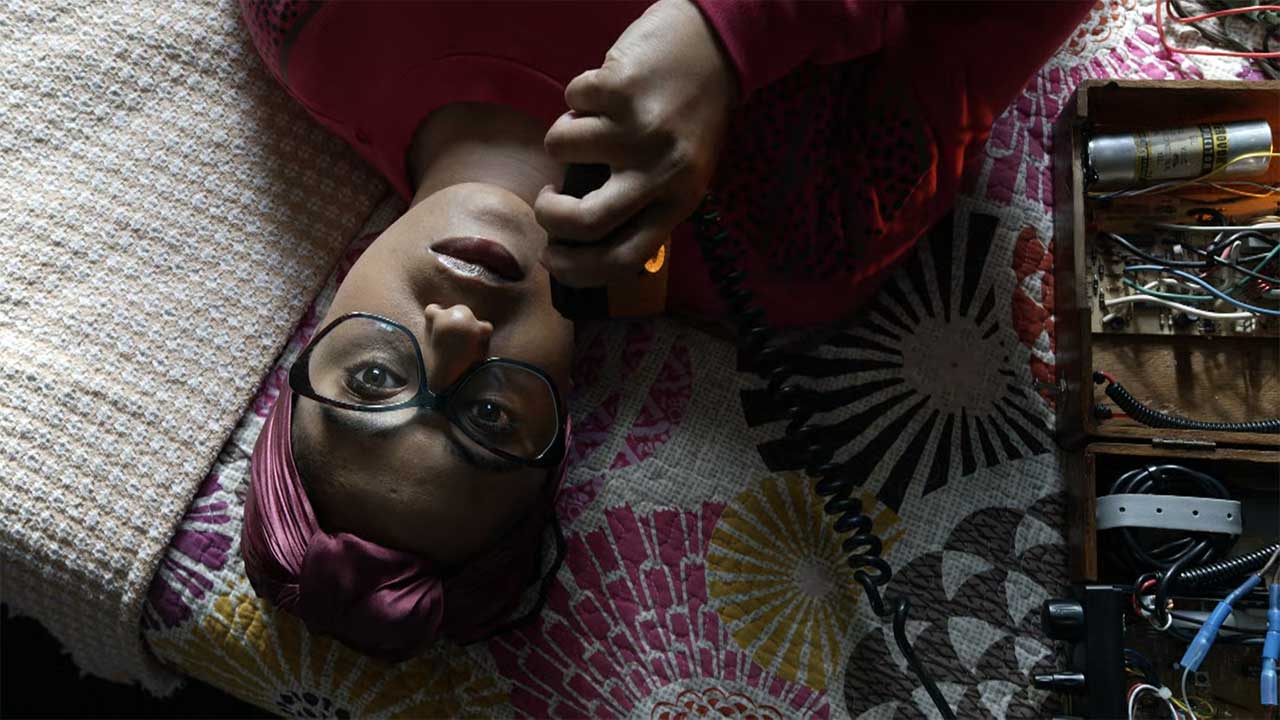 Nach der Offenlegung am Ende der vergangenen Woche setzt "The Walking Dead" direkt an der Stelle an, an der Eugene sein Manuskript verbrennt und auf die echte Stephanie trifft. Die heißt aber eigentlich Max und ist die Schwester von Mercer. Nachdem ich im letzten Review bereits kritisch angemerkt hatte, ob Liebe derart blind macht, dass Eugene nicht hat erkennen können, dass da eine falsche Stephanie neben ihm liegt, wurde dieser Aspekt durch Max selbst aufgebracht und zumindest einigermaßen glaubhaft aufgeklärt. Die Chemie zwischen den beiden funktioniert jedenfalls wieder wie eh und je, die beiden in gemeinsamen Szenen zu erleben, war wirklich das Positivste an dieser Folge.
"Uh, evil twin – nice!" (Max)
Eugene flunkert Rosita bezüglich "Stephanie" an, wobei mir der Bezug auf seine Washington-Lüge zu Beginn der Serie gefallen hat. Das zeigt uns, dass er es nur macht, weil er meint, es machen zu müssen, für das große Ganze, die Sicherheit für sich selbst und seine Liebsten.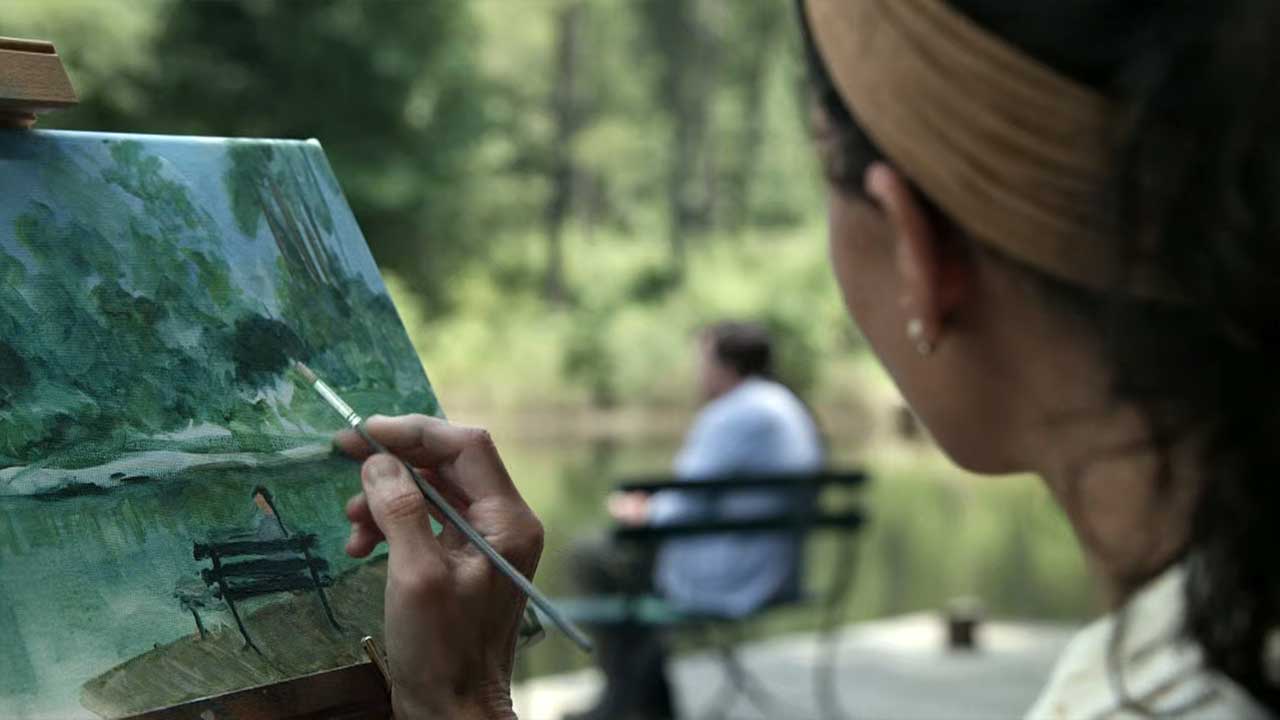 Um es auch kurz zu thematisieren: Ezekiel hat seinen OP-Termin, ist aber mindestens so skeptisch gegenüber der doch recht schlecht schauspielenden Carol wie bei bestimmten Pizzabelägen. Immerhin haben wir so einen feinen, kleinen Jerry-Moment erleben dürfen. Hach, Jerry!
"Pineapple on pizza makes no sense." (Ezekiel)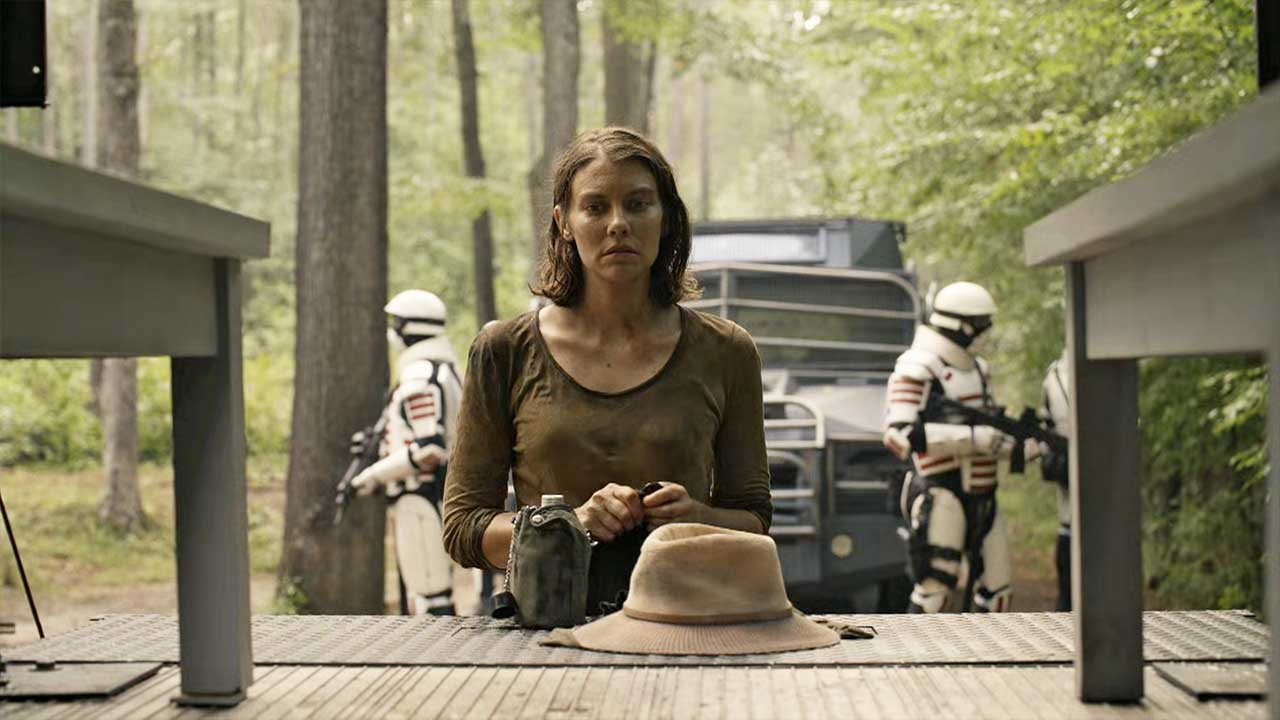 Dauer-skeptisch blickt auch Maggie mal wieder eine komplette Episode lang drein. Aber mit Grund, wie sich aufzeigt. Der in Alexandria gebliebene Aaron begrüßt dort Pamela samt Anhang und lässt noch schnell eine Pflanze vor ein Fenster stellen, um etwas zu vertuschen. Ansonsten ist aber alles fein, die Mühle wieder aufgebaut und alle sehen ein, dass das ein eigenständiger Ort des Lebens bleiben kann – in Kooperation mit dem Commenwealth, versteht sich.
Oceanside zeigt sich dagegen loyal zu Maggie, die lieber im nicht kooperierenden Hilltop bleiben möchte. Dort schaut es aber eher nach einer nicht enden wollenden Dauermission auf, was den Wiederaufbau anbelangt. Das schlägt uns dann doch etwas plump und schnell entgegen, Stichwort Lydia.
"There's like 50 thousand people living there, at least 49,900 seem like decent enough folks." (Aaron)
Als wäre das Jagd-Setting nicht bereits angestaubt und trocken genug, bekommen wir fortan nur noch politisches Geplänkel geboten. Als hätten wir davon in der bereits apokalyptisch angehaucht anfühlenden Realität nicht genug…
"This world belongs to us, not the dead." (Pamela)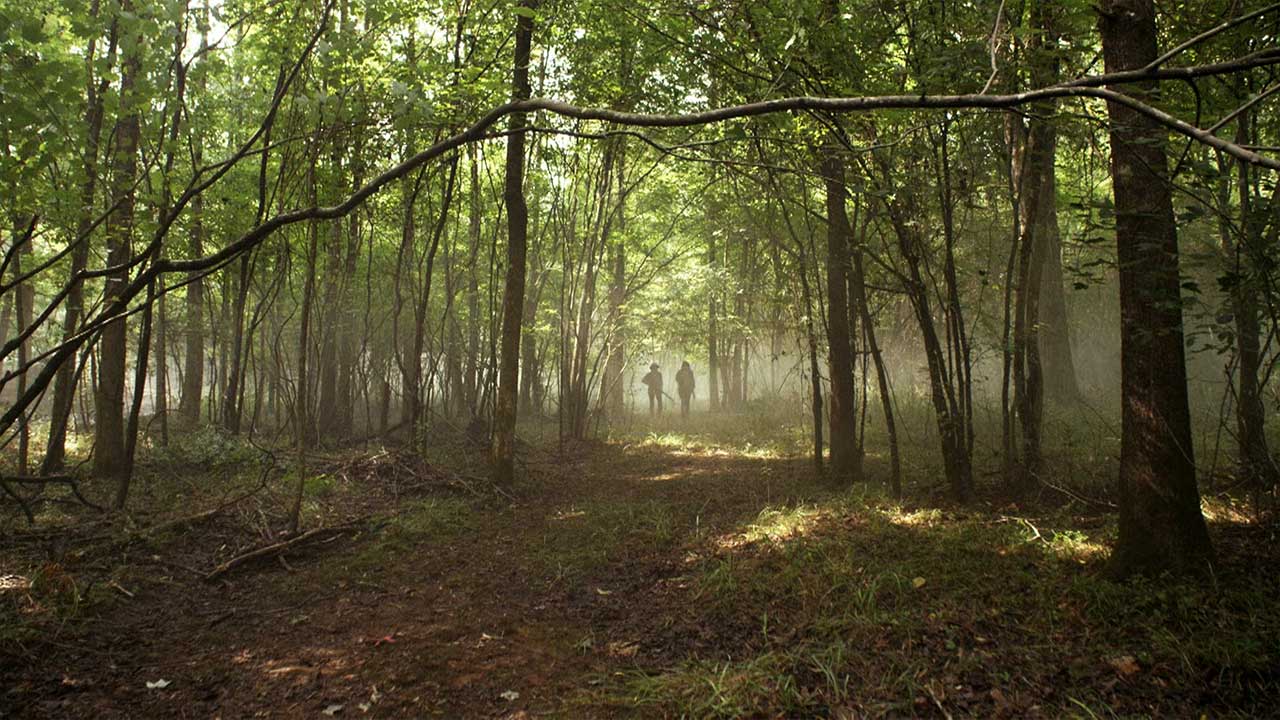 Ein bisschen Pseudo-Action gibt es dann doch zwischendurch, wobei diese auch durchaus lanciert(!) gewesen sein könnte, wenn ich mir den frisch verheirateten Walker mit den Dosen so anschaue – aber gut, das soll ja nur die Alarmanlage gewesen sein. Trotz der kleinen Darbietung militärischer Effizienz durch die Commonwealth-Truppen bleibt Maggie standhaft, kann sie sich doch einfach nicht unterordnen, vor allem, wenn es gegen ihren Sinn für Gerechtigkeit und Gleichheit geht.
Das könnte auch daran liegen, dass sie einige Dynamiken rund um den Rüstungs-losen Daryl wahrnimmt. Der schnappt von Mercer ein paar weitere vielsagende Andeutungen auf. Alles ist durchdacht inszeniert und orchestriert, stets einem Zweck dienend: "Commonwealth always comes first" – das klingt schon fast nach Trump'schem Patriotismus.
Maggie merkt, dass ihr die Folgschaft wegbricht, was wohl kaum eine andere Wahl zulässt, als einzulenken, bzw. sich in Alexandria zu integrieren, was die Vorschau-Szene ja bereits gezeigt hatte. Pamela offenbart ihr Gespür für Lance' Karriereplan, der die Filial-Leitung der neu hinzugeworbenen Außenposten anvisiert.
"Get ready, Aaron – we are going to remake the world!" (Lance)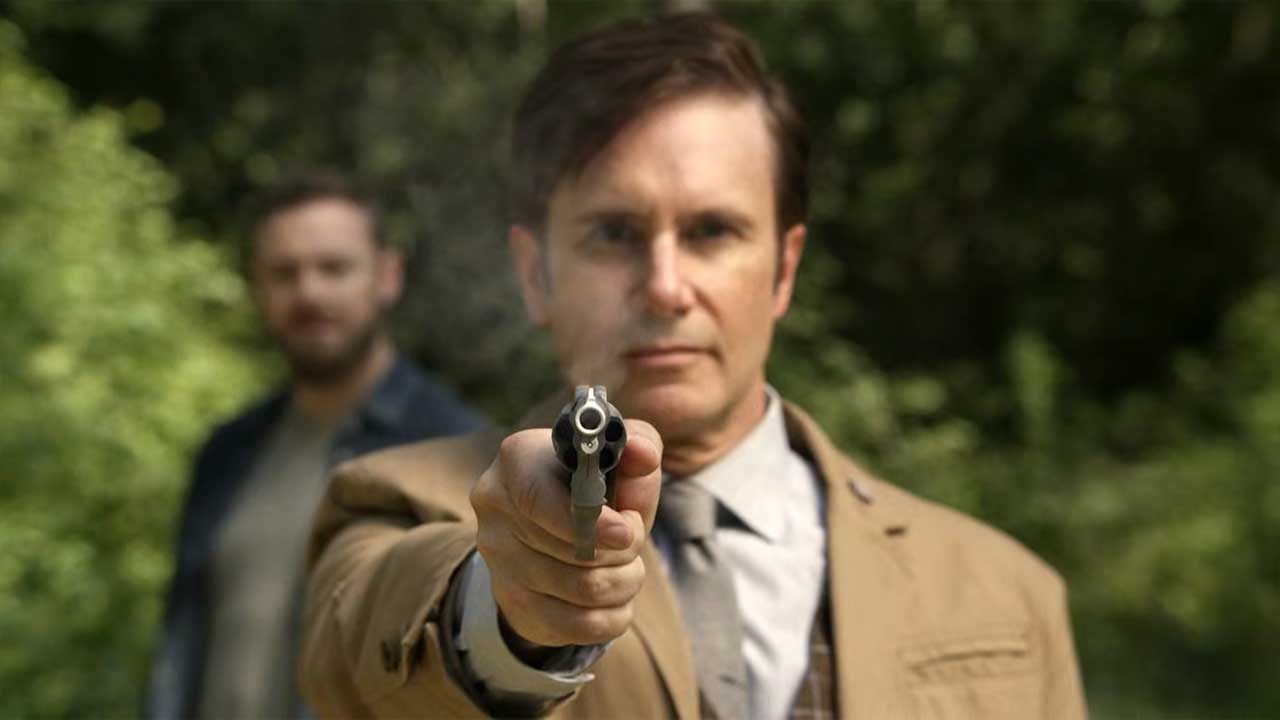 Puh, das war zäh. Für mich persönlich war da viel zu viel aufgesetzte Diplomatie bei. Das ist zwar grundsätzlich wichtig, um die Standpunkte der Standorte und die dazwischen liegenden Dynamiken zu klären, so wirklich unterhalten konnte mich das jedoch nicht. Die Ezekiel-Geschichte wirkte zudem etwas lieblos und unnötig eingeworfen. Lediglich die erneute Annäherung zwischen Eugene und Max hatte ihren Charme. Insgesamt deutlich zu wenig, aber ich gehe davon aus, dass das eine notwendige Weichenstellung war, um die Gruppen-Entwicklungen angestoßen zu bekommen. Außerdem darf man ruhig hervorheben, dass die Dialog auch in Bezug auf politische Eloquenz und Bedachtheit insgesamt sehr gelungen geschrieben worden sind und die bildliche Inszenierung trotz der sehr Dialog-lastigen Erzählung hervorragend war! Kleine Einwürfe wie die Einbeziehung des Bildes von Deanna Monroe waren als Bonus auch noch dabei.

Die Halbzeit dieses Staffeldrittels ist vorbei und wir haben jetzt einigermaßen einen Überblick über die Situationen an allen Orten. Jetzt darf dann gerne richtig Schwung in die Sache kommen!

Bilder: AMC

-->