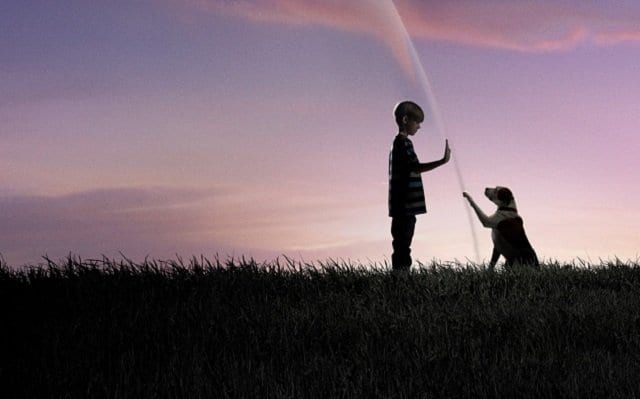 Ich liebe Brian K. Vaughn. Ich liebe Mystery. Ich liebe Dean Norris. Ich kann mit Mike Vogal etwas anfangen. Stephen King hat mir schon mehr Unterhaltung gebracht als vieles andere im Leben.
Und trotzdem finde ich Under The Dome unsäglich schlecht.
Während der Pilot noch irgendwo in Ordnung war und mit der rasanten Abfolge von Ereignissen über gewisse Schwächen hinwegtäuschen konnte, offenbaren sich bereits in Episode 2 sämtliche Mängel und nach 5 Minuten war ich schon kurz davor die Episode – und damit auch die Serie – abzuschießen. Aber ich hielt durch. Belohnt wurde ich nicht.
Brian K. Vaughn sollte sich eigentlich mit Mystery auskennen. Immerhin schrieb er während der Blütezeit von LOST einige der besten Episoden der Serie und errichtete sich mit seinem Comic Y – The Last Man ein Mahnmal im Medium. Und trotzdem will die Serie so überhaupt nicht funktionieren. Das fängt schon damit an, dass es so gut wie keine sympathischen Figuren in der Serie bis auf die Polizistin gibt. Jeder hat irgendwie Dreck am Stecken. Unser schweigsamer Hauptcharakter Barbie hat wen umgebracht, der Bürgermeister hat mit einer Gruppe von korrupten Leuten (u.a. auch innerhalb der Polizei) irgendwas Illegales gemacht, die Kids nerven und der Subplot um den gestörten Psycho, der seine Freundin im Luftschutzbunker einsperrt ist mit Abstand die nervtötendste Nebengeschichte in der jüngeren TV-Geschichte. Nicht, dass die ganze Geschichte nur super schlecht geschrieben wäre, nein, der Schauspieler muss auch irgendwen relativ weit oben bei CBS kennen. Anders kann ich mir sein Casting nämlich nicht erklären. Dean Norris wird ebenfalls überall nach vorne gehalten als ob man sagen würde: "Schaut, der Typ von Breaking Bad!" Norris bringt sein Aussehen und damit ein gewisses dreiste Gehabe zum Charakter, aber dies bringt nichts, wenn sein Charakter nicht so nuanciert und fein geschrieben ist, wie eben bei Breaking Bad.
Und überhaupt: Was geht denn bitte in der Stadt vor? Irgendwie läuft noch alles in geregelten Bahnen, der Kiosk hat noch auf, und so weiter. Könnten die Leute ein wenig mehr zur allgemeinen Situation reagieren? Überall momentan wird die Serie Jericho zum Vergleich herangezogen und als großer Fan ebendieser bin ich mir nicht sicher, ob der Vergleich gegeben ist. Jericho war nämlich nicht wirklich von der Außenwelt abgeschnitten, wie es oft dann erwähnt wird. Der Mikrokosmos der Stadt gleicht sich, aber bei Jericho spürte man eine direkte Dringlichkeit, insbesondere in den Anfangsfolgen. Und außerdem schienen nur wirklich ein bis vielleicht zwei Charaktere tiefere Geheimnisse zu haben, die mit dem Mysterium zusammenhängen. Hier ist es jede Figur. Das ist interessant, aber dafür kennen wir die Figuren viel zu wenig. Der Dome hätte am Ende des Piloten als Cliffhanger erscheinen sollen, das kam in der Serie viel zu früh.
Und was hat es mit diesem Dome überhaupt auf sich? Wieso reagiert das Militär überhaupt nicht auf die Vorgänge innendrin? Insbesondere, wenn die Figuren mit den Vorgängen außerhalb interagieren. Die Wissenschaftler oder Soldaten, die den Dome mit Wasser besprühen, haben keine Notiz davon gemacht, dass der Junge Wasser auf der Hand hatte. Und wie wäre es mal, wenn man anfängt zu graben? Ist dieser Dome vielleicht in Wahrheit ein Globus? Wir wissen dank der Cliffhanger-Einstellung am Ende des Piloten, dass der Dome durchsichtig ist. Hat denn niemand dort ein Whiteboard? Ein Stück Papier? Kommunikation? Hello, this is dome!?
Ich habe Kings Buch nicht gelesen. Ich verstehe also nicht, ob man sich hier an Kings Fehler hält oder selbst nicht weiß, was man tut. Ich bin einfach nur enttäuscht.
Meine Meinung:
-->