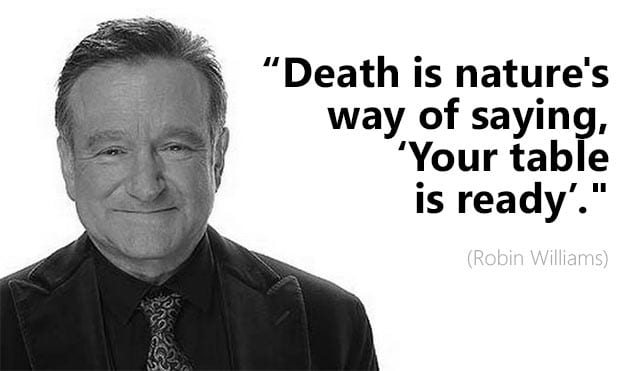 Was für eine Schocknachricht. Da steht man schlaftrunken auf und möchte dem Internet einfach nicht glauben. Robin Williams, gerade erst 63 Jahre alt, ist tot. In Tiburon, California, soll sich der amerikanische Schauspieler und Komiker selbst umgebracht haben, durch Ersticken. Ein einzigartiger Mensch, der jeder seiner vielen Figuren seinen eigenen Stempel aufgedrückt hat, ist nicht mehr da. Und damit auch ein "Awesomer" weniger, denn auch wenn Williams größtenteils im Filmgeschäft unterwegs war (Jumanji, Good Will Hunting, Der Club der toten Dichter, Mrs. Doubtfire, …), hat er auch seine Fußstapfen im Bereich der Fernsehserien hinterlassen.
Bereits 1978 hat er die Hauptrolle in der TV-Serie "Mork & Mindy" (hierzulande: "Mork vom Ork") übernommen. Das Spin-Off der Sitcom "Happy Days" sollte die erst große Rolle für den damals unbekannten Williams sein. Beim Vorsprechen soll er seinen selbstbewussten Komik-Charakter bereits rausgelassen haben und bei der Anweisung, er solle sich doch sitzen, mit dem Kopf auf den Stuhl gestellt haben. Produzent Garry Marshall war begeistert und stellt später fest, dass Williams das einzige Alien gewesen sei, das sich für die Rolle vorgestellt hat.
Hier haben wir den kompletten Piloten für euch:
Der Start für eine große Fernsehkarriere war also eine Fernsehserie. Doch dann kam lange nichts. Und als wäre es ein geplanter Rahmen gewesen, folgte letztes Jahr mit The Crazy Ones seine erst zweite Serie und in gewisser Weise der Abschied aus dem Filmgeschäft – und dem Leben. Okay, laut imdb befinden sich noch fünf Filme mit ihm in der Post Production, aber mehr oder weniger spannen diese beide Serien sein 35-jähriges Filmschaffen ein. Unglaublich.
Dabei hat Williams stets irgendwie auch sich selbst verkörpert. Viele Rollen haben den ganz eigenen Stand up-Comedian in sich, spielen sich gerne in den Mittelpunkt, möchten alles Schlechte durch Komik wettmachen. Ein bisschen vielleicht auch ein Abbild seiner selbst, denn privat lief es nicht immer so goldig und fröhlich, wie seine Rollen und sein öffentliches Auftreten es haben vermuten lassen.
"Comedy can be a cathartic way to deal with personal trauma." (Robin Williams)
Doch ich möchte hier keine Fernanalyse machen, erst recht nicht, wieso er sich das Leben genommen hat. Fest steht, dass ein großartiger Künstler von uns gegangen ist.
Zum Abschluss noch ein bisschen Behind the Scenes und ein paar Outtakes aus The Crazy Ones. Bei den wöchentlichen Outtakes zum Abspann hin hat man stets bemerkt, wie sehr Williams auch die Produktion der Serie als Möglichkeit für seinen inneren Komiker genutzt hat. Jetzt haben Elvis, Michael, Amy & Co. wenigstens ordentlich etwas zu Lachen dort oben! RIP, Robin Williams.