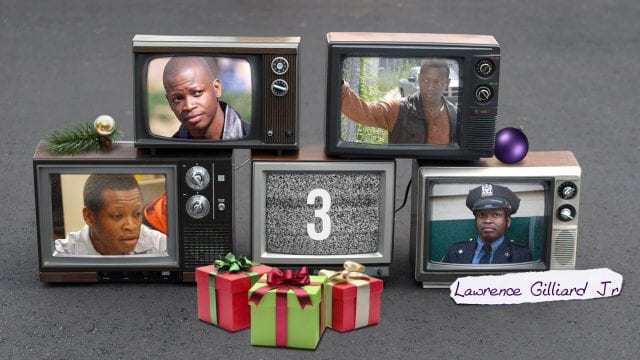 Türchen Nummer 3 im sAWEntskalender. Diesmal konnte ich mir einen Seriendarsteller aussuchen über den ich kurz schreiben möchte. Ich habe also meine Lieblingsserien abgeklappert und da ist mir direkt Mister Lawrence "Larry" Gilliard Junior eingefallen. Nach James Spader und Bryan Cranston sicherlich ein eher unscheinbarer und auch weniger präsenter Schauspieler. Das heißt aber nicht unbedingt dass er weniger Talent mitbringt.
Im Rahmen unseres
sAWEntskalenders
gibt es jeden Tag eine Hommage auf einen erwähnenswerten Seriendarsteller – und immer wieder versteckte Buchstaben. Wer als erstes das gesuchte Serien-Zitat aus ihnen bildet, kann
sich einen Preis aussuchen
. Alle vier Tage gibt es einen Tipp von uns. Viel Spaß beim Durchschauen und Rätseln!
The Wire
Kommen wir direkt mal zu seiner Paraderolle: In "The Wire" gab er in Staffel 1 & 2 den Neffen des Drogenbosses Avon Barksdale, D'Angelo "D" Barksdale. In den Projects, der Sozialbausiedlung aka der Haupthandlungsort in Staffel 1, versucht er sich nach oben zu arbeiten. Dabei wird schnell klar dass "D" das Herz am rechten Fleck hat. Seine Figur macht Fehler, muss Rückschläge einstecken, wird in Versuchung geführt und entwickelt sich generell weiter. Irgendwann realisiert er auch wie das ganze Spiel funktioniert und kehrt seinem Onkel den Rücken zu. Durch seine teilweise naive, aber liebenswerte Art hat es D'Angelo/Larry zumindest bei mir eingebrannt. Als wir uns in Staffel 2 von ihm verabschieden mussten, war es hart für mich, da ich gern noch gesehen hätte wie er ohne seinen Onkel klarkommt.
D'angelo teaches the fellas about chess
The Walking Dead
In 2013 zum Start der vierten Staffel TWD stieß Larry zum relativ großen Cast. Staffel 4 fand anfangs im Gefängnis statt, welches ja dann von einer Epidemie heimgesucht wird und dann später vom Governor zerstört wird. Hier lernen wir Larrys Charakter Bob Stookey kennen, den Daryl auf seinen Streifzügen aufgelesen hat. Relativ schnell wird klar, dass Bob eine Menge Balast mit sich rumschleppt. Während der endlosen Streifzüge durch die Wälder Georgias lernt er Sascha besser kennen und die beiden werden ein Paar. Damit war sein Ende eingeläutet: Nach Terminus erleidet er dann einen sehr berühmten Comic-Tod. Auch hier hat Lawrence Gilliard Jr das Beste aus seiner Rolle rausgeholt. Ihr wisst ja selbst, dass TWD ja nicht unbedingt für clevere Dialoge und Charakterzeichnung bekannt ist.
The Deuce
Das wir Larry Gilliard Jr auch in der aktuellen Produktion von David Simon wiedersehen, überrascht nicht unbedingt. Neben ihn sind auch noch weitere Talente aus "The Wire" im Cast zu finden. Die erste Staffel mit seinen acht Folgen ist bereits durch und ich habe es immer noch nicht gepackt sie komplett zu sehen. Aber was ich bisher gesehen habe, hat mir gut bis sehr gut gefallen. Diesmal steht er auf der Seite des Gesetzes, sprich er spielt den NYPD-Cop Chris Alston. Seine Screentime ist allerdings begrenzt. Zumindest in den ersten drei Folgen gab es schon den ein oder anderen witzigen Dialog mit ihm.
Und sonst so?
Neben den oben genannten drei Produktionen hat Larry noch in diversen Serien Auftritte hingelegt, meistens ist es aber beim Gastauftritt geblieben. Fun Fact: Laut Wikipedia ist er mit der amerikanischen Schauspielerin Michelle Paress verheiratet. Diese hat in der fünften Staffel The Wire mitgespielt.
So, ich hoffe ihr habt meinen kleinen versteckten Hinweis zum sAWEntskalender gefunden und ihr schaut morgen wieder rein!
Jetzt wünsche ich euch erstmal einen ruhigen ersten Advent.