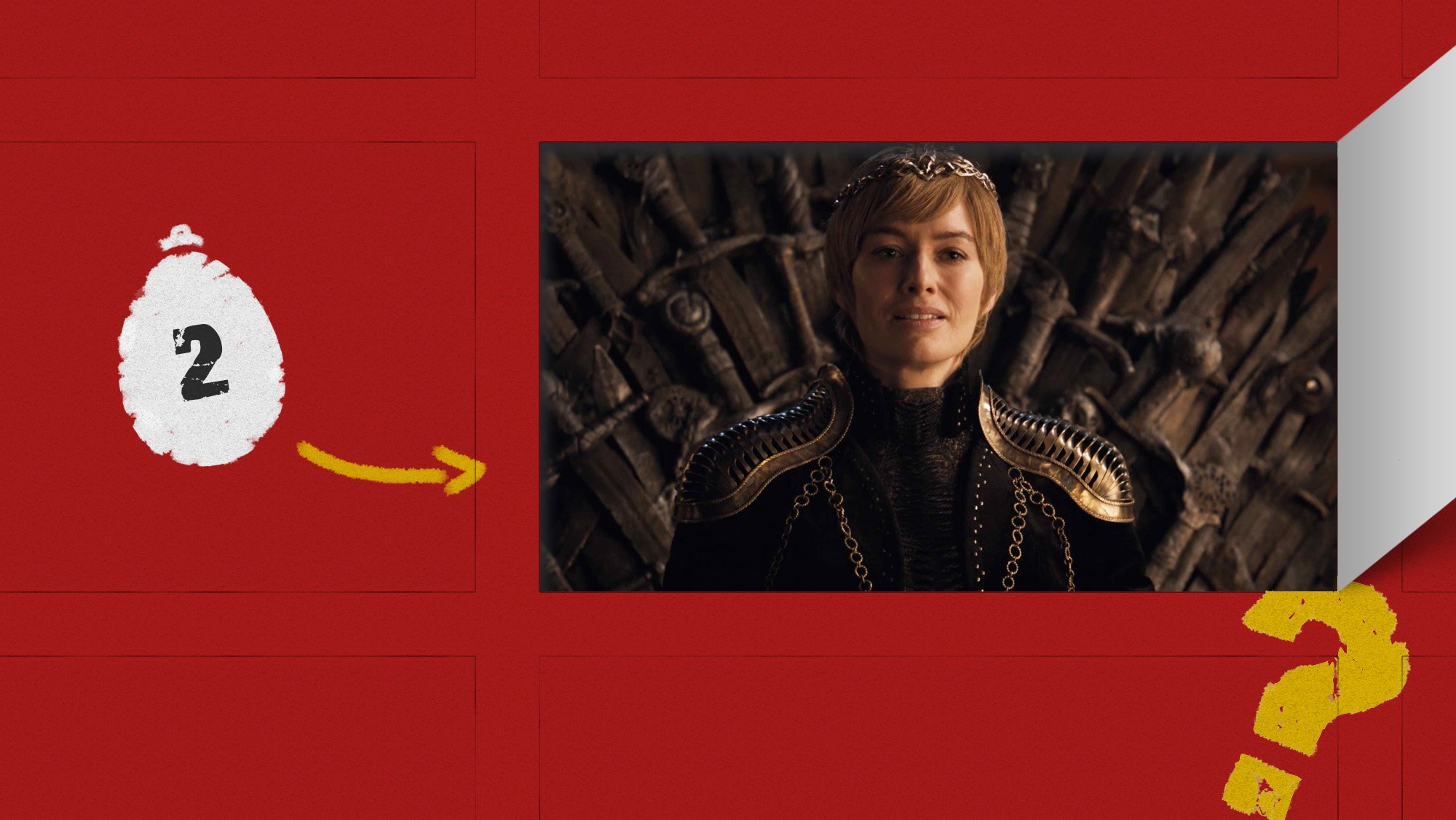 Tür 2 unseres sAWEntskalenders 2019 – und es geht gleich um eine DER Serien überhaupt, "Game of thrones". Darin verbergen sich zwar vor allem Hinweise auf Elemente der Serie selbst, aber trotzdem auch einige Querverweise auf andere Filme und Serien. Und es gibt den Starbucks-Becher, der es in die Seriengeschichte geschafft hat.
INFO:
In unserem
"sAWEntskalender" 2019
gibt es jeden Tag ein Türchen mit den tollsten Easter Eggs einer Serie – und
tolle Preise zu gewinnen
. In jedem Türchen KANN ein Buchstabe versteckt sein, den es zu finden gilt, um ein Lösungs-Zitat aus einer Serie zu bilden. Viel Spaß beim Lesen und Buchstabensuchen!
"Game of Thrones"-Easter-Eggs
Neue Folge, neues Intro
Gehört ihr eher zu jenen Serienguckern, die das Intro von Serien überspringen, wie es mittlerweile viele Streaming-Dienste anbieten? Oder schaut ihr euch alles in Ruhe an? Bei Game of Thrones lohnt sich letzteres auf jeden Fall: Denn in dem markanten Intro zeigen die Macher der Serie in jeder Folge, welche Handlungsorte in der jeweiligen Folge vorkommen werden.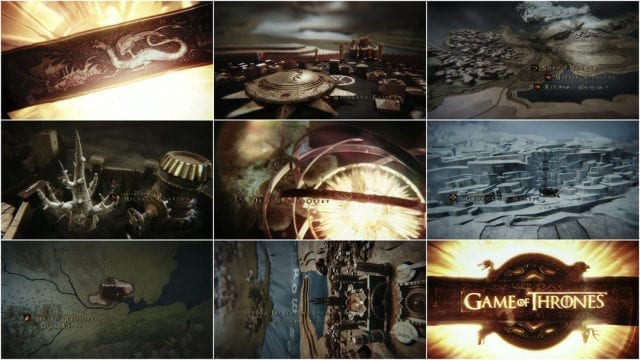 Moment, das Schwert kenn' ich doch?
Der Eiserne Thron besteht aus zahlreichen Schwertern – zumindest bis kurz vor dem Serienfinale. Das Besondere: Die Ausstatter der Serie haben auch einige Schwerter aus anderen Serien und Filmen versteckt – das wohl prominenteste Objekt ist das Schwert Glamdring von Gandalf aus den "Herr der Ringe"-Filmen. Auch das Schwert, das Orlando Bloom als Balian von Ibelin in Ridley Scotts Königreich der Himmel benutzt hat, ist dabei, ebenso das Schwert von Robin Hood. Auf dem Bild sind rechts neben Joffrey die entsprechenden Schwerter zu erkennen. Ich hätte noch gerne das von "Highlander" gesehen – naja, man kann nicht alles haben.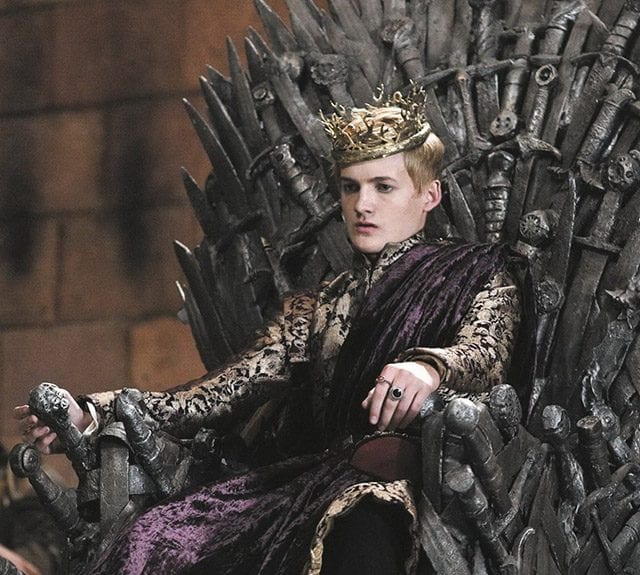 Petyr Baelish nennt die wichtigsten Tode der vierten Staffel – und Ser Davos Jon Snows Namen
Petyr Baelish ist eine undurchsichtige Figur in Westeros – und deswegen zwar weder im Norden noch im Süden besonders beliebt, dafür aber bei den GoT-Fans, zumindest was die Figur an sich angeht. Er spinnt Intrigen und weiß, wie man Menschen gegeneinander aufbringt. In einer Szene der vierten Staffel zählt er so nebenbei auf, wie Menschen sterben können. Er sagt, dass jeder früher oder später stirbt, sei es am Essenstisch, im Bett oder auf der Toilette. Damit zählt er allerdings auch gleichzeitig die wichtigsten Tode der vierten Staffel auf, denn: Joffrey wird an der Festtafel vergiftet, Shae wird von Tyrion im Bett erwürgt, und Tywin Lannister stirbt – nun ja – sozusagen auf der Toilette.
People die at their dinner tables. They die in their beds. They die squatting over their chamber pots. Everybody dies sooner or later.
Auch Ser Davos weiß übrigens offensichtlich schon mehr als andere: Als er mit Princess Shireen Baratheon Lesen lernt, ist sein erstes Wort Aegon, der richtige Name von Jon Snow. Wir haben uns in unserem "seriesly podcAZt" zu Easter Eggs ja schon ausführlich darüber unterhalten, ob so etwas nun als echtes Easter Egg durchgeht oder mehr in den Bereich Foreshadowing einzuordnen ist – vermutlich geht beides.
Game of Thrones und Monty Python
David Peterson, der bei "Game of Thrones" für die Sprachenentwicklung zuständig war, hat sich einen Spaß daraus gemacht, in einige Sequenzen spezielle Texte aus anderen Serien oder Filmen einzubauen – mit Vorliebe von Monty Python. So zum Beispiel in der dritten Folge der 4. Staffel, wenn Daenerys in Meereen ankommt. Der Vertreter Meereens ist nicht sonderlich gut auf Daenerys zu sprechen und äußert das in seiner eigenen Sprache. Missandei übersetzt zwar die valyrische Sprache, allerdings nicht korrekt. Vielmehr ist eigentlich ein Satz aus "Monty Python and the Holy Grail" zu hören – von David Peterson übersetzt auf valyrisch:
Your mother is a hamster and your father smelt of elderberries.
Und dann war da noch der Starbucks-Becher
Emilia Clarke finally revealed the culprit behind the 'Game Of Thrones' Starbucks incident https://t.co/7S0SsnlLA3 pic.twitter.com/IpVvs6lfRW

— UPROXX (@UPROXX) October 31, 2019
Überraschung in der vierten Folge der letzten Staffel: Bei Feierlichkeiten steht plötzlich ein Starbucks-Becher mitten auf dem Tisch. Ob das den Produzenten tatsächlich entgangen ist oder ein guter PR-Gag war, ist nicht ganz klar. Daenerys-Darstellerin Emilia Clarke galt als "Hauptverdächtige, sie verriet allerdings bei der "The Tonight Show starring Jimmy Fallon", dass sich Varys-Darsteller Conleth Hill ihr offenbart hätte, den Becher vergessen zu haben. Wie auch immer – eine witzige Aktion, die zur letzten Staffel irgendwie passt.
Natürlich gibt es noch viele weitere versteckte Hinweise und Easter Eggs in der Serie – hier gibt es weitere Belege. Habt ihr auch noch etwas, das euch aufgefallen ist?
Bilder: HBO
Buchstaben gefunden?
Wie im Gewinnspiel-Beitrag zum "sAWEntskalender" erläutert, kann jeden Tag ein gesuchter Buchstabe im Türchen-Beitrag versteckt sein. Oder vielleicht sogar mehrere. Hast du ihn/sie gefunden oder bist dir sicher, dass es keinen gibt? Dann schreib uns die Tages-Lösung über das Kontaktformular hier und sichere dir bei richtiger Einsendung ein Gewinn-Los:
Wie ist welcher Buchstabe versteckt?
Solltest du mithilfe der bisher entdeckten Buchstaben das gesuchte Serienzitat erraten haben, schick deinen Lösungsversuch über das Formular im großen Gewinnspiel-Beitrag (ganz unten). Dort gibt es auch alle Infos zu den Preisen und dem Ablauf des Gewinnspieles.

-->