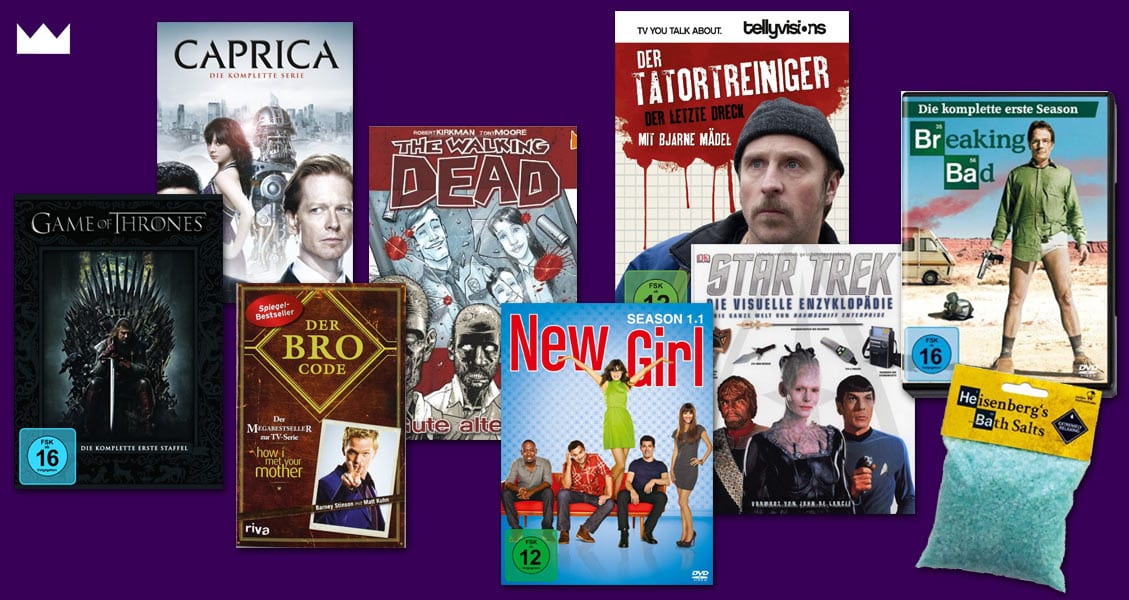 Seit April sind wir online und erleben noch immer viele erste Dinge. Das erste Fotoshooting oder eben auch das erste Kalenderjahrende für uns.
Zum Abschluss möchten wir euch beschenken. Wir haben ein delikates Paket aus DVDs, Büchern und sonstigen serienbezogenen Dingen zusammen gestellt, das jedem Serienfan das Herz schneller schlagen lassen sollte. Und das Tollste: eine/r von euch kann es gewinnen! Und insgesamt zehn von euch gehen nicht leer aus.
Im Paket enthalten sind:
– Heisenbergs Bath Salts
– Breaking Bad Staffel 1 DVD
– The Walking Dead Comicband 1
– Der Tatortreiniger Staffel 1 DVD
– Caprica – Die komplette Serie DVD
– New Girl Staffel 1.1 DVD
– The Bro Code (HIMYM)
– Game of Thrones Staffel 1 DVD
– Star Trek – Die visuelle Enzyklopädie: Die ganze Welt von Raumschiff Enterprise
Da sollte doch wirklich für jeden was dabei sein, oder nicht? Das Paket hat einen Gesamtwert von knapp 110 EUR und kann ganz einfach deines sein: helft uns dabei, seriesly AWESOME etwas bekannter zu machen. Und das geht nach Lossystem: Seid Fan auf Facebook oder folgt auf Twitter oder liked/tweetet diesen Beitrag (s. Buttons rechts/unten oder der Rafflecopter hier).
UPDATE: Das Gewinnspiel ist beendet und die Gewinner wurden benachrichtigt. Danke für die rege Teilnahme, so etwas machen wir in 2014 bestimmt noch einmal!
Dazu könnt ihr auch den Facebook-Beitrag liken und kommentieren:
Und zuguterletzt könnt ihr auch auf euren eigenen Blogs auf dieses Gewinnspiel hinweisen oder auch einfach nur seriesly AWESOME vorstellen. Die Trackbacks sollten dann automatisch hier auftauchen, ansonsten einfach in die Kommentare damit. Blogbeiträge gehen fünffach in die Verlosung ein.
Unter allen Teilnehmern werden neben dem Hauptgewinn auch noch neun Stickersets von seriesly AWESOME verlost. Insgesamt gewinnen also zehn von euch.
Am 28. Dezember wird dann ausgelost, wer sich über das Serienpaket freuen darf. Viel Glück!