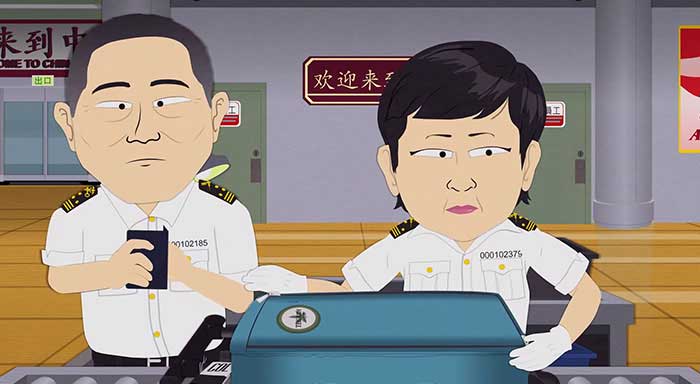 Mission erfüllt, möchte man meinen. "South Park"-Erfinder Trey Parker und Matt Stone sind ja bekannt dafür, anecken zu wollen und gesellschaftspolitische Kritik auszuteilen. In ihrer vorletzten Episode "Band in China" (S23E02), die vergangene Woche in den USA ausgestrahlt wurde, hat man sich dem Thema Zensur in China angenommen. Und schon wurde die Animationsserie als Ganze im Staate China verboten. Eine Ironie, die den Standpunkt der Serienmacher ganz gut verdeutlicht. Und die perfekte Möglichkeit, Promo für die gestern Nacht gelaufene 300.(!) Jubiläums-Episode der Kult-Serie zu starten, wie die beiden es gekonnt in ihrer veröffentlichten "Entschuldigung" zum geplanten Vorfall gemacht haben:
Neben der allgemeinen Kritik am Kritik-Verbot gegenüber der chinesischen Regierung hat man sich den Unmut vor allem durch eine Darstellung Generalsekretär Xi Jinpings als Winnie the Poo aufgeladen. Neben dem inhaftierten Cartoon-Bären steht die Figur Ferkel und sagt so etwas wie "Manche Leute sagen, Pu sehe aus wie der chinesische Präsident, deshalb sind wir jetzt illegal in China". Allgemein wurde in der Folge wohl viel darauf eingespielt, dass zunehmend US-Film- und TV-Produzenten ihre Inhalte den harten Vorgaben Chinas anpassen, um ein Ausstrahlungs-Verbot und somit millionenfache Reichweitenverluste umgehen zu können.
Hier ein kleiner Ausschnitt aus der Episode, der vermutlich verhältnismäßig harmlose Inhalte zeigt:
"Kyle returns to South Park and gives Stan a great idea, but the boys realize they can't betray their ideals."
Ich finde es immer wieder krass, was für eine Art zweite Medienwelt es doch in China gibt. Dadurch, dass sie ihren Binnenmarkt stärken wollten, sind ja auch etliche für uns gängige große (Social) Media-Player wie Facebook und Co. dort gesperrt, so dass sich eigene Dienste etabliert haben. Bei 1,4 Milliarden(!) Bewohnern ist China natürlich auch ein gigantischer eigener Markt. Dass es heutzutage in Zeiten von Globalisierung und Internet aber noch eine derartige künstlich geschaffene Abschottung gibt, finde ich faszinierend wie erschreckend zugleich. Von Zensur-Gehabe und Kritikunversträglichkeit ganz zu schweigen.
via: boredpanda | Bild: Comedy Central