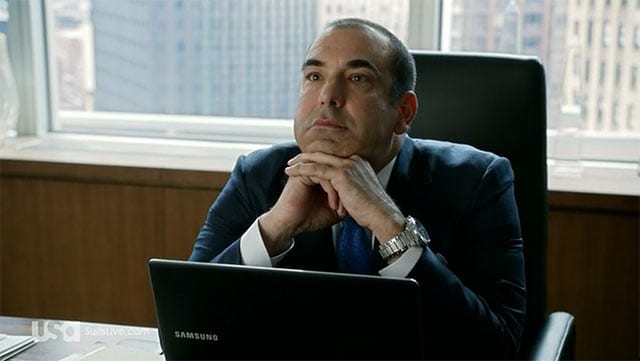 Nein, mit dem Episodentitel ist kein jähes Ende für die Suits-Reviews ausgerufen worden, noch halte ich der Serie die Treue. Erst recht, wenn man andere abschießenswürdigerere Serien am Start hat, nicht, The Leftovers?! Und eigentlich erhalten wir diese Woche auch eine gute Folge, die sich auf die grundlegenden Beziehungen zwischen den Figuren konzentriert. Und doch schafft die Serie (oder die Charaktere), die selben Fehler im Privatleben wie im Beruflichen zu begehen.
"Forstmann?" – "Logan." – "Gillis?" – "Rachel." (Harvey & Mike)
Kein Job, kein Anzug – that's Suits. Mike verliert aber nicht nur sein Anzugrecht, sondern neben dem Job auch noch Rachel. Irgendwie. Und droht auch noch, seine Moral für 1 Mio. Versuchungen zu verschenken. Und hier treten innerhalb von wenigen Minuten erneut Wendungen von "ich überlege mir, das Job-Angebot anzunehmen" über "Ich nehme auf jeden Fall das Job-Angebot nicht an" hin zu "Hallo, ich nehme den Job an!". Klar, Mike ist emotional überwältigt, aber das hätte auch sauberer ablaufen können. Dazu diese eingeschmissene Sache mit "Stan", der aus dem Nichts erscheint, nur damit mal wer Außenstehendes eine Moralpredigt halten kann, dass Geld nicht alles ist?
Wenigsten gibt es noch Donna, die erneut beweist, dass sie einfach die Coolste ist und Harvey, der dann doch irgendwie versucht, das Dream Team wieder zusammen zu bekommen. Und der, der es letztlich schafft: Louis und seine Photoshop-Skills! <3
"If the one time, they actually treat you like a hero, you crossed a little line to get there, that doesn't make you horrible – it makes you Harvey." (Katrina)
Auch wenn mir nicht in den Kopf will, weshalb Louis diese illegale Geschichte durchzieht und dann gar dem nochmals eine Stufe erhöhten Arschigkeitsgrad Forstmans nachgeht. Eigentlich hätte da Schluss sein müssen, egal, wie viel er auf den Deckel bekommt, erneut ein Zeichen von unstringenter Charakterführung. Vor allem weil er Sekunden daraufhin derart an Mikes Moral appelliert. Und dermaßen selbstlos bezüglich seiner (ja auch irgendwie erflunkerten) Belohnung ist. Billige und impulsiver ist eigentlich nur, wie sehr Mikes "Nicht-Abschluss" in beide Richtungen als Argumentation gelten darf. Anwälte eben – was gesagt wird kann und wird gegen einen verwendet.
Sidenote: Jeff nervt nur noch. Hatte ich mich eingangs noch über neue Charaktere gefreut, wird die Jeffica-Kiste einfach zu endlos gedreht, wohingegen die toughe Sekretärin Amy rausgefeuert wird… Schade. Wo wir gerade bei Nerv-Charakteren sind: Wenigstens ist Logan weg. Vorerst zumindest. Vermutlich wird der jetzt Investmentbänker und taucht in einem Jahr wieder auf…
Meine Meinung:
Eigentlich eine Folge mit viel Herz, aus der mehr hätte werden können, nicht nur bewertungstechnisch. Aber die teils unnötigen Story-Einschübe und die Tatsache, dass man das sicherlich auch hätte ausdiskutieren können, ziehen es wieder etwas blank. Gerade bei der Vorgeschichte zwischen Rachel und Logan und dessen bekannten Manipulationsfähigkeiten hätte man die Situation einfach erklären können, aber gut, sparen wir uns das eben für das Staffelfinale auf. Oder etwa doch schon für nächste Woche?

-->