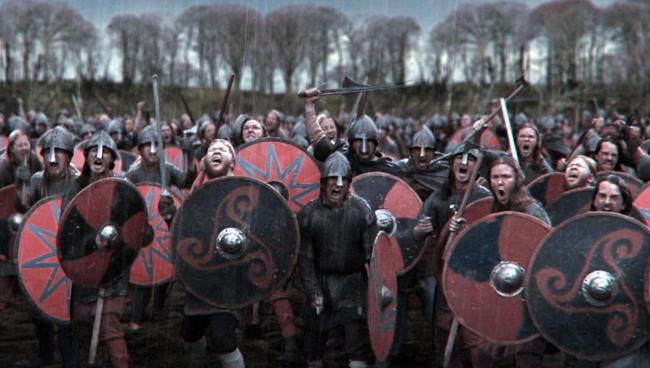 Na da bin ich mit meinem Newsartikel letzte Woche zum bevorstehenden Start der neuen Serie "The Last Kingdom" aber haarscharf an dem wohl naheliegendsten aber inhaltlich falschen Vergleich vorbeigeschrammt. Sollte also der Leiter der ausführenden Produktionsfirma Carnival Films, Gareth Neame, uns über seinem Feeder verfolgen – und warum sollte er nicht – wird er wohlwollend zur Kenntnis genommen haben, dass ich natürlich mit keinem Wort "The Last Kingdom" mit "Game of Thrones" verglichen habe.
Ich kann die fragenden Journalisten bei der TCA aber verstehen, "Game of Thrones" war und ist immer noch ein dermaßen großer Meilenstein im Serienbusiness wie einst wahrscheinlich nur "The Sopranos", "Friday Night Lights" oder "Oz" – frei nach Alan Sepinwall. Da liegen die Vergleiche natürlich auf der Straße und müssen von den Journalisten nur eingesammelt werden wie Pfandflaschen. Und freilich drehten sich auch meine ersten Gedanken rund um ein britisches "Game of Thrones". Im Gegensatz zur Geschichte in Westeros auf der Basis einer historischen Grundlage. Dafür dann ohne Drachen.
Der historische Hintergrund der Serie zählt
Aber genau das sind eben auch die Gründe, die Neame anführt, warum man diesen Fehler eben nicht machen darf. Denn mit Bernard Cornwell, dem Autor der "Saxon Stories", hat man einen weltweit geachteten und anerkannten Schriftsteller der gekonnt historische Hintergründe in seine fiktiven Geschichten einbaut, als könnten sie genau so passiert sein. Er lässt in seinen Geschichten historisch belegte Personen wie König Alfred von Wessex auftauchen und eine Hauptrolle spielen, der eigentliche Antagonist der Serie, Uhtred, ist aber reine Fiktion. So wie die gesamte Geschichte, die immer wieder an historischen Plätzen und vor allen Kriegsschauplätzen vorbei schaut und fiktiv mitmischt. Man wird Zuschauer einer Geschichte, die so oder so ähnlich stattgefunden haben könnte.
King Alfred the Great is like the English George Washington, in the sense that he is a name all English people know of, and really know nothing about. (G. Neame)
Die Schwierigkeit bei "The Last Kingdom"
Neame führt als Vergleich eher Serien wie "The Tudors" oder "Downton Abbey" an. Fiktive Geschichte, im Kern aber historisch belegt. Nur ist die Herangehensweise an "The Last Kingdom" viel schwieriger, da es nur sehr wenige Aufzeichnungen aus dieser Zeit gibt. Es gibt keine historische Gebäude aus dieser Zeit, die heute noch stünden oder Gemälde, an denen man ablesen könnte, wie die Menschen damals gelebt haben. Was man heute über das britische 9.Jahrhundert weiß, ist das Ergebnis von Aufschreibungen von Erinnerungen, Erzählungen und Berichten aus den späteren Jahrhunderten.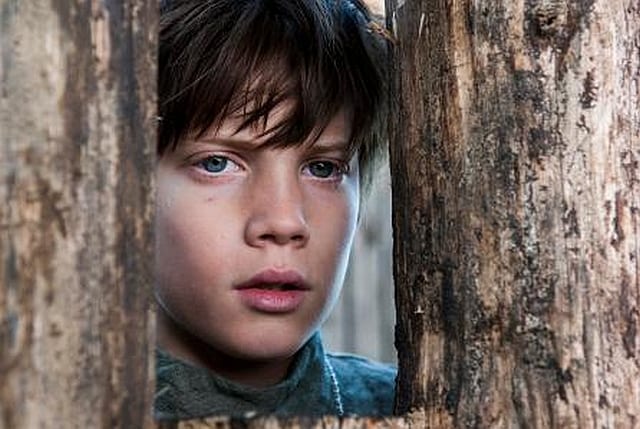 der junge Uhtred versteckt sich hier hinter einer Palisade – das bislang einzige offizielle Szenefoto der Serie

Und das macht diesen Stoff so einzigartig, ja fast schon wundersam. Da man eben mal so mit dieser Serie einen sehr wichtigen Teil der britischen Geschichte auf den Bildschirm holt und viele Briten dadurch zum ersten Mal einen bildhaften Eindruck von ihrer eigenen Geschichte erhalten werden. Die sie größtenteils nur rudimentär kennen. Aber das dürfte uns Deutschen genauso gehen.

Diese erzählte Geschichte wird zwar einen fiktiven Beigeschmack haben, aber so historisch belegt, wie nur möglich. Also denselben Maßstab, den sich auch die Produzenten von "The Tudors" und "Downton Abbey"  für ihre Arbeit auferlegt hatten.

Und das ist eben der große Unterschied zu "Game of Thrones". Die Geschichte um den eisernen Thron ist reine Fiktion.

Aber dafür mit Drachen.

via: yahoo

-->