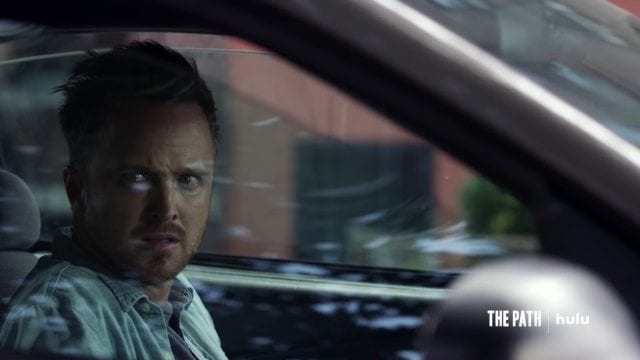 Im Sommer habe ich The Path geschaut und war ziemlich begeistert. Die Dramaserie handelt von Eddie Lane (ganz groß: Aaron Paul), der mit seiner Frau und seinen beiden Kindern der Meyerist Bewegung angehört und den Glauben an den "Kult" verliert. Doch ein Austritt ist nicht so einfach, denn seine Frau hat eine ziemlich hohe Position in der Vereinigung und Cal, der Leiter der Bewegung, hat da so seine speziellen Methoden, mit Menschen – und vor allem Aussteigern – umzugehen. Am Ende der ersten Staffel lässt Eddie seine Familie zurück, um sich von den dubiosen Machenschaften und zwielichtigen Anhängern nicht weiter beeinflussen zu lassen.
Doch leichter gesagt als getan: Im nun veröffentlichten Trailer zur zweiten Staffel wird deutlich, dass Eddie sich – wie schon befürchtet – nicht so einfach aus der sektenartigen Bewegung verabschieden kann. Er wird verfolgt und muss mit ansehen, wie sein Sohn Hawk ein bisschen zu viel Zeit mit Cal verbringt.
"My name is Eddie and I was in a cult."
Na, war das da grad etwa Dexters Ziehpapa James Remar? Die zweite Staffel The Path startet bereits am 25. Januar beim US-amerikanischen Streamingdienst Hulu mit einer Doppelfolge. Mal sehen, wann Amazon Prime die neue Staffel dann ins Programm aufnimmt.
via: TVLine