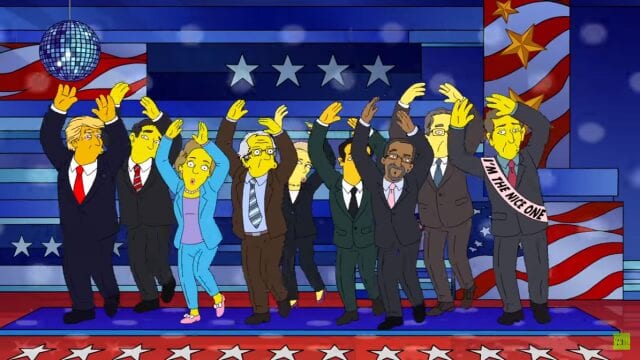 Am 8. November wird in den USA ein/e neue/r Präsident/in gewählt. Der Vorwahl-Kampf hat bereits begonnen und die Kandidaten sind gerade dabei zu versuchen, die Stimmen der Wähler für sich zu gewinnen. Passend dazu hat Animation Domination kürzlich einen The Simpsons-Kurzfilm veröffentlicht, in dem es um genau diesen abstrusen Wahlkampf geht. Und dabei bekommen so ziemlich alle Kandidaten, allen voran Donald Trump und Hillary Clinton, ordentlich ihr Fett weg.
Im Video hat Marge einen Albtraum, in dem sie Amerika mit den potentiellen neuen Präsidenten den Bach runtergehen sieht. Homer spricht ihr gut zu und gibt ihr den Tipp, sich einfach ein anderes, besseres Amerika vorzustellen. Doch irgendwie will das nicht so richtig klappen.
The Debateful Eight | Season 27 | THE SIMPSONS
Der Titel des Kurzfilms ist übrigens eine Anspielung auf Tarantinos Kinofilm "The Hateful Eight", in dem es ebenfalls um 8 Charaktere geht, die zunächst irgendwie miteinander auszukommen scheinen und sich am Ende alle an die Gurgel springen.
Die realen Kandidaten versuchen sich in ihrem Wahlkampf momentan übrigens so viel prominente Unterstützung wie nur möglich zu holen. So hat Hillary Clinton erst gestern das Set der Drama-Serie Scandal besucht. Das wurde natürlich in Form von Beweisfotos festgehalten.
Wie Trump eigentlich wohl in Game of Thrones aussehen würde, seht ihr hier.
via: Entertainment Weekly Bild: FOX