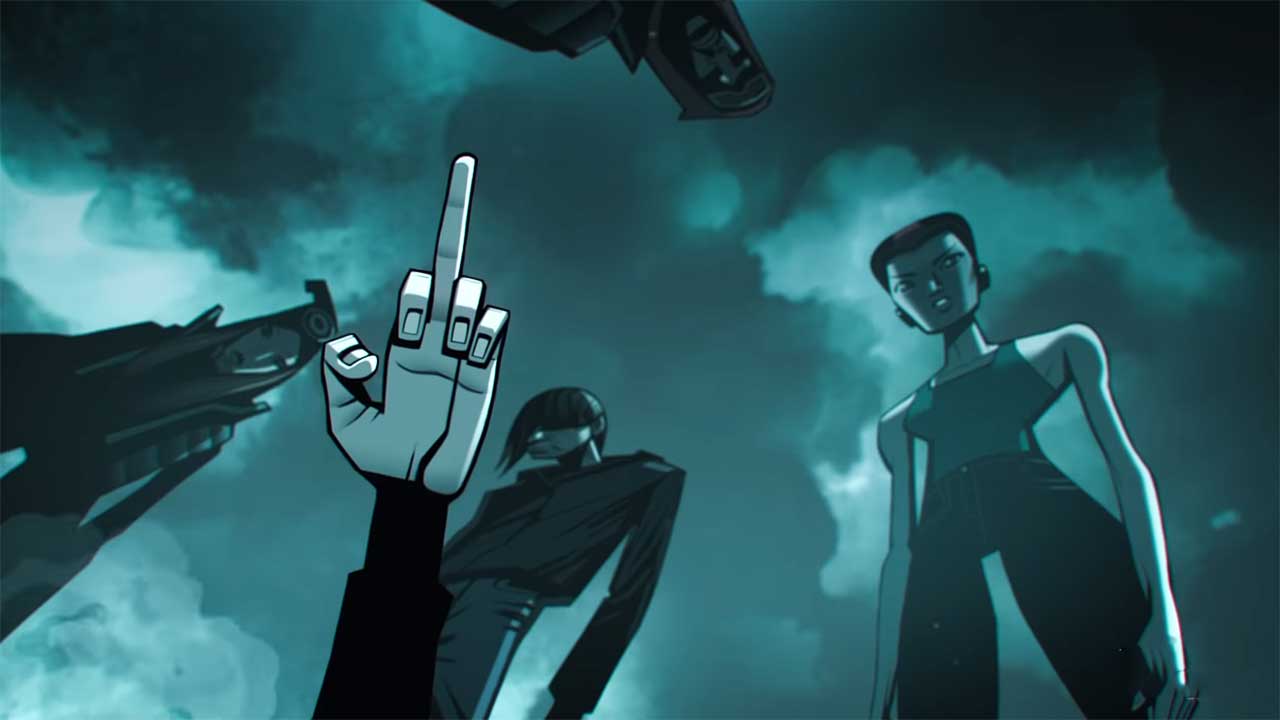 Mitte April gab es den ersten Trailer sowie ein erfreulich frühes Release-Datum für die zweite Ausgabe der Kurzfilm-Anthogolie-Reihe "Love, Death + Robots" (oder heißt das nun "LOVE DEATH + ROBOTS"…?!), jetzt hat Netflix einen kleinen weiteren Vorgeschmack veröffentlicht, wobei der rund einminütige neue Teaser-Trailer Red-Band-Niveau besitzt. Bedeutet: Nichts für Kinder! Das liegt hier zwar auch an angedeutetem Sex und angerissener Gewalt, vor allem jedoch am wiederholten Ausruf des Wortes "Fuck!".
"Do you realize what you're doing is illegal? The adult animated anthology returns with a vengeance. Love, Death + Robots Volume 2 coming May 14. Consume Irresponsibly."
Love, Death + Robots: Die Kurzfilm der 2. Staffel
Ein bisschen enttäuscht bin ich, dass da am Ende des Trailers lediglich von acht Titeln die Rede ist. Die erste Ausgabe von "Love, Death + Robots" hatte noch derer 18 (die ich im Review übrigens schön nach Sex- und Gewalt-Grad aufgeteilt habe). Jetzt also nicht mehr die Hälfte, schade. Das mag an dem erhöhten Aufwand der Erstellung und/oder der Coronavirus-Pandemie liegen, ich hatte mir aber eine vollständige Staffel gewünscht. Nun denn, hier die Infos, die sich zu den einzelnen Kurzfilmen auf Wikipedia bereits finden lassen:
"Automated Customer Service" (Regie: Meat Dept (Kevin Dan Ver Meiren, David Nicolas, Laurent Nicolas); Animation: Atoll Studio; Länge: 10 Minuten)
"Ice" (Regie: Robert Valley; Animation: Passion Animation Studios; Länge: 10 Minuten)
"Pop Squad" (Regie: Jennifer Yuh Nelson; Animation: Blur Studio; Länge: 15 Minuten)
"Snow in the Desert" (Regie: Leon Berelle, Dominique Boidin, Remi Kozyra, Maxime Luere; Animation: Unit Image; Länge: 15 Minuten)
"The Tall Grass" (Regie: Simon Otto; Animation: Axis Animation; Länge: 8 Minuten)
"All Through the House" (Regie: Elliot Dear; Animation: Blink Industries; Länge: 4 Minuten)
"Life Hutch" (Regie: Alex Beaty; Animation: Blur Studio; Länge: 10 Minuten)
"The Drowned Giant" (Regie: Tim Miller; Animation: Blur Studio; Länge: 10 Minuten)
Aber gut, insgesamt 82 Minuten Unterhaltung bekommen wir dann ja doch geboten, sind viele der Filmchen doch für Kurzfilme durchaus stattliche 10-15 Minuten lang.
Die zweite Ausgabe von "Love, Death + Robots" wird ab diesem Freitag, dem 14. Mai 2021, über Netflix verfügbar sein. Hier der Direktlink zur Streamingseite auf Netflix, die laut HTML-Website-Title übrigens "Love, Death & Robots" heißt – yay, noch eine Variante…