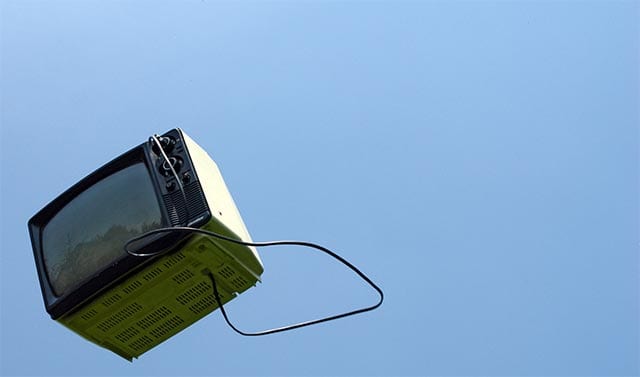 Wir experimentieren weiterhin mit dieser kleinen Rubrik herum, an die wir noch weiter glauben, aber die euch scheinbar nicht ganz so wichtig ist. Wir reduzieren die wöchentliche TV-Landschaft fortan auf das Wesentliche, das Wichtige, das AWESOME. Und eben uns! Jede Woche bekommt ihr von einem anderen AWESOMER eine kleine Wochenkolumne aufgetischt. Inklusive einiger Hinweise, auf die sich der Autor jeweils in der kommenden Woche freut. Die originären AWESOME-Serientermine gibt es natürlich weiterhin in unserem Kalender zu sehen, deutsche TV-Premieren gibt es z.B. bei Wunschliste.
Montag
Eine neue TV-Woche ist wie ein neues Leben (nane-nana-ne-na!). Zumindest, wenn es frischen Stoff gibt! Den schenkt uns z.B. 7MAXX heute Abend ab 20:15 ein mit der Free-TV-Premiere der 2. Staffel Alphas. Noch überhaupt nichts von gesehen, daher eine total zarte und inoffizielle Schau-Empfehlung, die dem montäglichen Motivationspegel gleicht. Vielleicht sind es zu der Zeit wenigstens nur noch 30 Grad, so dass man die Fernbedienung von ihrer Schweißschutzfolie befreien kann. Pünktlich zum Staffelfinale von Dark Matter (Syfy, 21 Uhr). Dass ich das auch noch nicht gesehen habe, verschweige ich aus Angst vor einem befackelten Mob vor meiner Türe…
Dienstag
Schnell zum zweiten Tag der Woche, der nur besser erscheint, weil er nach dem Montag folgt. Auf dem Sendeplan gibt es hierzulande nur Krisen zu beobachten. Dass eine neue Serie mit Namen "Crisis" auf Sat.1 Emotions(!) mit dem Pilotfolgentitel "Der Tag der Wanze" seine Free-TV-Premiere gleich mit einer abendfüllenden Qaudraple-Episode feiert, lässt beinahe vergessen, dass der Unterhaltungsknaller "Bones" ab 20:15 Uhr in und auf und bei RTL mal wieder auf Knochenjagd gähnt… äh, geht. Nur gut, dass in den US-of-A das Finale der tollen ersten Staffel von Scream läuft. Wir machen derweil eine Team-interne Telko über Skype um zu besprechen, ob diese Reihe hier überhaupt noch Sinn ergibt…
Mittwoch
Die Sat.1-Prosieben-71-Media-GmBH KGaA-Schmiede freut sich seinen Aktionären und Smartphone-Zuschauern mitteilen zu können, dass man erneut Menschen unter eine Glas-Schüssel bekommen hat. Nein, kein Flüchtlingsheim, hier geht um den Start der dritten Staffel von Under The Dome (20:15 Uhr, ProSieben), dessen Existenz vermutlich verwirrender und erstaunlicher ist, als die des Bernsteinzimmers oder von Einhörnern. Wobei beides vermutlich unterhaltsamer sind. Vielversprechender könnte da der Neustart von How to Get Away with Murder ab 20:15 Uhr auf VOX sein. Die Wahrscheinlichkeit grenzt jedenfalls an die des Meistertitels vom FC Bayern in dieser Saison. Oder einer anderen in den nächsten 10 Jahren. Könnte klappen!
Donnerstag
Ein Tag voller Humor, das zeigt bereits die Tatsache, dass Leute ihn zum "Dönerstag" umfunktionieren. Ha! Passend dazu präsentiert die "Love to entertain you"-Sendergruppe nicht nur ab 22:20 Uhr den Start zu Staffel 2 von Shameless auf kabel eins sondern legt neben einem Fischbrötchen und zwei Kilo Edelsalami am Stück noch den Start von Staffel 11 von Family Guy auf ProSieben (00:30 Uhr) drauf. Knaller-Angebot, auch für Veganer geeignet!
Freitag
Alle denken nur noch ans Wochenende, da hat man keine Zeit mehr für Premieren. Dafür gibt es mit Die Mockridges ab 21:45 Uhr eine ganz scheue Gattung aus der Tierwelt der TV-Geschöpfe zu sehen: eine unterhaltsame deutsche Produktion! Ja, die gibt es noch (oder endlich?) und der WDR zeigt ab 21:45 Uhr die zweite Folge davon. Wahnsinn.
Samstag & Sonntag
Sind wir doch ehrlich: ihr zappt zwischen Reality Format-Wiederholungen und Sportberichterstattung hin und her und stattet Netflix und Co. lieber einen Langzeitbesuch ab, als mal bei Mutti zum Essen hereinzuschneien. Wir verstehen euch voll und ganz und halten einen Platz auf dem Sofa frei. Für die Pizza. Und ich ärgere mich, dass keine Bundesliga ist…

-->