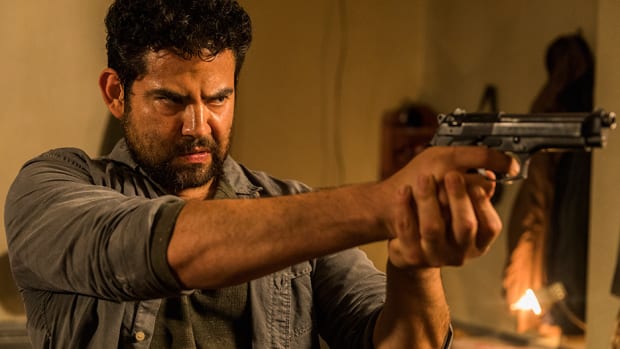 Da war nicht nur Rick verblüfft, als am Ende von Folge 2 "The Damned" der aktuellen Staffel von "The Walking Dead" plötzlich ein Foto von Morales' Familie auftauchte und schließlich Morales vor ihm stand. Morales? Muss man den kennen? Antwort für eingefleischte "The Walking Dead"-Fans (werden immer weniger): Ja. Antwort für den Nebenbeigucker (werden immer mehr): Jein. Jein deswegen, weil er in der Vergangenheit eine eher untergeordnete Rolle gespielt hat, für diese Staffel aber noch wichtig werden könnte (es sei denn, Daryl hat ihn während der Abblende der Folge bereits erledigt).
Rückblick: In Folge 2 von Staffel 1 war Rick noch in Atlanta unterwegs, ziemlich desorientiert, und dabei, sich in der neuen Welt zurecht zu finden. In der Folge "Guts" trifft Rick auf eine Gruppe Überlebender, der er sich anschließt. Das sind T-Dog, Glenn, Andrea, Jacqui und Merle, der Bruder von Daryl. Sie suchen wie Rick in Atlanta Lebensmittel und werden in einem Supermarkt von Walkern eingekesselt. Also, alle bis auf Merle, der auf dem Dach des Gebäudes steht und die Walker durch Schüsse erledigt. Das bringt natürlich nicht viel, da a) viele Walker unterwegs sind und b) durch die Geräusche weitere Walker angelockt werden. Es kommt zum Schreit, in dessen Verlauf Merle T-Dog zusammenschlägt, bis Rick eingreift. Rick kettet Merle mit seinen Handschellen an, und die Gruppe lässt Merle zurück. Mit Merle gibt es ja später beim Governor-Plot ein Wiedersehen. Wir konnten feststellen, dass Merle seine Hand geopfert hat, um vom Dach zu entkommen (was in Staffel 1 schon angedeutet wurde). Das Wiedersehen seinerzeit war ebenso überraschend wie gut umgesetzt, vor allem die Konflikte mit seinem Bruder Daryl waren ganz interessant.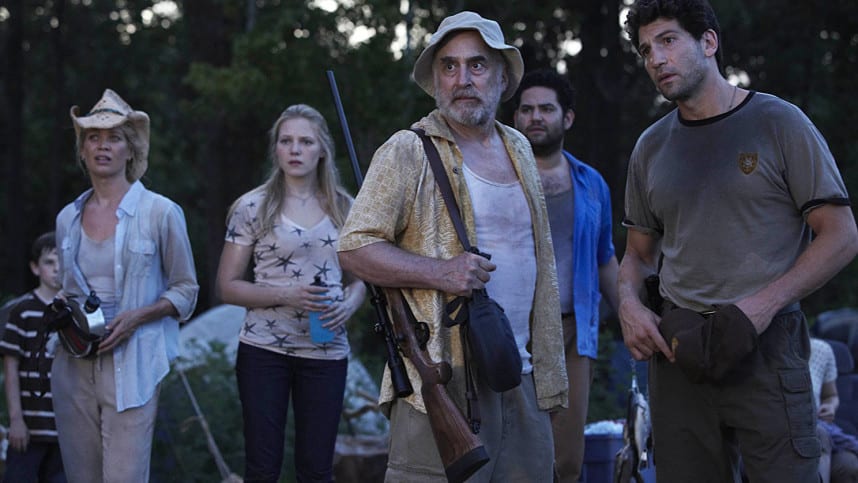 Zurück zu Morales: Es entwickelt sich eine Art Freundschaft mit Rick. Die Gruppe kehrt in Folge 3 ("Tell It to the Frogs") zurück zu einem Camp außerhalb von Atlanta, wo sie leben. Rick findet hier seine Familie wieder, und seinen alten Kollegen Shane zum Beispiel. Alle zusammen brechen dann auf, das Seuchenkontrollzentrum zu finden, nur Morales trennt sich von der Gruppe, um in Birmingham nach weiteren Verwandten zu suchen. Die Geschichte endet damit, dass Rick ihm einen Revolver, eine Packung Munition und ein Funkgerät mitgibt.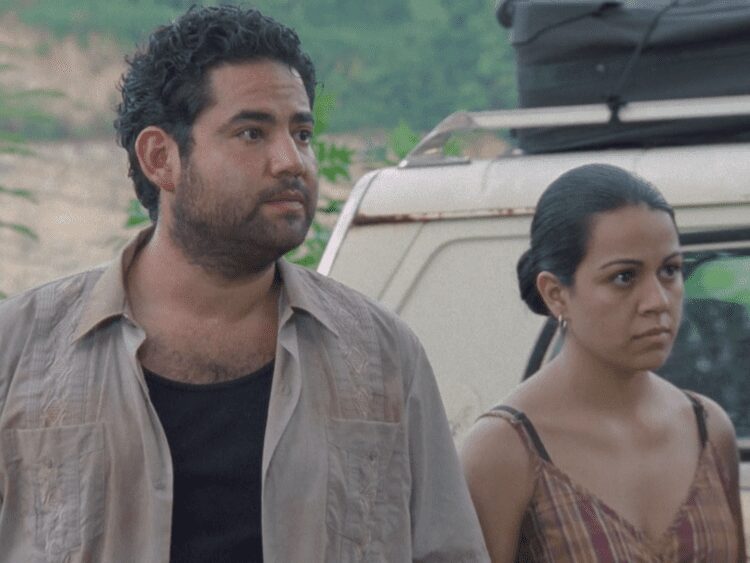 Jetzt stellt sich ja die Frage, was seitdem mit Morales passiert ist. Hat er seine Familie verloren, vielleicht weil ihm Rick nicht genug Munition mitgegeben hat? Oder war er zwischenzeitlich Merle bei der Governor-Gruppe gestrandet und will sich an Rick rächen, dass er die "Idylle" dort aufgelöst hat. Oder ist sonst irgendwas vorgefallen, das ihn jetzt als Savior zum Gegner Ricks macht? Das wird hoffentlich die Zukunft zeigen. Die Idee, alte Figuren wieder in die aktuelle Handlung zu holen, ist eigentlich ganz geschickt. Bei Merle hat es gut funktioniert, bei Morgan auch. Jetzt muss man hoffen, dass man auch um Morales eine schöne Geschichte strickt. Der Anfang ist schonmal gut – vor allem mit dem schönen Setting, dass Morales den Saviors mittels Funkgerät informiert hat, dass er Rick mittels Revolver in Schach hält. Was hatte Rick Morales damals nochmal mitgegeben…?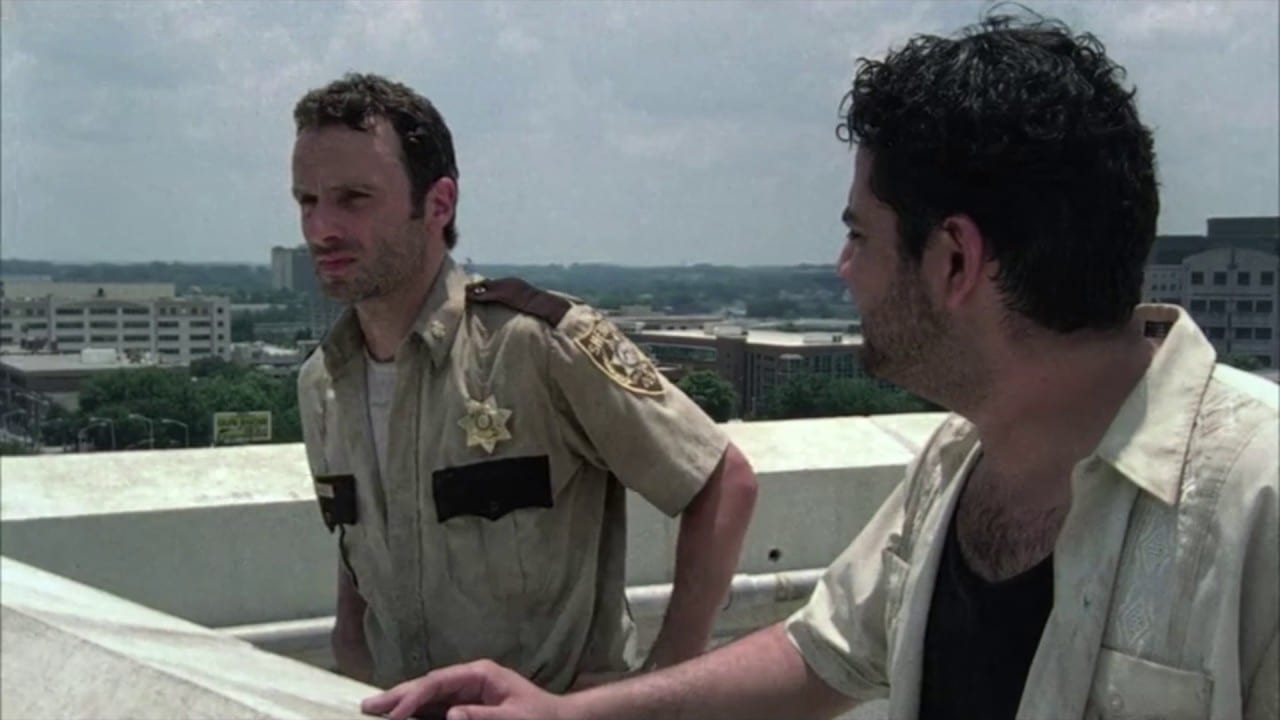 Beim Rückblick auf die ersten Folgen muss man aber auch zugeben, dass der Start der Serie schon ziemlich gut war. Und dass die Charaktere auch ziemlich gut angelegt waren. Wenn man nochmal in die Anfänge reinschaut, dann muss man sagen, dass The Walking Dead heute doch schon ziemlich platt und belanglos geworden ist.

-->