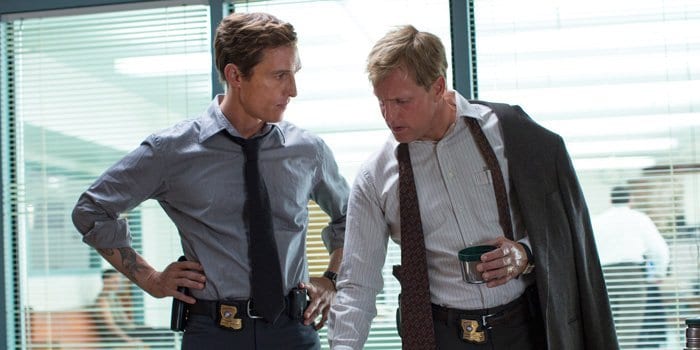 Vorgestern kam die erste Folge von True Detective. Und klar, wir hatten Trailer gesehen, aber so ganz waren wir uns nicht sicher, was uns erwarten wird. Letztlich war der Serienauftakt zwar größtenteils langsam und hier und da etwas zäh, aber genau das hat den starken Charakteren Rust Cohle und Martin Hart den nötigen Raum gelassen. Matthew McConaughey und Woody Harrelson spielen sich einfach gegenseitig an die Wand.
Interessant wird die Serie nicht zuletzt aufgrund verschiedener Zeitebenen. Ein Fall in 1995 wird in 2012 noch einmal aufgerollt. Wir sehen einen runter gekommenen Rust Cohle, von McConaughey derart genial gespielt, dass man ihn zunächst gar nicht erkennen mag. Und es gibt auch durchaus humorige Elemente. Locker sind sie nicht, aber wenn Hart Cohle regelmäßig bei Autofahrten ermahnt, dass es er doch seine Klappe halten solle, sind schon ein paar schöne Dialoge dabei.
Cohle: "I consider myself a realist, but in philosophical terms I'm a pessimist."
Hart: "What's that mean?"
Cohle: "It means I'm bad at parties."
Hart: "You ain't good outside of parties either."
Jedenfalls sehen wir ein Cop-Duo, das einfach noch keines ist. Hart versucht es menschlich, Cohle wirkt distanziert und irgendwie gedankenfern. Zwei Gegensätze, die sich bis ins Heute durchgesetzt haben. Es bleibt interessant, wie die beiden (wieder) zusammen finden und ob noch richtig Fahrt in den Fall kommt.
Meine Meinung:
Mit kleinem Pilot-Bonus sind es dann doch vier Kronen. Es wurde Interesse geschürt, keine Frage, aber eine 90-Min-Sherlockfolge kommt einem kürzer vor – das sollte nicht sein. Dennoch gehe ich davon aus, dass das noch richtig spannend werden dürfte.

Ein feines Interview mit den beiden gibt es bei der Süddeutschen zu lesen. Hier noch das sehr fein gemachte Intro:

-->