Im sAWEntskalender 2015 präsentieren wir euch bis 24. Dezember jeden Tag die seriesly AWESOMEN Fakten zu euren und unseren Lieblingsserien. Und fordern euch im
großen sAWEntskalender-Gewinnspiel
heraus –
heute auch mit dem ersten Tipp!
Wir hatten ja eingangs gesagt, dass jeden Tag mindestens ein Zeichen versteckt sei. Das finale Zitat wird aber genau 24 Buchstaben haben. Bedeutet: Jeden Tag ist ein Zeichen versteckt und ihr wisst stets, wie viele Buchstaben noch fehlen. Viel Spaß beim Lesen, Knobeln und Gewinnen!
ER – die beste Krankenhausserie aller Zeiten – hätte es beinah nicht ins Fernsehen geschafft: Zuerst sollte es ein Film namens ED (Emergency Department) werden.  Michael Crichton, ein studierter Arzt, schrieb dazu in den 1970er Jahren das Drehbuch, das Steven Spielberg verfilmen sollte. Der fand aber, dass das Skript besser fürs Fernsehen taugen würde und außerdem wollte er lieber Jurassic Park drehen.
Im TV wollte das ER-Skript aber erstmal keiner haben. NBC war dann so nett, das Ganze zu übernehmen. Da das Drehbuch schon recht alt war, musste es von Michael Baer, ebenfalls ein ausgebildeter Arzt, überarbeitet werden. Dann musste zügig ein Cast gefunden werden. George Clooney, damals noch eine eher kleine Nummer im Showbiz, sagte als erster zu. Anthony Edwards wurde mehr zufällig als Dr. Greene gecastet, weil sein Foto oben auf einem Stapel lag, der John Wells (dem Showrunner) ins Auge fiel. Es gab nie eine zweite Audition für die Rolle. Noah Wyle war dagegen nur zweite Wahl für Dr. John Carter. Er wollte eigentlich auch nie ins Fernsehen, aber irgendwie hat es dann doch gepasst. Die Rolle von Dr. Benton wurde erst besetzt als die Produktion schon begonnen hatte. Eriq La Salle kam zum Vorsprechen in blauen Scrubs und seiner ihm eigenen "I don't give a damn if you like me or not"-Attitude und hatte die Rolle. Juliana Margulies als Schwester Hathaway sollte eigentlich in der Pilotfolge sterben, aber "she was too good to die", weswegen der Pilot umgeschrieben wurde
Nachdem die Pilotfolge im Kasten war, hätte es ER trotzdem beinah nicht On Air geschafft. Der damalige NBC-Chef fand den Piloten schrecklich: zu verwirrend, zu viele Storylines, zu großer Cast, zu traurige Geschichten (also alles, was eine Qualitätsserie ausmacht). Das lag u. a. auch daran, dass mit der damals ziemlich neuen Steadicam gedreht wurde, einer Kamera, die den Kameraleuten vor die Brust geschnallt war. Dadurch waren die Schnitte extrem lang und enthielten sehr viele Einstellungen.
Neben den o. g. Attributen und den hektischen Einstellungen wurde Authentizität gewährleistet, indem man viele Ärztinnen und Ärzte am Skript arbeiten ließ – alle darstellten Fälle sind echt. Das medizinische Personal wurde ebenfalls zum Teil von echten Pflegern und Krankenschwestern dargestellt. Die Schauspielerinnen und Schauspieler mussten die Handgriffe und das medizinische Vokabular lernen. Und das war gar nicht so einfach:
ER ''Emergency Room'' - bloopers season 1
Aber nachhaltig. Noah Wyle kann seinen Text noch Jahre später:
Noah Wyle Recites (from Memory!) His Very First ER Medical Monologue | People
Dass das Publikum kein Wort versteht, war nach Auffassung von Showrunner John Wells unerheblich:
"We were trying to show people that you don't actually have to understand what they're talking about to know what they're talking about. That was a very difficult concept to get across. We kept saying, 'Look, there's an emotional undercurrent to all of these scenes that the audience is going to understand. They don't really have to understand what a thrombosis is to understand what's happening in the scene.' "
George Clooney alias Doug Ross konnte sich die Begriffe ziemlich schlecht merken und machte sich daher auf allen möglichen Requisiten Notizen. Um die beim Filmen lesen zu können, musste er dauernd nach unten schauen. Der daraus resultierende Hundeblick wurde zum Markenzeichen von Doug Ross.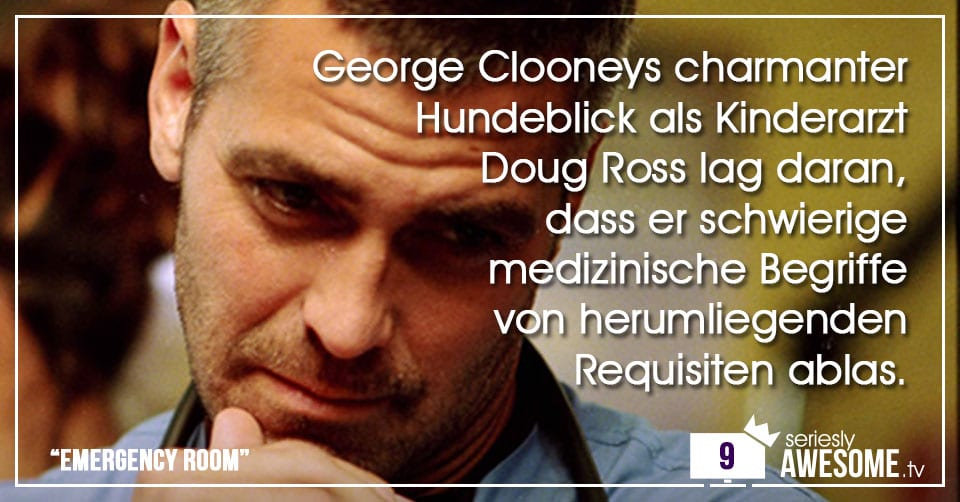 Bild: infinitydish.com

-->